A Week-Long Winter Itinerary
Image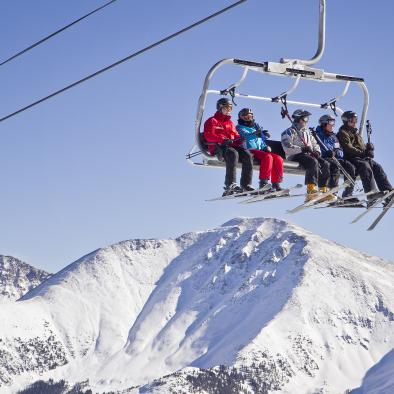 Get ready for a week of adventure! If you need gear, you can get it here - we've got plenty of ski shops ready to hook you up!  In Winter Park, adventure is steps from your front door -- ski every day or alternate with another unique Winter Park adventure. Check out this 5-day itinerary that we locals, think makes the most of our amazing winter town.  
Pro tip: Sign up for a Winter Park Experience Pass and gain access to deals and discounts as well as the insider's guide to incredible local adventures and experiences. It is free and available on your mobile device. 
Day 1
8:00 a.m. Wake up early to hit those slopes! Find a hot breakfast nearby so you can fuel up before a full day of skiing, snowboarding or quite simply adventuring. Drink plenty of water - especially if you're adjusting to the altitude.
9:00 a.m. Choose the resort you want to conquer (Ski Granby Ranch or Winter Park Resort/Mary Jane) and enjoy a day of skiing/riding. You'll  find a variety of terrain and runs for all skill levels. 
3:00 p.m. It's 5 O'clock somewhere! Sit back, relax and enjoy aprés ski, after all, you're on vacation. Happy hour is usually sometime between 3-6 PM, check out the many local breweries, wineries, and distilleries and restaurants for specials. Be sure to take advantage of The Lift our free local shuttle in and around Winter Park & Fraser.
6:00 p.m. Still hungry? Find a new favorite spot for dinner before heading in for the night to relax at your hotel or lodge.
Day 2
8:00 a.m. We know it's tempting to head back out on the slopes, but today is the day to try something different. Take a snowmobile tour along the Continental Divide and drink in some incredible, breathtaking views of the area, all while getting that adrenaline rush you long for.
12:30 p.m. After the tour, find a great spot for lunch in one of our local shopping areas. You won't be disappointed.
1:30 p.m. Connect with your inner child and spend the afternoon tubing at one of our local tubing hills. With six different adventures to choose from, it's the perfect way to spend your afternoon.
4:30 p.m. Check our online event calendar or stop by the Visitor Center in Downtown Winter Park to find a place with live music to spend your evening. If you're lucky, you can find a coveted place that served food and drinks so you can have a night to remember.
Day 3
9:30 a.m. Take a lazy day, especially if you had a fun night on the town! Enjoy a more relaxed start to the day by sleeping in and then heading into town to have a nice, leisurely breakfast.
11:00 a.m. After breakfast, walk around and do some shopping along Main Street, Cooper Creek Square or the Village at Winter Park Resort.  Don't forget to stop in at the art galleries in town to do some "ooooing and ahhhing" at some of our local masterpieces. If you're hungry for lunch, you're sure to find plenty of dining options along your shopping and gallery routes!
2:00 p.m. Make your way over to the Grand Park Recreation Center. In addition to standard work out equipment, they have a climbing wall, swimming pool, waterslide, hot tub, indoor track, and basketball courts. There are plenty of options to keep you entertained for a few hours while also staying out of the cold.
5:00 p.m. The perfect ending to a laid-back day? Pizza, bowling and a movie at The Foundry! Spend a nostalgic evening filled with friendly competition, reclining in leather chairs as you drink in the movie while sipping on a glass of wine, beer or a mountain fresh water?  
Day 4
6:00 a.m. Wake up early to prepare yourself for something truly special: a hot air balloon ride. These rides take off nice and early, so be prepared for a really early morning. The good news is, a continental breakfast and a traditional champagne toast is included in the ride so there's no need to wake up much earlier than this!
1:00 p.m. After your hot air balloon ride in the morning, find a great nearby place for lunch before heading along your way. 
3:00 p.m. Spend the afternoon conquering a second new experience like nordic skiing. If you're feeling bold, get in touch with a company that offers guided backcountry ski/ride trips. You won't regret it!
6:00 p.m. Since this is a day for trying new things, why not pick a dining option that offers Italian, cajun, sushi, indian, bbq, Chinese, Irish or Mexican food instead of the usual? View a full list of dining options. 
Day 5
9:00 a.m. Bundle up, and head out for a morning snowshoe hike. Be sure to stop by the Winter Park Visitor Center for some of our favorite trail ideas for the best strolls and views.
12:30 p.m. Get inside to warm up for lunch. Find soups, hot sandwiches and more at our local lunch stops.
2:00 p.m. After such a busy week, we are betting those muscles are feeling pretty achy. Get massage or spa treatment for an afternoon full of pampering.
5:00 p.m. Find a great spot to dine, and relax the evening away getting a taste of some Colorado made libations at a local brewery or distillery.
Day 6
8:00 a.m. In a place like Winter Park, it would be a shame to only spend one day on the slopes. With your newly relaxed muscles, head out to one of our downhill ski resorts. Want to make the trip extra special? Try the opposite resort you tried earlier in the week!
4:00 p.m. After a full day of skiing or snowboarding, it's great to just relax in one of our villages. Find a great place to dine, then rent some skate and go ice skating at one of the many ice skating locations near Winter Park.
Day 7
9:00 a.m. Learn more about the area you've spent the last week enjoying. Check out a few of the local museums, including the incredible Headwaters River Journey and Cozens Ranch Museum. 
12:00 p.m. Grab your last lunch in Winter Park (until next time) before finishing out the afternoon with a unique Winter Park experience.
1:30 p.m. Feeling nostalgic…or romantic perhaps? Take a horse-drawn sleigh ride while you sip on hot cocoa under a cozy blanket.