Tell Me Again What Backcountry Is?
Image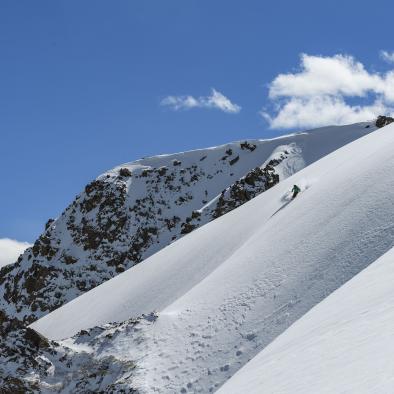 What is "Backcountry?"
Backcountry is a location. Think of it as any terrain outside of maintained and controlled ski area boundaries. In the backcountry, slopes are not patrolled for avalanches and rescue services are not readily available. It's a place where you are on your own.
Why do people do it?
Peace and quiet and untouched powder. Exploring the backcountry has an unexplainable serenity that you can't find anywhere else. When you step away from the noise of the world and start climbing a snow-covered slope, an intense quiet washes over you. Stripping away lift lines and crowds has away of bringing you back to the present moment so you can enjoy the activity you are doing. It's just you and your crew and the wilderness.
Is it dangerous?
It can be. Avalanches are a real thing. If there is enough snow to ride, there is enough snow to slide. Even though the 2018-2019 season has just started, two early season avalanches have already been reported. On October 12, 2018, a skier was caught in an avalanche off of Loveland Pass. He was able to escape without injury. On October 15, 2018 a hiker was caught in an avalanche south of Arapahoe Peak. He was carried approximately 150 vertical feet over rough rocky terrain before coming to a stop. He suffered a fracture pelvis.
If you are new to backcountry travel, educate yourself. Friends of Berthoud Pass offers avalanche awareness classes throughout the Front Range. These classes are a great way to learn about the dangers of backcountry and how recreate safely. After taking an avalanche awareness class, we recommend taking a AIARE Level One class. This advance class teaches students how to prepare for backcountry travel, make decisions in the backcountry, and implement rescue techniques if an avalanche does occur. 
Can I only ski in the backcountry?
 You can explore the backcountry on foot, snowshoes, cross-country skis, alpine skis, snowboards, and snowmobiles. Again, "backcountry" is a location and how you experience the backcountry is up to you. But remember, avalanches do not discriminate when it comes to modes of backcountry travel. Just because you choose one method of travel over another does NOT mean that you are safe from avalanches.
If I want to ski or snowboard in the backcountry, what do I need?
Whenever you travel in the backcountry, you should always carry--AND KNOW HOW TO USE--a beacon, probe, and shovel. Just because you have a beacon, probe, and shovel with you in the backcountry, doesn't mean they will automatically keep you safe. Know how to turn on your beacon. Make sure it is ON when you head out. Practice using your beacon with people in your party. Carry water, snacks, extra layers, maps, and inclinometer. And bring a friend! Avoid traveling alone in the backcountry.  
When it comes to ski and snowboard gear designed specifically for backcountry travel, consider investing in an alpine touring setup (for skiers) or a splitboard (for snowboarders). The bindings on these setups have a "free-hinging heel," which makes for easier uphill travel. In addition, you will want to purchase a pair of climbing skins that stick to the bottom of your skis or splitboard. These skins "grip" the snow, allowing you to climb up a slope without sliding back down to the bottom.
Where should I go backcountry skiing?
Come to Grand County! Whether you're looking to get a taste of backcountry travel while staying in ski area boundaries or head out for an overnight trip at one of our local huts, we have something for everyone! Check out our Top Spots for Backcountry Adventure.