Updates & Alerts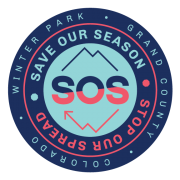 Welcome to Winter Park & Fraser.
The Winter Park & Fraser Chamber weighs the safety of all community members (full-time and part-time residents, visitors, and long-term vacationers) and during COVID-19, we are asking everyone to:
Mask-up!

-- Masks are

REQUIRED

in the State of Colorado
Governor Polis issued a state-wide mask mandate starting July 16 that has continued to be renewed. Read the Governor's Executive Order. Both Winter Park and Fraser issued ordinances requiring people to wear a face-covering when entering and while inside any business open to the public as well as in outdoor public places where people are unable to maintain social distancing of at least six feet.

Read the Towns' full ordinances here: Winter Park | Fraser. Local ordinances will be enforced.
Curfew -- NEW: Grand County has instituted a 10pm curfew. Read the latest Public Health Order.

Social Distance

-- stand apart in town and on the trail a minimum of six feet

Wash Your Hands

-- wash your hands frequently and for at least 20 seconds

Stay Closer to Home

-- stay closer to your home and reduce transmission
Sign up -- subscribe to Grand County Public Health Information alert notifications
Learn more about Grand County's protective measures.
Businesses are open. All local businesses take the health and well-being of our guests and community seriously and extra precautions are being taken by all. Winter Park & Fraser Chamber Business Directory here. Please note: The best practice is to call ahead to make reservations and confirm safety regulations and processes.
East Troublesome Fire Update
The East Troublesome Fire tore through Grand County with devastating results but couldn't be more grateful for the fire-fighters, first-responders, EMS teams, Forest Rangers, and other local and state authorities working to save our forests, homes, and businesses.
PLEASE NOTE: Areas of the Arapahoe National Forest Sulphur District and BLM Land are closed due to the fires, please review updates from the US Department of Agriculture Forest Service before you head out.
How you can help.
Local Updates & Alerts
Road & Trail Closures
Learn the latest - location, dates, construction - on local roads and trails. For updates on trails, use COTREX (a mobile and desktop application for a statewide comprehensive and interactive trail map) to always have your maps with you.
Road Conditions
Always check out the CDOT cameras before making the trip over Berthoud Pass. Be smart and safe!
Avalanche Information
Avalanches need to be taken seriously. Learn about avalanche area warnings at the Colorado Avalanche Information Center.
Weather Conditions
Our favorites are Weather Underground and the National Weather Service.
Emergencies
Sign up for Grand County's CodeRED® Emergency Notification System for the latest emergency updates. This system informs registered participants during an emergency or disaster affecting Grand County. Don't forget to check out the Colorado Division of Homeland Security & Emergency Management.
Fires
Local Fire Restrictions & Resources