Updates & Alerts
Welcome Guests
Welcome to all who want to venture out and explore wide-open spaces this summer. If you are looking for biking, hiking, fishing, or a variety of outdoor experiences, Winter Park has it in spades. And, if all you want to do is reflect, relax, and destress, you can do that too -- we really are #ColoradoUnfiltered!
Keep Winter Park Safe and Open for Business!
The Winter Park & Fraser Chamber weighs the safety of all community members (full-time, part-time, visitors, and vacationers) and during the COVID-19 pandemic, we are asking everyone to
Mask-up! -- Masks are now REQUIRED in Winter Park & Fraser.


Both Winter Park and Fraser are requiring people to wear a face-covering when entering and while inside any business open to the public as well as in outdoor public places where people are unable to maintain social distancing of at least six feet.

Read the Towns' full ordinances here: Winter Park | Fraser.
Social Distance -- stand apart in town and on the trail a minimum of six feet
Wash Your Hands -- wash your hands frequently and for at least 20 seconds
Sign up -- subscribe to Grand County Public Health Information alert notifications
Learn more about Grand County's protective measures.
We're Open for Business
Businesses Are Open and ready for customers. There are many new rules and restrictions in place, in addition to revised hours of operation. Review our live spreadsheets detailing operation status for Restaurants, Recreation & Activities, Retail, Lodging, and Service businesses. If a listing needs to be updated, email [email protected]. Best practice is to always call ahead and confirm open status.
All community businesses take the health and well-being of our guests and community seriously and extra precautions are being taken by all. Please note, both Winter Park and Fraser are REQUIRING people to wear a face-covering when entering and while inside any business open to the public.
Events
2020 Summer Event Series Canceled.
The Winter Park & Fraser Chamber is following the recommendations of our national and state health experts to cancel our 2020 summer large-scale events to protect the health and safety of the community. I

f in the near future, our national health crisis subsides and we have approval from state and local officials, the Winter Park & Fraser Chamber will be ready to mobilize and produce an event at the Rendezvous Event Center.
Local Updates & Alerts
Local Business COVID-19 Resources
Fire Restrictions & Resources
Emergencies
Wondering about fire restrictions or other emergencies in Grandy County? You can sign up for Grand County's CodeRED® Emergency Notification System. This system allows ultra-high-speed cellular phone or text messaging to inform registered participants during an emergency or disaster affecting Grand County. And you can always check out the Colorado Division of Homeland Security & Emergency Management as well.
Road Closures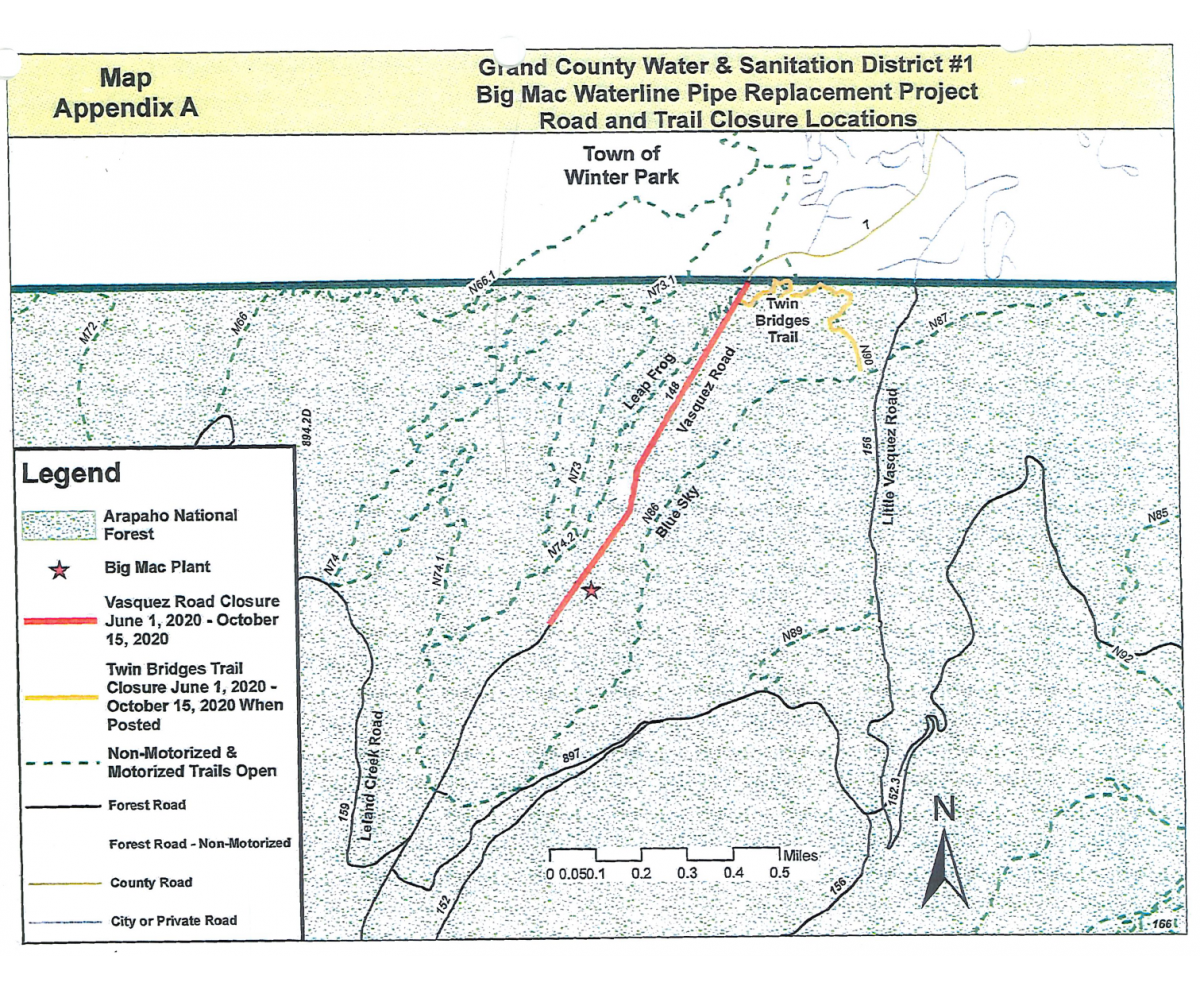 Vasquez Road (Forest Service Road 148), from the Town of Winter Park boundary to the Grand County Water & Sanitation District No. 1 water plant, and Twin Bridges Trail and (N90) will be closed to all uses from June 1 through October 15, 2020. These closures are needed to safely allow the construction of a key potable water supply line for the Town of Winter Park. The Big Mac Water Pipeline was constructed over 45 years ago to serve downtown Winter Park and has experienced multiple failures in recent years. During the construction of the new pipeline, temporary provisions will be made for maintaining potable water service to the town. This is a one-time pipeline replacement project that will ensure a secure potable water supply for downtown Winter Park for many years to come. The public's patience and support is greatly appreciated as we complete this vital and important project. If you have questions, please contact Grand County Water & Sanitation District No. 1 at 970-726-5583.
For updates on trail status, use COTREX (a mobile and desktop application for a statewide comprehensive and interactive trail map) to always have your maps with you.
Road Conditions
Always check out the CDOT cameras before making the trip over Berthoud Pass. Be smart and safe!
Weather Conditions
Our favorites are Weather Underground and the National Weather Service.
Avalanche Information
Avalanches need to be taken seriously. Learn about avalanche area warnings at the Colorado Avalanche Information Center.