Snowmobiling
Image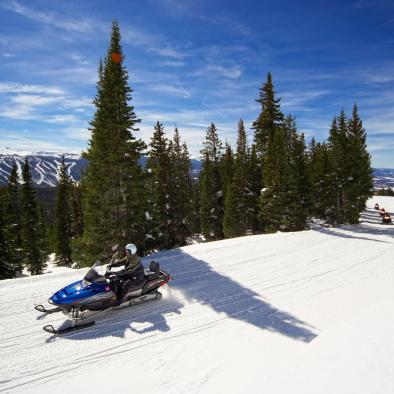 If you've ever snowmobiled, you know the simultaneously thrilling and relaxing feeling of coasting over miles of fresh snow in the wilderness. And if not, then you've come to the right place to get started, because Winter Park is within easy reach of some of the best trails in Colorado, our local outfitters and guides can bring you up to speed in no time. Are you already a snowmobiler? Then you won't want to miss the opportunity to cruise up to the top of the Continental Divide, do some trail riding between Winter Park and Fraser or speed along the many trails in Grand Lake.
Grand Adventures has three locations: Winter Park, Fraser, and Grand Lake. Tours top out at nearly 12,000 feet with views of both the entire Winter Park ski area and the Fraser Valley. Guided tours are perfect for the beginner to intermediate rider and families looking to experience Colorado's backcountry in a unique way. For the more advanced rider, head farther north to Colorado's snowmobiling capital, Grand Lake, where you can ride from the town of Grand Lake to access over 100 miles of trails.
On the Trail Snowmobile Tours is located 3 miles northwest of the town of Grand Lake. With single and double snowmobiles available, you can enjoy over 130 miles of groomed trails and beautiful scenery.
Winding River Resort is a family-oriented resort on the North Fork of the Colorado River bordering Rocky Mountain National Park in Grand Lake that offers snowmobile rentals in the winter.