Grand County Destinations
Image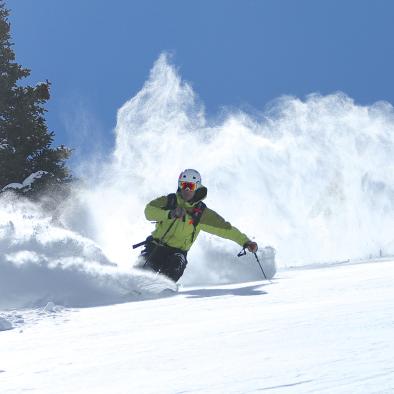 Winter Park Resort 
Parsenn Bowl and The Cirque in the Winter Park Resort are rustic back bowls that will allow you to gain a feel for backcountry style skiing while still in the bounds of a resort. Wild, exposed terrain is often a huge appeal to those who are addicted to backcountry, so getting comfortable is key to enjoying your first outing. Get used to the backcountry feel without the exhausting hike up the hill. A lift ticket is required if using the ski lifts at the Winter Park Resort.
Berthoud Pass
Berthoud Pass isn't just for driving! For those who have made the trek over the pass in the winter, it isn't difficult to notice the serpentine lines carved into the thick powder jutting down the landscape. What many don't know is that Berthoud Pass was the King of high altitude downhill skiing and a destination that brought hoards of enthusiasts to its powdery mounds for many years. While the resort is no longer open, the old trails still cut through the trees, drawing those daring enough to make the manual ascent in order to float through the velvet powder.
Rocky Mountain National Park
During the winter months, Grand Lake operates an entry point to the miles of national park trails. The quiet, stunning, winterscape can be explored by cross-country ski and snowshoe. Spring skiing at tundra levels tempt the well-conditioned backcountry user from Trail Ridge Road.
Jones Pass 
Jones Pass is a great place to experience all kinds of terrain, with something for even first-time backcountry skiers. Located at nearly 12,000 ft, Jones Pass used to be part of the Berthoud Pass ski area - an iconic ski area popular in the 1930s and 40s. The ski area may have closed down in 2003, but that hasn't stopped the powder addicts from cutting lines all season long. This area has been popular with snowmobiles, but the terrain is accessible by foot or by joining a SnowCat tour. However you choose to make the ascent, you will most certainly earn your turns during a day spent on Jones Pass.
Check out Jones Pass Guides for exclusive backcountry ski tours, including SnowCat assisted big mountain skiing and riding or backcountry workshops for your private group.
Need some more inspiration?  Learn about backcountry adventures 
Latigo Ranch (200 square miles of backcountry)
C Lazy U Ranch
Grand Lake Nordic Center
Nordic @ Granby Ranch
YMCA Snow Mountain Ranch
Devil's Thumb Ranch Resort & Spa
The Cirque Territory 
Jones Pass Guides
High Lonesome & Broome Huts
Rocky Mountain National Park
Keep exploring for more at Gravel Mountain, Ute Pass, Rabbit Ears Pass, Wolford Mountain Reservoir, Hot Sulphur Springs, and Church Park.