Avalanche Awareness with Friends of Berthoud Pass
Image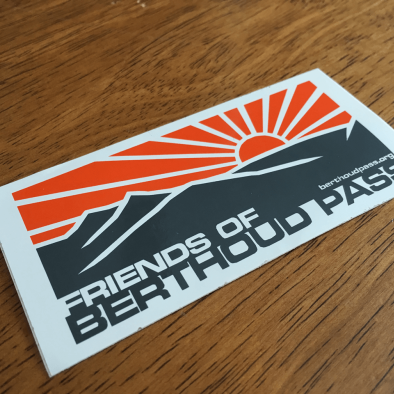 So you want to venture into the backcountry, eh? You see tracks in the snow as you crest Berthoud Pass, and you begin to pick out lines that you want to ski. You admire those that are getting out there and getting after it, and you think, "I can do that!"
You buy yourself a touring setup, and you get yourself a beacon, shovel, and probe. You've heard that those are the things you need in case of an avalanche...but you're not *really* sure how to use them. The shovel makes sense, but the beacon and probe? You'll have to Google them when you get home.
You know that avalanches are a real thing, but they don't really happen, do they? You're friends never talk about them, so should you be worried? You'll be fine, right?
Wrong.
When getting into backcountry, the most important thing you can do is to educate yourself on the dangers of backcountry travel. Before you spend $1,500+ on touring gear, attend a free avalanche awareness class held by Friends of Berthoud Pass.
Tell me more about Friends of Berthoud Pass.
Friends of Berthoud Pass (or FOBP for short) is "a grassroots collective of backcountry enthusiasts committed to preserving the legacy of public recreation at Berthoud Pass through safety, access and education." And when they say, "...through safety, access and education," they mean it. During the 2018-2019 season, they will host almost 30 avalanche awareness classes plus two on-snow awareness events this winter.
And guess what? For the most part, they are all FREE.
You have no excuse not to go.
What does FOBP's Avalanche Awareness Class entail?
If you've never traveled in the backcountry, it's a great place to start. If you're an avid backcountry traveler and you have your AIARE Level 1, it's a great refresher. When you're dealing with the backcountry, it's not just a one-time, cram for the final exam thing. Think of it more as an ongoing practice.
What do they cover during a class?
FOBP's classes are about two hours long, and they cover A LOT. Classes start with avalanche statistics. (Spoiler Alert: People can and do die from avalanches.) Here is a graph of Colorado avalanche deaths since the 1950-1951 season.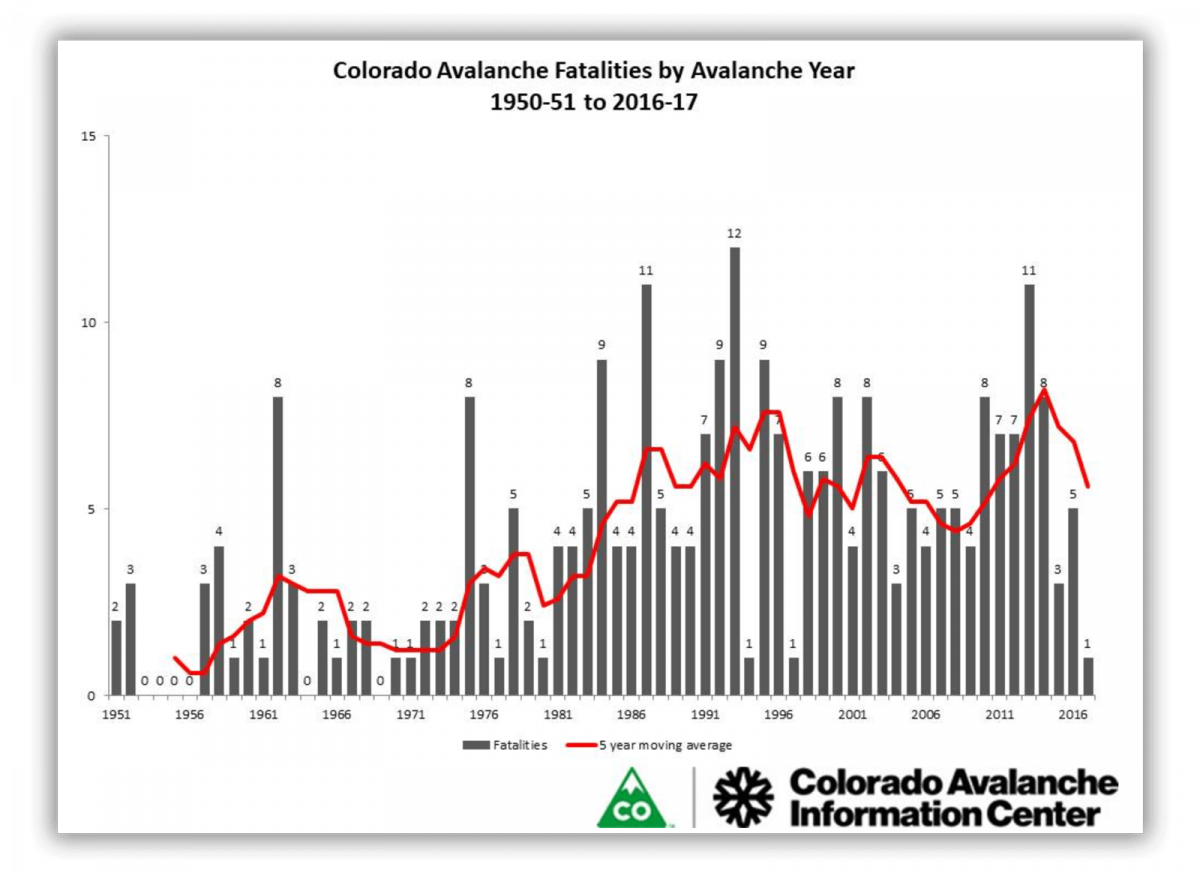 Source: Colorado Avalanche Information Center
In the 2016-2017 season alone, the Colorado Avalanche Information Center reported a total of 2,977 avalanches.
Two thousand, nine hundred and seventy-seven avalanches.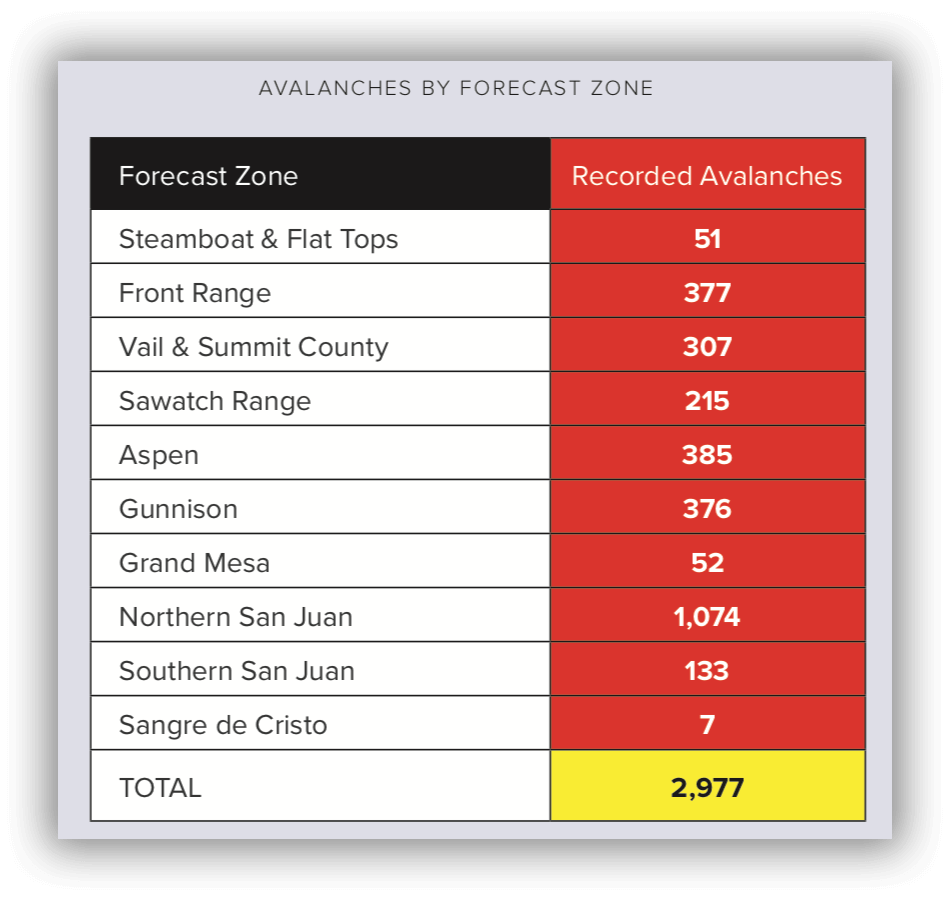 Source: Colorado Avalanche Information Center
After FOBP covers avalanche statistics, they move into the 3 key factors at play when talking about avalanches:
1. Weather
a. What has the temperature been like? Has it been warm? Cold?
b. Has there been any precipitation? When was the last snow? Is it snowing now?
c. Are there signs of wind? Do slopes look windblown?
2. Terrain
a. What is the angle of the slope you are thinking of skiing? Most avalanches happen on slopes that are between 30 and 45 degrees.
b. Which way is the slope facing? Has the sun been baking that slope all day?
c. Are there trees on the slope? Just because there are trees doesn't mean that the slope can't slide.
d. Does the slope roll over? Meaning is it convex? What does that mean for your line?
e. Do you see any recent avalanche activity near where you are going?
3. Snowpack
a. How has this season's snowfall settled so far? Where are the weak layers?
Next, FOBP covers human factors. Remember, human factors are a REAL THING. Don't let your ego or pride or "expert" self get in the way of traveling safely in the backcountry. Just because you skied something last week, doesn't mean it's still safe to ski this week. Look at the weather, terrain, and snowpack in the moment. Do your due diligence every time you go out.
Finally, FOBP covers having a plan. Identify where you are going, who you are going with, when you'll be heading out, what your objective is (and what to do if it's not safe or smart to go after that objective), and why you're heading out in the first place!
Throughout the entire presentation, FOBP shares video footage of avalanches, driving home the fact that avalanches can and do happen in the backcountry...especially in our own backyard.
Sounds like a class I should attend! When is the next one?
FOBP is offering their classes around the Front Range throughout the months of December and January. Check their events calendar for more details.
I've attended a class. Now what?
If you've attended a FOBP Avalanche Awareness Class and are looking for more information, consider attending their On-Snow course on January 26 or January 27, 2019. Registration opens on January 14, 2019. The class will fill up, so make sure to sign up early!
While both FOBP's Avalanche Awareness and On-Snow classes provide great information, they are NOT a substitute for AIARE Level 1 - Decision Making in Avalanche Terrain. For a full list of AIARE classes, click here.
Friends of Berthoud Pass sounds like an awesome organization. How can I help?
FOBP is a nonprofit and is always looking for donations to support their mission. Click here to donate today!