Week-Long Summer Itinerary
Image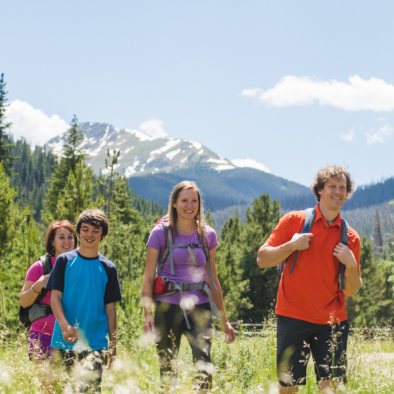 Winter Park, Colorado's favorite Playground, is also one of the most affordable and family-friendly destinations. Here are some ways to make sure your time is well spent and your day is unforgettable!
Day 1
On your way to Winter Park, stop off for a brief hike up the Second Creek Trail on the west side of Berthoud Pass at mile marker 240.  The hike is one mile each way, it's an intermediate hike so if you want to acclimate to the altitude first, maybe try this another day. It offers a breathtaking perspective on the Continental Divide as well as our beautiful valley and Broome Hut is truly amazing if you need a respite.
Go check-in at your new home away from home, our lodging properties are wonderful and staff will help you get settled in quickly and answer any questions you may have. If you haven't already stopped by our Information Center in downtown Winter Park to pick some up maps and other information. 
By now you are probably ready to relax and enjoy dinner after a hectic day of travel. There is a vast mix of restaurants in town waiting to delight your palete. 
Day 2
Grab breakfast to-go-and head out on a rafting trip to remember down the Colorado River.  An incredible way to experience the scenery up close and personal with mostly peaceful floats interrupted by a few stretches of exciting whitewater. Be sure to pack a change of clothes and a towel for after the trip!
The Foundry Cinema and Bowl is our state of the art movie theater and bowling alley featuring 8 bowling lanes, a full bar, handmade wood-fired pizza, pool tables, shuffleboard, air hockey, and mega screen theaters with... wait for it…leather reclining seats and in theater meal service. A great way to relax in an afternoon or after a day of adventure.
Day 3 
Book a zip line or aerial adventure tour! Feel the rush of soaring 40 feet above the ground. If the speed doesn't take your breath away… the views will! Beyond zipping you can tackle 24 separate challenge elements on a self-guiding system at Winter Park Adventure Quest !
Hiking and biking are great, but sometimes summer fun for adults can be found inside. Relax the afternoon away and enjoy some "me" time with a massage or spa treatment.
Day 4
Saddle up and go horseback riding. Enjoy the exhilarating rush of being on a horse in the national forest, view the Rockies and ride with real cowboys.
For lunch choose a place where you can sit outside and enjoy the scenery. Many of our restaurants boast patios with mesmerizing views.
Pro tip: Sign up for a Winter Park Experience Pass and gain access to deals and discounts as well as the insider's guide to incredible local adventures and experiences. It is free and available on your mobile device. 
Golf at one of four local clubs. Set a tee time and take a few hours to relax and enjoy an incredible course perfectly situated between Winter Park and Grand Lake.
Day 5
Book a hot air balloon ride for a once in a lifetime experience and views you will never forget. Continental breakfast and 200+ year old traditional champagne toast is included with your ride.
Decompress from your trip in the clouds with a dip in the pool or soak in the hot tub at the Fraser Valley Recreation Center.
If you still have energy, take a hike! Discovery Trail is located across from Winter Park Resort at the Bonfils Station Outdoor Center. This 1.6 mile hike follows the boardwalk to the right through the forest and past a number of picnic areas. Marshy areas provide great wildlife opportunities and beautiful views of the Continental Divide.
Day 6
Take time to explore Winter Park Resort. Summer offerings include Colorado's longest alpine slide, scenic chairlift rides, and mini golf.
Afterward, take some time to do a little shopping and browse our art galleries. Whether you are looking for unique gifts, lifestyle clothing, jewelry, camping gear, the latest in bike and ski equipment, or a nice bottle of wine, Winter Park is your hub. Be sure to stroll through Hideaway Park while you are at it.
Day 7
Hit some of the 600 miles of trails for mountain biking in Winter Park & Fraser.
Beginners: Northwest Passage Trail to Flume, which starts just outside the town of Fraser, offers a very gradual uphill climb. This ride has a really nice singletrack with only a little rock and root.
Intermediate: Middle-of-the-road riders should hit Blue Sky, a trail that takes riders to D-4, D-2 and into Elk Meadow. This is a nice, wide singletrack with some rocks and a little climb.
Advanced: For those who want to feel a serious burn, take on Tipperary to Spruce Creek, which features a long, demanding climb and a high-speed descent on singletrack.
Or, check out the downhill bike park, Trestle Bike Park at Winter Park Resort or Bike Granby Ranch. Winter Park is a full-service mountain bike destination, with two bike parks and more than 600 miles of trails for  every experience level.