RMNP Summer Itinerary
Image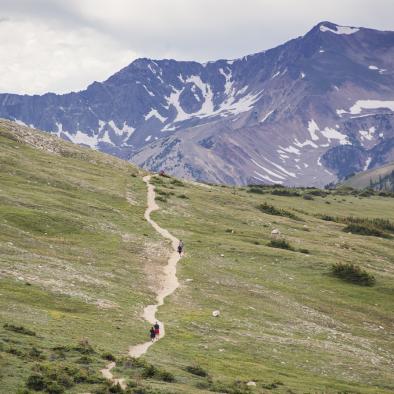 Rocky Mountain National Park is the main summer attraction in the Colorado Rocky Mountains. And the perfect basecamp to enjoy it from? Winter Park! From boating to hiking and more, there are seemingly endless ways to spend your Rocky Mountain National Park vacation.
PLEASE NOTE: RESERVATIONS REQUIRED SUMMER 2021. Rocky Mountain National Park began a pilot timed entry permit reservations May 28, 2021 through October 11, 2021. Learn more...
Here's our favorite way to turn a national park trip into an unforgettable getaway — and enjoy the park from your Winter Park basecamp:
Day 1: Get Acclimated
Morning: Only 67 miles from Denver, Winter Park is an easy drive up the mountain. On the first day of your trip, take your time and enjoy the scenery. When you get into town, check into your accommodations and grab a quick lunch.
Afternoon: After you've settled into your accommodations, head out for a day of boating on one of the area's plentiful bodies of water. Whether you prefer sailing, kayaking or simply floating on a pontoon boat, make an afternoon of it and enjoy the beautiful summer weather. But don't forget to bring plenty of water — it will help you acclimate to the altitude.
Evening: Head into Winter Park or Fraser to browse the local shops. Stop along your way to eat dinner in town before turning in early for the night.
Day 2: Get a Bird's Eye View
Morning: Get an early start to get a unique perspective of Rocky Mountain National Park — from a hot air balloon at sunrise! 
Afternoon: After your morning flight, head back into town for a leisurely lunch. Then, rest up back at the hotel to prepare for a family-friendly afternoon at Winter Park Resort. In the winter, the resort is known for its incredible downhill skiing, but in the summertime, it's a family-friendly paradise. Experience a human maze, mini golf and Colorado's longest alpine slide, in addition to one of the country's best bike parks in the United States.
Evening: After such an early start to your day, you'll probably want to turn in early. Find a local happy hour and then head back to your accommodations for a good night's rest.
Day 3: Colorado's Favorite Playground
Morning: Get a late start and find a local coffee shop or breakfast nook to fuel up for the morning. Then, head to Snow Mountain Ranch - YMCA of the Rockies for some more resort fun. Some of the main attractions that you can access with the day rate? Ziplining and summer tubing!
Afternoon: Stop for lunch, then book a rafting or white water kayaking trip on the mighty Colorado River, which originates in the park! It's one of the best ways to experience the adventure and natural wonders of the Rocky Mountains. Keep your eyes open for eagles, sheep and more while you float down the rapids!
Evening: An afternoon of adventure calls for an evening of (responsibly enjoyed) libations. Experience one of the area's local craft breweries, distilleries or wineries after grabbing a bite to eat at a local restaurant. 
Day 4: Mountain Biking
Morning: Your Rocky Mountain getaway isn't complete until you experience mountain bike. And you're in luck! Winter Park is the heart of this mountain biking paradise. With more than 600 miles of trails to explore, you won't be at a loss for ways to fill the day.
Pro Tip: Pack a lunch from a local sandwich shop or deli before hitting the trails!
Not into mountain biking? No big deal. There are plenty of hiking and walking trails in the area if you want to explore that way instead. Some of our favorites are local wildflower hikes. But save some of your hiking energy for your trip into the park!
Evening: After the sun goes down, it's time to head back into town to enjoy your last night in your Winter Park accommodations. Find a live music venue to catch a show and then get some rest — tomorrow we head into the park for some camping and even more adventure! 
Day 5: Kawuneeche Valley
Morning: Check out of your accommodations in Winter Park and confirm your booked campsite on the east side of Rocky Mountain National Park. Head into the park through Grand Lake, the "Western Gateway to Rocky Mountain National Park."
Pro Tip: Summer is the busiest time of year for Rocky Mountain National Park. Be sure to book your campsite far enough in advance to get a prime location! In addition, review the day rates and annual pass information for the park prior to arrival. This itinerary puts you in the park for three days and two nights.
On your way into the park, stop at the Kawuneeche Visitor Center for more information on the park, hikes to try and even area history! If time allows, spend the morning on a short hike in the Kawuneeche Valley. One of our favorites is the Coyote Valley Trail, a 1-mile loop offering scenic views and wildlife sighting opportunities 5 miles north of the visitor center. Or if you want to experience a little bit of history, hike to the Holzworth Historic Site, where you can see a homestead cabin and 1920s dude ranch. This short walk is also only about a 1-mile round trip hike 8 miles north of the visitor center.
Afternoon: After stretching your legs on a nearby trail, get back in the car to drive Trail Ridge Road, the highest continuous highway in the country. Stop to take in some of the famous views, but don't dawdle too long — you'll want to be at your east-side campsite to set up before dusk.
Evening: Sit by a campfire, toast some marshmallows and enjoy the peaceful evening in Rocky Mountain National Park.
Pro Tip: Traveling from afar? Rent gear from a local outfitter to lighten your load!
Day 6: Enjoy the East Side
Morning: Get an early start and head to Lily Lake for the morning. Complete with incredible views, summer wildflowers, picnic tables and a fishing pier, this is the perfect place to spend your morning. The mile-long trail to the lake is pretty busy during the summer, but the fish should be biting in the morning!
Pro Tip: This is a catch-and-release location, so don't plan on catching your lunch here!
Afternoon: After eating your packed lunch, head to the Bear Lake area, where you can access several popular trailheads on the east side of the park. Sprague Lake and Bear Lake are can't-miss hikes for breathtaking scenic views, and they're both incredible locations to appreciate the park.
Pro Tip: The western side of the park is the quieter side. You'll likely run into more people on the east-side hikes, but the views and experiences are well worth it!
Evening: Head back to your campsite for another easy night by the campfire. Be sure to rest up for a full day tomorrow!
Looking for more hikes in the park? Find lake hikes, waterfall hikes and more on the National Parks Service website.
Day 7: Trail Ridge Road
Morning: After packing up your campsite, head to one of the stables in Rocky Mountain National Park for an early morning trail ride on horseback. With about 260 miles of horse trails available in the park, you're sure to have a unique morning experience.
Afternoon:  Take the time to stop at popular overlooks and points of interest if you didn't do this your first time around. The drive can take anywhere from  1 1/2 hours to over four, depending on the stops you make, so plan accordingly!
Pro Tip: Check what time the sun sets so you can take photos at some of the top spots during golden hour.
Evening: Head back into Winter Park or Fraser for a nice dinner before heading on your way. Looking to extend your trip? There are plenty of local summer activities to keep you busy all summer long!