Golfing
Image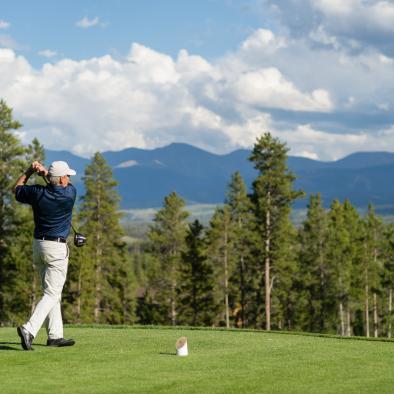 For mountain golfing at its best, look no further than Grand County, Colorado. Winter Park is home to four spectacular courses with awe-inspiring, stop-your-golf-cart scenery at every turn.  All courses lie within just a short drive of each other, offering you the unique opportunity to play multiple courses in the same day. We are happy to report that all four golf courses are in full swing for the summer season!
POLE CREEK GOLF CLUB
Pole Creek Golf Club opened in 1984 and is everything you'd want and expect out of a Colorado golf course. Located at 8,600 feet of elevation, Pole Creek is sure to impress every golfer – whether it's a first timer or seasoned veteran – with 360 degrees of stunning mountain views and a vast diversity of terrain. The course has rightfully earned a number of prestigious accolades, including the title of "Best Mountain Golf Course" by Colorado Avid Golfer, in addition to top-three nods for "Best Views," "Best Wildlife" and "Best Après Golf." 
GOLF GRANBY RANCH
Golf Granby Ranch welcomes you to the tale of two nines. The front nine holes weave naturally through native grasses along the meandering Fraser River. The back nine unveils elevation changes in a valley setting, providing soaring views from rolling fairways and greens. Golf Granby Ranch is a classic mountain course for all levels of golfers. With strategically placed sand traps, lakes and ponds, Golf Granby Ranch offers 18-hole play for golfers of all abilities. This scenic course consistently ranks as one of the top mountain golf courses in Colorado, and is open to the public. 
GRAND ELK
Grand Elk was inspired by the inland courses of the British Isles with low lying vegetation and rolling terrain. It is Grand County's only "Heathland" style golf course, and showcases the rugged natural beauty you'd expect to find in Colorado. Designed to challenge the imagination and creativity of the finest golfers by using the rolling terrain and natural contours to influence shot making, it's also perfectly suited for all golfers because of the five tee boxes and family tees.