A Perfect Basecamp
Image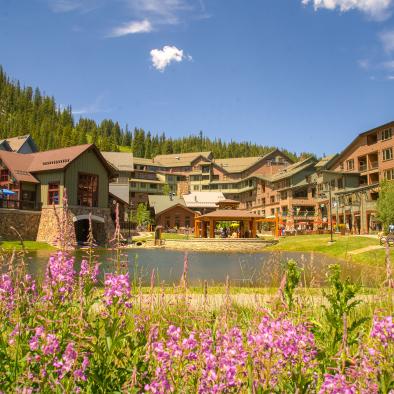 Some say a basecamp is just a basecamp. That all you need is a jumping-off point. But not every basecamp is brimming with adventures from world-class bike trails and parks to an alpine slide and hot air balloon rides to ziplining and water sports. Truth is, Winter Park is home to just about any mountain adventure you can imagine. 
PLEASE NOTE: RESERVATIONS ARE REQUIRED during certain times of the year. Learn more...
Read on for our top eight ways to experience our favorite Rocky Mountain Basecamp (West Side) activities and plan your ultimate summer vacation.
Pro tip: Sign up for a Winter Park Experience Pass and gain access to deals and discounts as well as the insider's guide to incredible local adventures and experiences. It is free and available on your mobile device. 
1. Set Up Your Basecamp
What good is a basecamp without a place to stay? Whether you prefer a cozy cabin or a luxurious condominium, a guest ranch or an economical motel, Winter Park has a range of lodging options to complement your west side Rocky Mountain National Park adventures.
2. Bike Winter Park
With more trails than you can ride in a weekend, you're sure to find the perfect mountain bike experience, whether you're a beginner or an expert. To start planning your trip, check out these resources:
3. Hiking
You name it, we have it. From day hikes to overnight treks, and from scenic vistas to alpine lakes, Winter Park has access to the best hiking around. Choose your perfect hike based on difficulty, length, and scenery from our local favorite day hikes, consult our beginner's guide to backpacking or find your own favorite using the following resources:
4. Resort Fun
Think Winter Park is only for those who love snow? Think again. Come summer, Winter Park turns into a popular high-altitude destination buzzing with fun-filled activities sure to entertain. With everything from an alpine slide to a human maze, and from scenic chairlift rides to summer tubing, Winter Park is the perfect basecamp for all of your rocky mountain adventures. Check out Winter Park Resort, Granby Ranch, Snow Mountain Ranch/YMCA and Devil's Thumb Ranch Resort & Spa to maximize your fun.
5. High-Altitude Fun
Located at about 9,000 feet, Winter Park is already full of high-altitude fun. But adventure seekers can get even higher with unique experiences like hot air balloon rides or zipline tours. View wildlife and pick pine cones as your hot air balloon sails along the tops of the trees and then marvel at spectacular Rocky Mountain peaks when it floats higher. Or get a little closer to nature and fly at up to 40 miles per hour through the trees on a thrilling zipline tour. Whatever your high-altitude style, Winter Park has it.
6. Golf
With our gorgeous, high-altitude golf course, there's nothing slowing your drive in Winter Park. Golf at 9,000 feet and find out why Pole Creek golfers have to stop their golf carts around every bend to take in the breathtaking scenery. If you want to hit more than one course, there are a few more options in the area.
7. Water Sports
Seeking thrills, chills and unbeatable adventure? Consider rafting, kayaking, stand-up paddleboarding and boating. With a variety of rivers and lakes to suit your preferences, the possibilities are endless.
8. Rest & Relaxation
Just need a break? Sometimes when you play hard, you need to rest easy. Visit one of our spas, salons or wellness centers offering an array of services, including massage, acupuncture, reflexology, aromatherapy and more. Looking to spend some downtime downtown? Winter Park offers plenty of shopping and dining. With 45 unique shops featuring clothing, art, jewelry, souvenirs and more, you'll find plenty of great places to stroll through on a leisurely afternoon.