Top Things to See & Do This Fall & Winter in RMNP
Image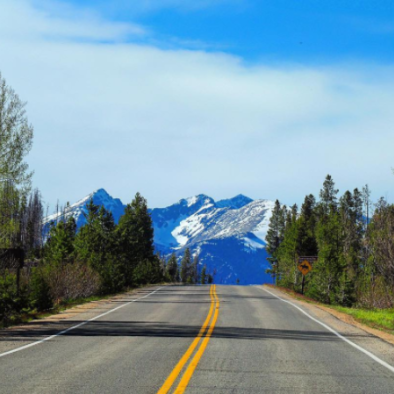 Rocky Mountain National Park has so many things to see and do, it can be hard to know where to start — even in fall and winter, when the crowds thin out and the park turns gold and then white. Wondering what to do in Rocky Mountain National Park when the temperature drops? Here are a few of our favorite cold-weather ways to explore the park.
Fall
Scenic Drives
In late August, the aspen leaves start turning yellow in the park's highest elevations, and by mid-September, even the lowest valleys are awash in gold. Drive Trail Ridge Road to see the park's foliage at its most stunning. This drive will take you through beautiful aspen-filled Kawuneeche Valley, around breathtaking Fairview Curve and to many other scenic spots as it winds around the park. If you're lucky, you'll see moose and even catch a show of elk bugling! Plan your scenic drive today. 
Please note that October often brings snow above treeline that can cause temporary road closures, so be sure to call the Trail Ridge Road Status Line at (970) 586-1222 for the latest road conditions.
 
Fall Hiking
While going for a scenic drive lets you see the fall colors, hiking through aspen trees lets you hear them. Did you know that as aspen leaves change color, they also make a "quaking" sound? It's an otherworldly soundtrack to fall hikes in the Rockies. To see and hear aspen in all their glory, hike Adams Falls Trail or Long Pine Lake Trail on the west side of Rocky Mountain National Park. See more local hikes here.
 
Fall Fishing
If you're after deserted fishing holes and fat trout, don't put down your rod when the aspen start turning gold. Once hunting season starts, you might find yourself with a lake all to yourself. For information on licenses, rules and recommendations, check out the National Park Service's guide to fishing in Rocky Mountain National Park.
 
Ranger-Led Programs
Rocky Mountain National Park is a fun place to explore on your own, but seeing it through a park ranger's eyes makes it even better. Throughout the fall, rangers lead guided walks and give interactive presentations on everything from fall foliage and autumn birds to the elk rut and more. Visit the Kawuneeche Valley Visitor Center or check out the park's programs calendar for more details.
 
Fall Wildlife Viewing
Perhaps the most interesting wildlife viewing event of the year is the fall elk rut. It's when bull elks butt heads and bugle as they vie for the attention of the females of their species. To see this dramatic mating ritual, visit Holzwarth Meadow or Harbison Meadow in Kawuneeche Valley from mid-September to mid-October. Learn more about elk bugling here.
Winter
Snowshoeing
Winter is a great time to explore Rocky Mountain National Park. The air is crisp, the snow-blanketed landscape is beautiful, and all you need to get around is a pair of snowshoes. Try the Coyote Valley Trail near Grand Lake for scenic views and possible moose sightings or walk the slightly more rugged Adams Falls Trail to see a beautiful frozen waterfall. Learn more about local snowshoeing.
Cross-Country Skiing
Cross-country ski clubs are nice, but there's nothing like blazing your own trail. To ski through virgin powder, head to the flat valleys on the west side of the park. The Sun Valley Trail and the Tonahutu Trail to Kawuneeche Visitor Center never disappoint. Learn more about local cross-country skiing.
 Ranger-Led Programs
Going slightly off the grid in the winter can be a little intimidating for first-timers. So why not go with a guide? Park rangers lead snowshoe walks and cross-country ski tours throughout the winter. You'll learn about the park's ecology as you tromp through the snow and experience the exquisite beauty of winter. Visit the Kawuneeche Valley Visitor Center or check out the park's programs calendar for more details.
Winter Wildlife Watching
Winter is a surprisingly good time to see wildlife in Rocky Mountain National Park. The park's biggest residents spend the season in the lower elevations and can often be seen in meadows by the side of the road. For your best chance of seeing moose, elk and deer, head to Kawuneeche Valley and stop by the visitor center there to learn the latest wildlife stomping grounds. Learn more about seasonal wildlife in the area.
Start Exploring Winter Park