Seasonal Guide to Wildlife Viewing
Image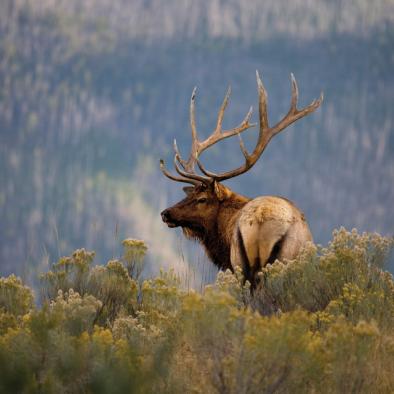 Love seeing wild animals in their element? Then you've come to the right place. The rugged mountains, open meadows and pristine waters of Winter Park and Rocky Mountain National Park are home to some of Colorado's most awe-inspiring wildlife.
Sixty-seven mammal species, including elk, bighorn sheep, and moose call Grand County home. This includes rarely seen mountain lions and black bears that roam more remote areas, and little critters like pikas, snowshoe hares and chipmunks that frolic around every pine and boulder.
Birds thrive here, too, with almost 300 species in the area. And, don't forget the fish! The water in Grand Country's streams, rivers and lakes might be cold, but the fish are biting. All in all, Winter Park boasts endless opportunities to see wildlife at its finest winter, spring, summer and fall (downtown Winter Park is just 45 minutes from the west entrance to Rocky Mountain National Park).
Spring/Summer Wildlife
WILDLIFE VIEWING
In Winter Park, you're never far from nature's majestic creatures. In the spring and summer, spotting moose and deer can be as easy as stopping at a roadside pullout and looking across an alpine meadow. To find out the latest stomping grounds of bighorn sheep, elk and other local standouts, swing by the Winter Park Visitor Center or the Rocky Mountain National Park Kawuneeche Visitor Center in Grand Lake.
BIRDING
Spot a yellow-bellied sapsucker pecking away at ponderosa pine, a mallard diving for fish or a red-tailed hawk spreading its wings above a mountain peak. The diverse population of birds in Winter Park and Rocky Mountain National Park makes the area a birding paradise. Consider pairing bird watching with a hiking or horseback riding adventure to maximize the number of species you see. 
FISHING
There's no question — the fishing in and around Winter Park is spectacular. From high alpine lakes and  intimate streams to the Fraser River and the mighty Colorado River headwaters, the region boasts countless beautiful spots to reel in scale-tipping trout. Check out our guide to fishing in Grand County to find out our favorite fishing holes.
Fall/Winter Wildlife
Wildlife Viewing & Hunting
Autumn is an active season for the area's wild animals and a magnificent time to view them, too. It's mating season for several animals, including bighorn sheep and elk, so if you're lucky, you might hear elk bugling or even witness sheep butting heads. The best spot to witness elk bugling? The Kawuneeche Valley on the west side of Rocky Mountain National Park. Visit the Kawuneeche Visitor Center for more information on staying safe during this spectacular season!
With fall also comes hunting season, and big game, turkey, and even big cat-hunting makes Grand County an outdoor enthusiasts' dream.
In winter, quiet cross-country skiing and snowshoeing through the crisp, still wilderness will bring you closer to nature's creatures large and small.
Birding
It's not just skiers who inhabit Winter Park during the snowy season. Many birds also settle in for the winter. Pack your binoculars and be on the lookout for Clark's nutcrackers, gray jays and white-tailed ptarmigans, three birds hearty enough to call the town home all year round. Want to see even more of Grand County's feathered friends? Consider snowshoeing or cross-country skiing along the shores of the area's lakes and rivers to explore the birds' favorite gathering spots.
Fishing
When Grand County's lakes ice over, the trout are still swimming so it's the perfect time for anglers to grab an auger and a rod and head for frozen waters. Just drill a hole, drop a line, and enjoy the alpine scenery while you wait for the fish to start biting. Lake Granby, Shadow Mountain Lake, and Grand Lake are popular lakes for ice fishing. Check out our guide to fishing in Winter Park.