Winter Park Fall Bucket List
Image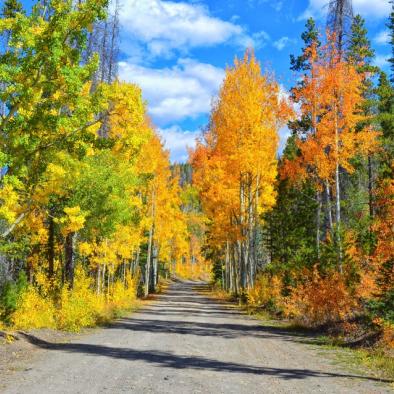 Why is fall a great time to visit Winter Park, Colorado? With cool and crisp mountain air, brilliantly changing leaves, and less crowded streets, how could it not be a great time to visit? Here is our bucket list of things to do in Winter Park:
Hike Among the Aspens
One of the most popular reasons people visit is for fall colors. Before the snow falls and Winter Park's trails require snowshoes or cross-country skis to get around, break out your hiking kicks and wander among the yellow aspens. Not sure which picture-postcard trail to try? Check out our guide to the best hiking trails for fall. 
Put Mountains in your Mountain Biking
Big on biking? New to the sport? Tackle the steady climbs through beautiful meadows, and you'll be rewarded with views of golden aspens, the quintessential Colorado foliage. With more than 600 miles of mountain biking trails, we have the perfect ride to fit your style throughout the valley. Check out all of the trail options on an interactive trail map. If you need a tune-up or want new gear, there are lots of local bike shops to visit. Check out our top colorful Colorado rides before your next escape!
Take a Scenic Drive
Once you're in Winter Park, you won't be able to miss the fall colors, but a scenic drive can help show you more. Take a scenic drive to spot wildlife. Drive Trail Ridge Road during elk bugling season in nearby Rocky Mountain National Park! Stop by a visitor center if you're unsure where to start; our knowledgeable information center staff have great recommendations. View more of the top scenic drives for fall. 
Catch the Big One or Hunt Big Game
Fall is hunting and fishing season in Colorado. With more than 23 million acres of public land and home to thousands of mule deer, elk, and moose, Grand County, Colorado is a sportsman's paradise. Interested in fishing? Hire a guide for a fly-fishing trip down the Colorado River or wade fish the Fraser River. Find more information and regulations from Colorado Parks & Wildlife before your trip.
See Fall Colors from Above
Ever taken a hot air balloon ride? Here, you can get a bird's-eye view of our incredible valley and the Continental Divide year-round from the sky! There isn't a more unique way to take in the fall colors of the area.  Peak foliage viewing lasts from late September or early October through mid-October.
Appreciate Local Art
Our mountain setting inspires artists, visiting, and locals. Did you know you can take a piece of the inspiration home with you? Visit one of Winter Park's exceptional art galleries and find your new favorite conversation piece!
Learn Something New (Or Old)
History buffs and casual historical fans alike will enjoy the local museums and historical tours throughout Grand County. You can even journey back in time and ride one of Colorado's great historic railroads, right here near Winter Park! Prefer to stick to books? Cozy up by the fireplace and pick out a new book to read at the library. Plus, there's free Wi-Fi at the library if you want to surf the web!
Go for a Run, Swim, or Spin
If it gets a little brisk outside, Winter Park's recreation centers can keep the whole family happy with a lazy river, water slide, lap pool, basketball court, running track and more. Want to take a fitness class? From yoga to pilates to spin, Winter Park has the group or private experience for you! The best part? Soothing your tired muscles afterward. Spas and massage therapists are readily available throughout Winter Park, whether you'd like to visit a center or have the services come to you.
Try a Nostalgic Night Out
Visit one of our breweries and find a new favorite craft beer at 9,000 feet. Or check out one (or all) of the great happy hours in town for a bite and a sip. Then head out for a throwback night of entertainment afterward: Fraser's newest bowling alley and movie theater offers two cinemas and eight lanes for the perfect old-fashioned night out.
Go Shopping
Pick up a souvenir or two at one of our specialty shops. It's the perfect way to spend a crisp, cool day in Winter Park.
Attend a Local Event
Winter Park loves to keep guests entertained. Check our current events calendar to see what's going on during your fall visit!