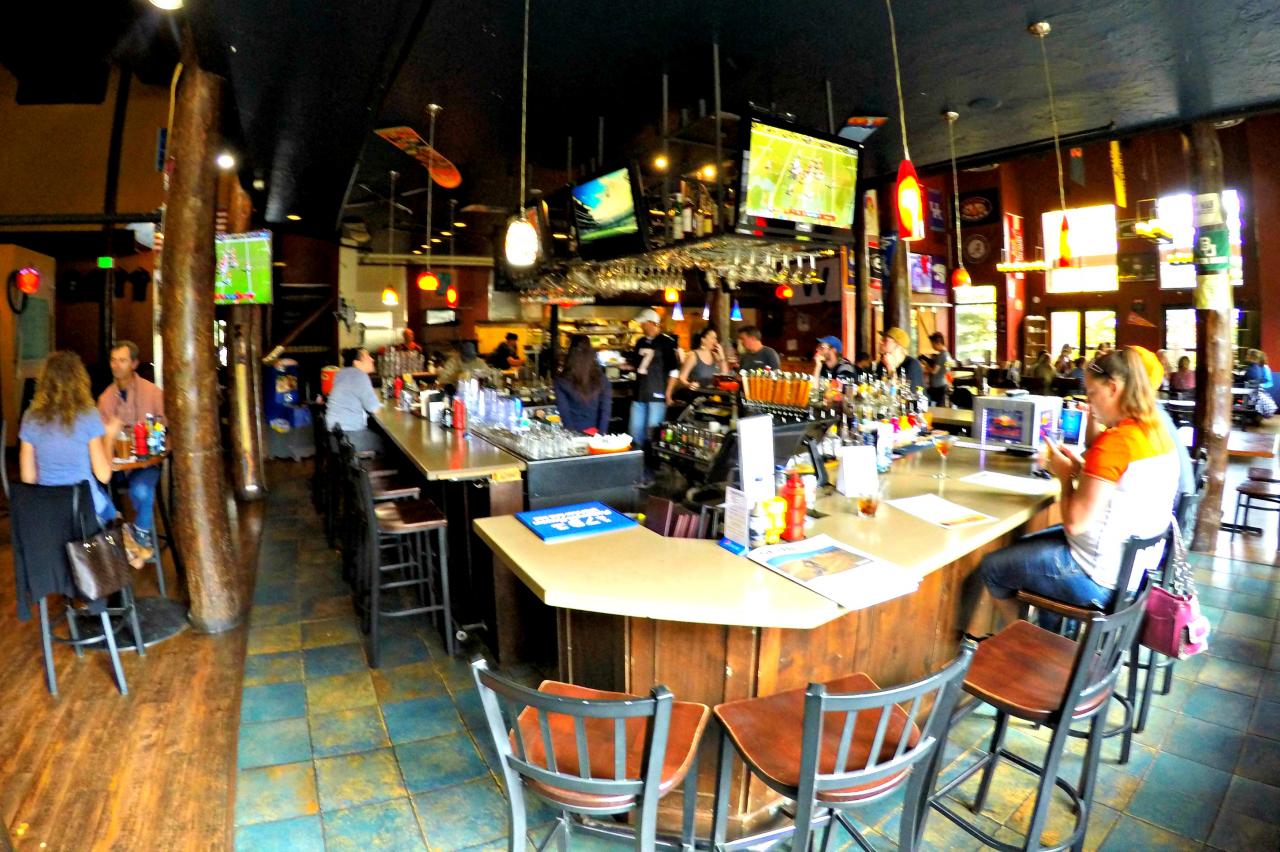 Exploring Craft Breweries, Distilleries & Wineries
A Local's Guide Adult Beverages in Winter Park
Craft Breweries, Distilleries & Wineries
Local Expert: Drinking in Winter Park
Everyone knows that living in a mountain town requires a certain aptitude and passion for outdoor activities like skiing and mountain biking. But if you ask a longtime local, they'll tell you that you should also get familiar with the local watering holes!
So what are they? Luckily, we've spent some time at all the craft breweries, wineries and distilleries in and around Winter Park. Here are our favorites:
Find it: 78927 US-40, Winter Park, CO 80446; Directly off Main Street in Downtown Winter Park next to Epic Mountain Sports.
Drink This: If it's your first time, get a flight to discover what you like before committing to a pint. Ready to dive in? The BruBrew IPA (their weekly growler refill) is an easy drinking, well-rounded IPA with a tangy citrus finish. The rotating sour is another favorite. So far we've had peach, cherry and boysenberry, and they've yet to disappoint!
Specials: Growler refills start at $15 and there's also a mug club, where they keep your personal mug behind the bar for you. (* price subject to change)
Vibe: Like your buddy's bar at home. Hideaway is low-key but lively with local bands on the patio during the summer season and inside when the weather cools down. Oh, and they've got board games!
About: The brewery is owned and operated by brothers Andy (brewer) and Sam (bartender), both pioneers of the craft beer scene in Winter Park. You can smell the hops from the moment you walk in, and you can often get a glimpse of the guys starting a new brew or checking levels in the brew room while you're drinking at the bar. From the Gravel Grinder (a Belgian style tripel) to the Pocket Rocket Red Ale (a bold dry-hopped red ale), each beer has its own personality and a funky name to match.
What else: While Hideaway isn't set up to serve food onsite (although popcorn is available if you're craving a salty snack), the guys encourage guests to bring in outside food. Feel free to visit one of our downtown restaurants for takeout before you head over.
410 Zerex St, Fraser, CO 80442
Drink This: Their gin is made with locally-sourced Juniper and they also offer the non-alcoholic Rocky Mountain soda as well as dessert cocktails.
Specials: They offer "Aftful Afternoons" most Sundays so you can sip, stroll, and support local artists.
Vibe: It's a working distillery, so you'll see the inner workings of making the juice.
About: Barry and Debbie Young, the owners, have been visiting the valley for decades before retiring to Fraser in 2011. They have always wanted the whole family out here working together and came out of retirement to make it happen! Not only are they the patriarch and matriarch of the business, but they are our main distillers. Outside of the distillery, you can see them hiking, biking or cross country skiing with their dog Scruffy!
What else: Their tours and tastings are definitely worth it.
Find it: 78491 US-40, Winter Park, CO 80482
Drink This: We visited on a warm August day, and the Pineapple Wheat was a perfect for day-time drinking and playing yard games. We also love the Blueberry Pomegranate Wheat (made with real juice), a thirst-quenching brew that'll make your mouth pucker just enough to crave another sip. The mildly malted, hoppy Winter Park Ale is another winner that pleases nearly all palates.
Specials: Happy hour deals on craft beers, pitchers and food from 4-6 p.m.
Vibe: Your favorite bar from college. It's a spot where you make a little noise, camp out on Sundays for football games and catch up over a game of pool. The seating area is expansive and the atmosphere is fun, complete with lawn games, pool tables and even Skee-Ball. It's the perfect place for late nights, large groups and even dinner with the kids.
About: The Peak keeps a rotating selection of about 12 craft beers on tap at all times, so everyone in your group is sure to find a favorite. It also has a huge menu, with everything from wood-fired pizzas to juicy buffalo burgers. The bar overlooks the brewery room, so you can often see brewers climbing steel ladders to toss bags of fresh hops or barley into beer kilns.
What else: In town on a Sunday? Try their do-it-yourself Bloody Mary Bar!
Find it: 78737 US-40 #1000, Winter Park, CO 80482; Downtown Winter Park below Rudi's Deli
Drink this: Don't leave without trying the Shrub Spritz. It's basically fermented fruit muddled with citrus and white whiskey or vodka. Another must-have is the Idlewild Moscow Mule (with house-made ginger beer).
Specials: Happy-hour pricing on cocktails and small plates from 3:30-6 p.m., and late-night drink specials starting around 9 p.m.
Vibe: Speakeasy, complete with dim lighting, fireplace seating, rich wood and a view into the distilling room.
About: The first distillery in Winter Park or the Fraser Valley, Idlewild was opened by brothers Dave (bar manager) and Jeff (distiller). They distill gin, vodka and whiskey in-house. The flavors they infuse their cocktails with blend seamlessly, and even the straight whiskey, like their chip-aged whiskey with its smooth woodsy flavor, is outstanding. Keep your eyes peeled; Idlewild Distillery is in the final stages of producing their house-made spirits for distribution at liquor stores and restaurants across the state.
What else: Come hungry. They also offer delicious tapas-style plates! Two favorites are the chicken and waffles (pair it with a Bloody Mary) and the meat and cheese board.
Find it: 395 Zerex St, Fraser, CO 80442; Directly off Highway 40 in Downtown Fraser
Drink This: Every variety they produce is bold and tasty. If you like reds, The Grateful Red is an award-winning, well-rounded dry red blend that pays homage to the Grateful Dead. For a smooth white, try the riesling, which is much drier than most.
Specials: For a little over $10 per person, the guided wine sampling is the best deal, not to mention the most fun! You'll get a sample of six of the winery's best-selling wines (everything from a crisp chardonnay to a velvety port) — along with an informative description of each.
Vibe: Cozy and artsy with good music and gorgeous artwork. Seating space is limited; call ahead if you have a bigger group.
About: Winter Park Winery sources grapes mostly from the four corners area of Colorado and makes all of its wine in-house. Owner, Jon, is happy to give a quick tour of the process and he'll happily answer any questions you have. In town for a while? Check out the winery's "paint and sip" events.
What else: Searching for a fun souvenir or gift? Pick up a bottle or three from the winery. The beautiful watercolor labels depict familiar local scenes, and they make for a great memento.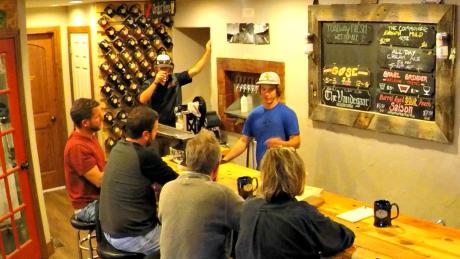 Drinking at Hideaway Park Brewery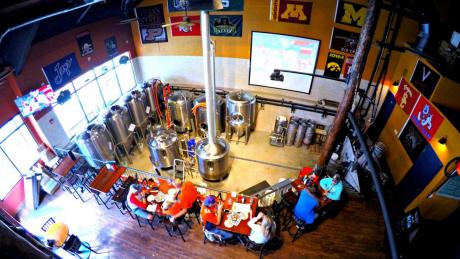 The Peak Bistro & Brewery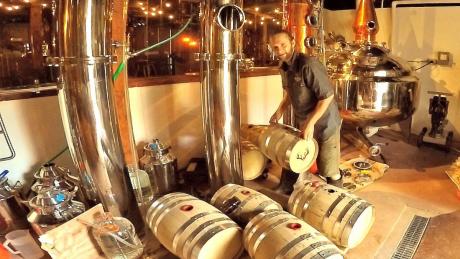 Idlewild Spirits Distillery