Dining & Nightlife
Image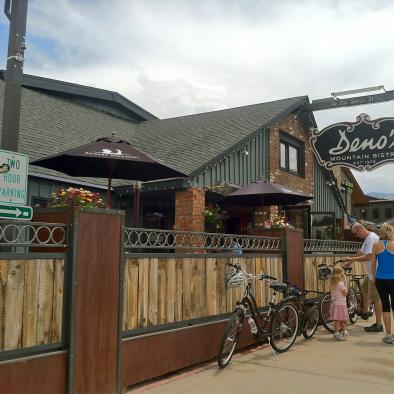 With over 60 restaurants, Winter Park has an exceptional variety of dining establishments. For a romantic tête-à-tête, try dinner at a renovated ranch house. Take the family out for pizza or take Chinese back to your lodge. Enjoy a great Mexican meal or treat yourself to a mouthwatering charbroiled steak and fresh seafood. Don't forget to sample our barbecue and wild game options. It's great to know you can choose any of our local restaurants, and the whole family will enjoy the food as well as the dining experience—we even offer family-friendly restaurants throughout town! Check out the variety of dining options in Winter Park, Colorado below!
Pro tip: Sign up for a Winter Park Experience Pass and gain access to deals and discounts as well as the insider's guide to incredible local adventures and experiences. It is free and available on your mobile device. 
American & Continental Cuisine
Have a hankering for mouth-watering prime rib, steaks, or BBQ? How about some grilled halibut or salmon? Our local fine establishments can satisfy your craving. Don't sweat it if you forgot your nice shoes and slacks, we like to be casual here in Winter Park and the Fraser Valley. There are so many, narrow your search here.
Asian Cuisine
From Szechuan to mandarin and sushi to sashimi, Winter Park's restaurants have it all. Come satisfy your ethnic cravings with our fresh and local fare! 
Indian Cuisine
You can enjoy delicious momos, tandoori breads, sizzlers and all the authentic Nepalese and Indian dishes in the heart of downtown Winter Park! 
Breakfast Restaurants
Ready to jump-start your day with some locally owned, locally operated homemade goodness. In Winter Park and the Fraser Valley, you'll find many great places to sit back and enjoy your morning coffee. From eggs and pancakes to biscuits and gravy or breakfast burritos, we've got you covered. 
Breweries & Wineries
Looking for craft beer or local wine? Winter Park and the Fraser Valley have both. Visit one of our local breweries to pick your favorite flavors, or go wine tasting throughout the valley! Check them out.
Professional Catering Companies
Whether you're planning that special wedding, family reunion, corporate retreat or you just want some delicious food delivered to your home or condo, one of our local experts can help. View our list of catering professionals. Many of our local restaurants also provide catering. 
Coffee Shops & Ice Cream Parlors
When you wake up craving a latte or a freshly baked pastry, you have plenty of coffee shops to choose from to get your day started. Not an early riser? No problem, many serve a great lunch, as well.  
Delis & Sandwich Shops
Hankering for a sandwich loaded with fresh ingredients piled on freshly baked bread? How about a homemade soup? In Winter Park, we know fresh, convenient food. Try Chicago-style dogs and game sausages, subs, gyros, burgers and paninis and more at one of the many sandwich shops. 
Fast Food Restaurants
Headed out to grab something fast before hitting the slopes? Let one of our convenient local establishments help.
Italian Restaurants & Pizza Joints
Whether you're in the mood for pasta, strombolis, handmade gnocchi, New-York style pizzas or something gluten-free, there are many options available. Try a slice or get ready to twirl a bowl of pasta. 
Mexican & Tex-Mex Restaurants
Winter Park and the Fraser Valley serve up some mean chili rellenos, tamales and carne asada, as well as burritos, fajitas and fish tacos like no other. Don't forget to wash it all down with a margarita. Pick a restaurant.
Pubs & Live Music Venues
Whether your thing is après-ski, sports, live music or just a great bar stool, Winter Park and the Fraser Valley have some great options. Go where the locals go, relax and enjoy a pint. Check out a few of our favorites here.
---
Check our online event calendar or inquire at the Winter Park Visitor Center about weekly specials and live music venues.