Winter Park Year-Round Bucket List
Image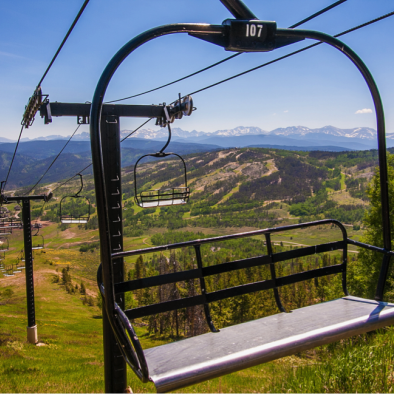 Some bucket lists can be accomplished in just a few days, while others take a bit longer. Recently voted Colorado's Top Adventure Town, Winter Park has enough unique things to do to last you from January to December! 
January: Hit the Trail on a Bike
How about starting the year with something new? Biking doesn't stop when the snow falls in Winter Park — our bike tires just get a little bigger. With fat bikes, riders can keep playing on two wheels all winter long here in Winter Park. In fact, most of the 600 miles of trails that are available in summer are still available after they're blanketed with snow.
February: Experience the Thrill of Dogsledding
Looking for an exciting winter adventure? Try dogsledding this year! You won't be disappointed when a wonderful pack of huskies whisks you along their beautiful snow-packed trails with an experienced musher.
March: Ski Under the Stars
Skiing under the stars is not to be missed, but you can't do it just anywhere. To go night skiing during your stay in Winter Park, head to Granby Ranch, where the smaller crowds and shorter lines at night mean maximum runs in a truly magical setting.
April: Experience Even Higher Altitude
There are different ways to have a scenic adventure in Winter Park/Fraser that offer year-round flying fun for all ages. Explore the wonders of Grand County from the air during a scenic introductory flight with an experienced flight instructor; or see the Continental Divide from a hot air balloon.
May: Sample Our Local Beers and Spirits
May is the perfect time of year to stay indoors and taste our Rocky Mountain libations. Check out our Craft Beverage Trail for a self-guided trail among the valley's diverse selection of breweries, distilleries, and wineries passionate about creating unique, quality beverages and providing a memorable experience for locals and visitors alike.
June: Cruise Down Colorado's Longest Alpine Slide
With 600 vertical feet of track, the alpine slide at Winter Park Resort is reminiscent of an Olympic bobsledding run. But this is one bucket-list worthy activity that even kids as young as 2 can take part in (when accompanied by an adult). And it's just one of the many activities that make Winter Park Resort a must for families in the summer.
July: Get Your Groove On at 9,000 Feet
Summer is music festival season in Winter Park, and whether you prefer Blues, Jazz or Jam bands, we've got you covered. But whenever you visit, make sure to check out the local gig calendar we've got live music year-round!
August: Discover Your New Favorite Mountain Biking Trail
Between Trestle Bike Park, Bike Granby Ranch and all of the other mountain biking trails in and around Winter Park, we've got more than 600 miles for bikers to explore. But how many have you ridden? Discover your new favorite trail this year at in Winter Park, Colorado Unfiltered. 
September: See the Fall Colors from a Hot Air Balloon
What's the only thing better than seeing the fall foliage in Winter Park? Seeing it from the sky. Check out our options on scenic adventures, and find your next fall adventure today! 
October: Reel in a Trophy-Sized Trout
For Grand County anglers, fly fishing in October might be one of the area's best-kept secrets. The month brings crisp weather, beautiful fall colors and hungry trout looking to bulk up before winter. Plus, the crowds have already left and you might even have your favorite fishing hole to yourself. Put that together and your chances of catching a monster trout just got a lot better.
November: Ski Opening Day at Winter Park Resort
Still, have some sick days left this year? Save one for opening day of ski season at Winter Park Resort. Not only will you get to leave the first tracks of the season on the resort's slopes, you'll also get to take part in the opening day celebrations and have a chance to win prizes. Can't get enough of opening day festivities? Head to Granby Ranch in December for the start of the season there.
December: Watch the Christmas Eve Torchlight Parade
To celebrate Christmas Winter Park-style. Winter Park truly is a wonderful spot to savor the holiday season. In addition to the overabundance of winter activities, Winter Park plays host to several truly unique and memorable events that make the holidays even more magical. After a day out in the Winter Wonderland, head to a downtown pub or restaurant to warm up with a hot cocoa or a spiked eggnog.