Fat Biking
Image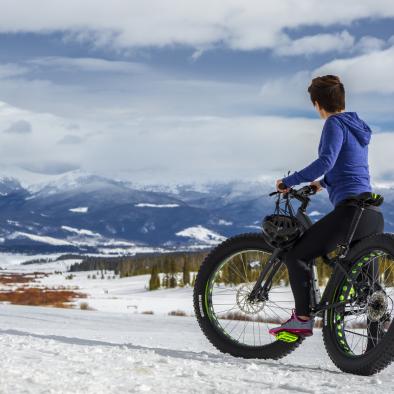 Biking doesn't stop when the snow falls in Winter Park — our bike tires just get a little bigger. With fat bikes, riders can keep playing on two wheels all winter long here in Winter Park. In fact, most of the 600 miles of trails that are available in summer are still available after they're blanketed with snow. Find out more about where to rent and ride fat bikes on our snow-pack trails below.

If you find comfort on two wheels, you've got to try Fat Biking on the hundreds of miles of trails near Winter Park, Colorado. Hit the trails and then head to one of our favorite Happy Hour spots to tell your stories!
Where to Ride Fat Bikes
You can ride by yourself in the Arapaho National Forest, the endless miles of trails accessible from downtown Winter Park or groomed trails at local resorts like Devil's Thumb Ranch and Snow Mountain Ranch. Either way, be sure to visit some of our local outfitters before you embark on your next fat biking adventure.
MAPS & TRAIL TIPS: For updates on trail status, use COTREX (a mobile and desktop application for a statewide comprehensive and interactive trail map) to always have your maps with you. Stop by the Information Center in downtown Winter Park for hard-copy maps and additional information. 
Ski Biking
Ski biking has become a more popular activity in the last few years. You may be asking yourself - what is ski biking? Well, imagine the frame of a bicycle and replace the wheels with two skis. Sometimes, for extra support, the ski bike will also include a pair of skate skis which allows your feet to glide down the mountain along with the bike.  Want to take a turn on a ski bike? Check out Winter Park Resort's ski bike tours as well as rental options and tours from local businesses..