Backcountry Enthusiasts
Image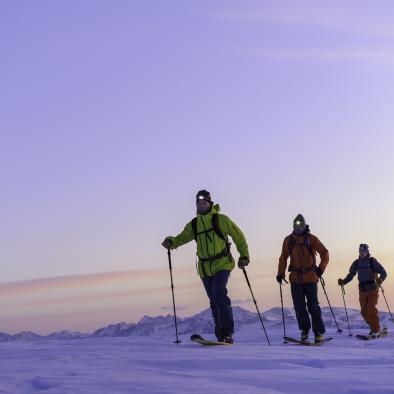 The secret is out, in a matter of minutes, you can escape the madness of I-70 and find yourself in the pristine backcountry of Winter Park and surrounding areas. From steep and deep adventures on Berthoud Pass and The Cirque Territory at Winter Park Resort to the whispering trails of Rocky Mountain National Park or revved-engine adrenaline of snowcat and snowmobile tours, there is a lasting backcountry experience for adventure seekers of every experience level.  
Here's a glimpse into some experiences on Berthoud Pass, the summit is a mere 15 minutes from I-70's exit 232 and 15 miles from downtown Winter Park.
A TAME ADVENTURE
Located at mile marker 240 on the west side of Berthoud Pass, simply step out the car, strap on snowshoes or clip in cross-country skis and head up Second Creek Trail, a beautiful and breathtaking experience that takes you to an elevation of 11.350' and one of the finest backcountry huts you'll ever experience, Broome Hut. Take advantage of the day-use room to refresh and regroup or make it a more intrepid experience, make a reservation and stay overnight at the hut. Learn more about Broome Hut.
AN EXCITING ADVENTURE
In 1937, Berthoud Pass Ski Area opened and held a solid reputation for premiere backcountry skiing and snowboarding until its closing in 2003. No ski area? No problem! With more than 65 trails on 1,200 acres of terrain, Berthoud is still a top backcountry destination.
Some runs can be done right off of the pass, but most runs require some hiking up the mountain. Many runs end up below the pass requiring a vehicle shuttle back to the pass. Some chose to do traffic runs with friends.
The summit stands just above 11k feet and offers skiing on the East and West sides of Highway 40 plus (and restrooms).
AN EXTREME ADVENTURE
With an operating permit of 2,600 acres, Jones Pass Guides will take you on a snowcat skiing adventure like no other in the Jones Pass area. Averaging 8-12 runs, high altitude combined with good Northern exposure keeps the snow cold and light providing unforgettable powder experiences to feed your addiction.
Learn about backcountry adventures throughout Grand County Here.