Rocky Mountain National Park Backcountry
Image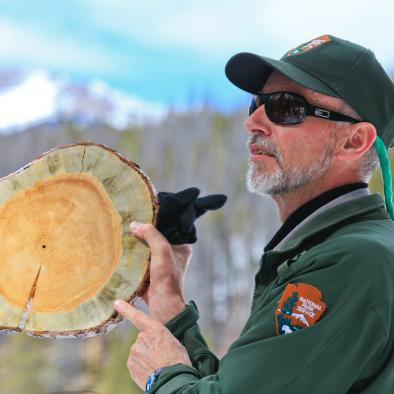 Winter is a spectacular time to visit the wilderness of Rocky Mountain National Park. With a little bit of preparation, many exciting activities await you. Be sure to layer up with insulating, waterproof clothing, wear sunglasses, use sunscreen and carry water.

Ski Touring & Snowshoeing in Kawuneeche Valley
Whether you are a beginner, intermediate, or an advanced skier/rider or snowshoer, explore Rocky Mountain National Parks backcountry and enjoy a unique experience that can not be recreated at a resort. Check out the map of all of the ski touring and snowshoeing trails in the Kawuneeche Valley.
**Please make the trail, not the Track! Snowshoers should always make or use a separate track from skiers. Skiing is not permitted on plowed roadways. Orange tree markers mark the trails. Make sure you check the avalanche conditions at the visitor center before any winter trips into the backcountry.**

Avalanche, Snow, and Trail Conditions
Rocky Mountain National Park's avalanche risk, snow levels, and trail conditions are always changing. Read the current avalanche forecast, see how much snow is on the ground, and view trail condition reports by following this link: Avalanche Conditions.

Snowshoeing
Ever thought how fun it would be to hike in the winter, but there's all that snow? Consider snowshoeing! It's as easy as strapping snowshoes on your boots and grabbing a couple of poles. No training is necessary and if you can hike, you can snowshoe. Most park trails can be explored with snowshoes. A few pieces of equipment are essential: you will need a pair of snowshoes and waterproof boots. Poles are helpful for maintaining balance, but optional. Waterproof pants or gaiters help keep you warm and dry.

Cross-country Skiing
Picture yourself gliding through a silent forest full of fresh, white snow. Cross-country skiing is a rejuvenating sport that pairs physical exercise with the beauty of nature. You will need skis and poles with large baskets. Waterproof pants or gaiters help keep you warm and dry. In general, terrain and deeper snows on the west side of the Park make for better cross-country skiing, but you are welcome to strap on your skis throughout the Park.  

Snowshoe with a Ranger
Check the Free Ranger-Led Programs for snowshoe opportunities with a ranger; reservations are required.  Snowshoe walks are offered on both sides of the park from January through March, depending on conditions.

What if I don't have my own equipment?
Grand Lake has shops where winter recreation equipment, including snowshoes, cross-country skis, poles, boots, sleds, tubes, saucers, gaiters, stabilizers can be rented or purchased. For rentals in Grand Lake and the surrounding area, see the Visit Grand County website.

Wildlife Watching
Many Park roads are open in winter to provide access to the wintry world that Park wildlife call home. Winter is an especially good time to look for elk, mule deer, moose, and other large mammals. Look for moose along the Colorado River on the Park's west side. Elk and mule deer are most active at dusk and dawn, and are usually seen in meadow areas. Coyotes may be seen any time of day. Members of the Jay family, including Steller's jays, with their striking blue bodies and crested heads, gray jays, Clark's nutcrackers, and the iridescent, long-tailed black-billed magpies are commonly seen in the park.
Local Tip: Test out your rental skis or snowshoes at the Road Closure on Trail Ridge Road.  This area is relatively flat and lightly maintained.  Check out snow conditions on the park's webcam of the Kawuneeche Valley.