Backcountry Couples
Image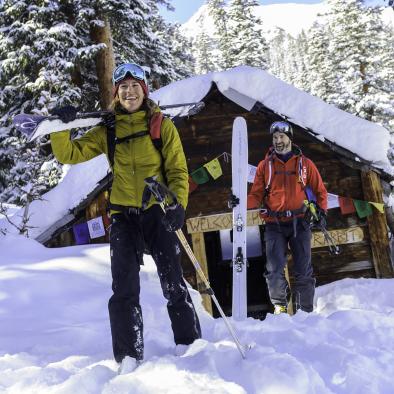 Headed to the mountains for some wintery one on one time with your main squeeze? Grand County is the perfect place to take in the magically serene winterscape, reconnect over a deep cabernet and heal your bodies with a couples hot stone massage.
Devil's Thumb Ranch
Address: 3530 County Rd 83, Tabernash, CO 80478
With 120km of nordic trails, Devil's Thumb Ranch is the perfect opportunity to get out and breathe in crisp, mountain air. Whether you head out for an afternoon of nordic skiing, or are looking to take a spin on a fat bike, you are sure to play hard and have fun with your partner. After your snowy excursion, treat yourself to a Bonnie and Clyde treatment - a massage package tailored especially for you and your partner in crime
Broome Hut
Don't let snowy trails scare you away from a wintery hike - strap on some snowshoes and make your way up to the Broome Hut! Located on the Second Creek Trailhead off hwy 40, expect a short 1 mile hike with an exhilarating 800 foot elevation gain. You'll be rewarded with incredible views of Berthoud Pass, Vasquez Wilderness and the Continental Divide. Pack your bag with some charcuterie and enjoy a romantic picnic, or bring a thermos of hot chocolate and enjoy the warmth in the warming hut.  After your descent, head to Deno's Mountain Bistro in Winter Park for a delicious dinner in a dreamy historic setting.
Hot Sulphur Springs Resort and Spa
Address: 5609 Spring Rd, Hot Sulphur Springs, CO 80451
Treat your body and mind to the healing waters at the natural hot springs in Hot Sulphur Springs Resort. With 21 natural, mineral rich pools available for your soaking pleasure, you're sure to find that special one that's just the right temp. After your soak, head into the spa for a relaxing deep tissue massage to invigorate your muscles and relax your mind.
Local Tip: Winding River Resort
Address: 1447 Co Rd 491, Grand Lake, CO 80447
Nestled at the base of the majestic Rocky Mountain National Park, let the cowboys at Winding River Resort take you and your love on a magical sleigh ride through the sparkling snow covered wilderness. Take in the stunning mountainscape shaped by the iconic Never Summer mountain range while you snuggle up under a warm blanket with your perfect person. After your horse drawn sleigh ride, head into the quaint town of Grand Lake to browse the locally owned stores and snag a latte to sip while you shop.