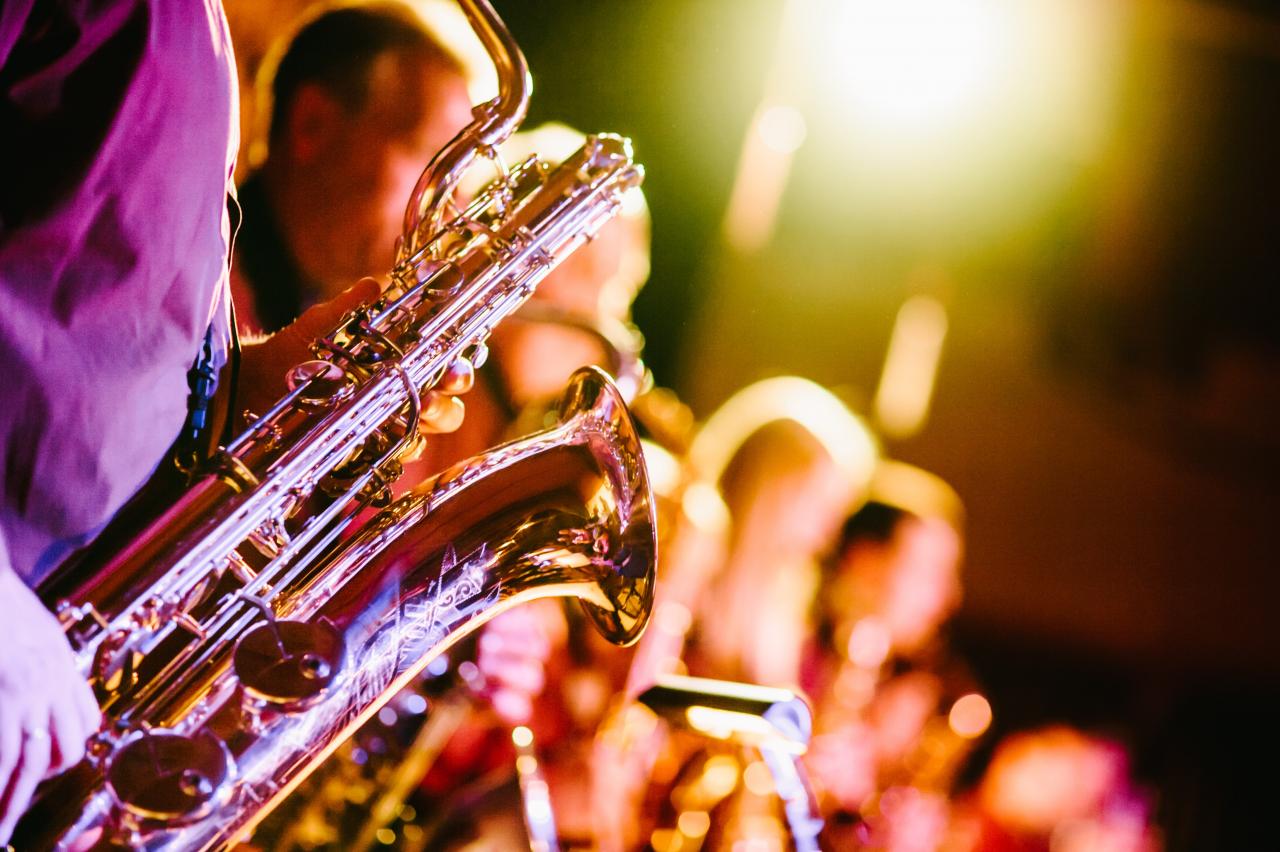 39th Annual Winter Park Jazz Festival
2022 Dates Coming Soon
39th Annual Winter Park Jazz Festival
The 2022 Winter Park summer music series is currently being planned. We'll post information as soon as it is available. Stay tuned.
Jazz is coming back to Winter Park and we can't wait to welcome YOU back to town. Follow the Winter Park & Fraser Chamber Facebook and the Winter Park Jazz Fest Facebook pages for the latest updates and information.
2021 Event
SATURDAY, JULY 17, 2021
LINEUP


Bell Biv DeVoe | 4:30-6pm

BBD have been bridging the gap between R&B and Hip-Hop music with a pop-feel-appeal-to-it for more than 25 years. Since the early days with New Edition, BBD has sold over 20 million albums worldwide and has won the hearts of millions of fans globally. BBD's extraordinary accomplishments have set them apart from their peers and have cemented them as pioneering icons in their own right. See more of BBD.


Damien Escobar | 3-4pm

Damien Escobar is an Emmy-award winning breakout violinist, his resume, which spans two decades, humbly includes critically acclaimed albums, sold out global tours, and more - an inspiration success story that started with Escobar playing his violin on NYC subways. Learn more.


Peter White | 1:30-2:30pm

British-born, LA-based Peter White is a guitarist and smooth jazz artist whose musical career has spanned over forty years from the time he started playing with rock legend Al Stewart in the seventies and singer Basia in the eighties to his many collaborations with Boney James, Rick Braun, Richard Elliot, Kirk Whalum, Dave Koz and numerous others. See more of Peter White.


Elan Trotman's tribute to Marvin Gaye with special guest vocalist Larry Braggs | 12-1pm

Saxophonist Elan Trotman has quickly become one of jazz's most thrilling and emotive performers as he continues to stand out and push boundaries as a composer, performer, teacher and recording artist. Trotman's playing, though inspired by Grover Washington Jr., Kirk Whalum and Najee, displays his own fresh ideas and distinctive tone. Learn more.




Julian Vaughn | 11-11:45am

In 2020, Vaughn was named the #2 billboard artist of the year with 2 singles in the top 20 for the top 100 billboard songs of the year. As Vaughn's recording catalog continues to grow he still wants to continue to redefine the lead bassist role in the smooth jazz genre. See more of Julian Vaughn.
SUNDAY, JULY 18, 2021
LINEUP


En Vogue | 4:30-6pm

Legendary! It's a status very few groups ever attain. But for 30 years and counting, En Vogue has achieved this pinnacle on nothing but pure talent. And they are not letting up now. Still riding high off the global release of 2018's Electric Café , their first album in 14 years, En Vogue is literally soaring as Terry Ellis, Cindy Herron - Braggs, and Rhona Bennett take the group to even greater heights. See more of En Vogue.

RnR: Rick Braun/Richard Elliot | 3-4pm


Rick Braun

Braun's vision and virtuosity have allowed him to stand at the crossroads of the music world. He's amassed over 20 #1 Smooth Jazz hits and collaborated with Sade, Tom Petty and REO Speedwagon, among others. He's also achieved collaborative success on massive hits with Boney James as well as with the group RnR, with saxophonist Richard Elliot and BWB, a powerhouse trio completed by Grammy® winners Kirk Whalum and Norman Brown. Learn more about Rick Braun.


Richard Elliot

Elliot has a laser-like focus and creative vision that knows no bounds. The chart-topping saxophonist and pioneering Contemporary Jazz musician's instantly recognizable trademark tenor has afforded him the opportunity to work with everyone from Smokey Robinson, Bonnie Raitt and The Temptations to Dave Koz, Tower of Power and Gerald Albright, to name a few. Learn more about Richard Elliot.


The Family Stone | 1:30-2:30pm

Hall of Famer Jerry Martini and Phunne Stone -- daughter of Sly and Cynthia Stone -- lead this amazing band which continues to play the amazing hits they're known for including 'Thank You (Falettinme Be Mice Elf)', '(I Want to Take You) Higher', 'Dance to the Music', 'You Can Make it if You Try', 'Everyday People', 'Stand' and 'Hot Fun in the Summertime.' Learn more about the Family Stone.


Avery*Sunshine | 12-1pm

Avery*Sunshine makes the kind of music that undeniably satisfies the soul. Her sound is uplifting, vibrant, and exactly as her namesake suggests, full of sunshine. She brings people together through her riveting stage performances, candid and often humorous stage banter, and optimistic anthems about love and life. Learn more about Avery*Sunshine.


DOTSERO | 11-11:45am

DOTSERO is as much fun to watch as they are to listen to - a band full of life, energy and spontaneity that few artists in the genre have been able to match. Experience the full throttle adding the excitement of vocals, dual keyboards to the already funky sounds on the bass, drums and of course sax & ewi. Dotsero is an unstoppable band of true musicianship. Learn more…
TICKETS
2022 ticket information coming soon.
LINEUP & SCHEDULE
| | |
| --- | --- |
| SATURDAY, JULY 17, 2021 | SUNDAY, JULY 18, 2021 |
| 4:30-6pm | Bell Biv Devoe | 4:30-6pm | En Vogue |
| 3-4pm | Damien Escobar | 3-4pm | RnR: Rick Braun/Richard Elliot |
| 1:30-2:30pm | Peter White | 1:30-2:30pm | The Family Stone |
| 12-1pm | Elan Trotman's tribute to Marvin Gaye with special guest vocalist Larry Braggs | 12-1pm | Avery*Sunshine |
| 11-11:45pm | Julian Vaughn | 11-11:45pm | DOTSERO |
SCHEDULE:
Gates Open | Juy 17 & 18, 2021
9:30 am – GA Express & VIP Express (Express lane closes at 1pm)
9:30 am – Disabled
10:00am – GA & VIP
PLEASE NOTE: All dates and times are subject to change.
LOCATION:
Rendezvous Event Center, Downtown Winter Park
78821 US Hwy 40
Winter Park, CO 80482
Volunteer Information | Sponsorship Information | Vendor Information
---
Event Rules & Regulations
All times are subject to change. RAIN OR SHINE. ALL SALES ARE FINAL, NO REFUNDS. If an event is canceled or rescheduled, or the venue is closed, you will be updated via email as soon as information is available, we will send an email to the address you provided in the ordering process (you must use a valid email address with your order).
Venue Regulations
Please read the Winter Park Jazz Fest rules and regulations for the Rendezvous Event Center. These policies are in place to protect our attendees, musicians, and staff as well as designed to provide the most pleasurable Festival experience for all attendees. Learn which items are permitted and which are banned from the venue.
*Please note that the Rendezvous Event Center is a smoke, vape and pet free venue during this event.
Subscribe to our eNewsletter
Latest from #winterparkjazzfestival