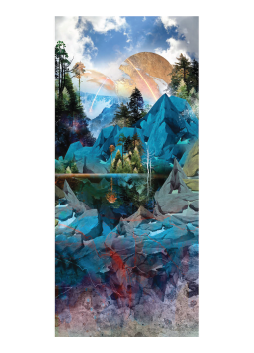 Return to Nature
BIO: Travis "PARR", known as PARR by those who know his work, is a father, artist and an entrepreneur. His work attracts an array of personal collectors around the world. He is a painter, sculptor, and illustrator. With roots in the Rocky Mountains of Colorado, he is an avid backcountry skier / snowboarder, woodsman, and pathfinder. After graduating from Laguna College of Art and Design with a Bachelor's degree in Fine Art, he returned to his hometown of Evergreen, Colorado to launch and establish Icelantic Skis, where he has been the co-founder and art director for the past 18 years. Transcending form and evoking passion, his work has been featured internationally in galleries, commercial spaces, and entertainment venues. He resides in Laguna Beach with his family.
HOMETOWN: Evergreen, CO
I Venture Out Because… 
The beauty of Nature is in my DNA as an Artist. The heritage and landscape of the Americas compels me to create the work that I do. As an American illustrator, my approach is dictated by the Magic of the West.
WEBSITE & SOCIAL