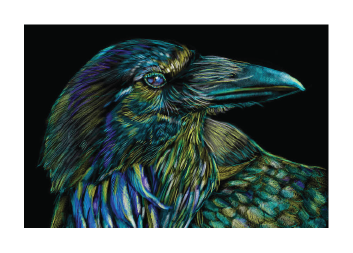 The Play Of Light On Feathers
BIO: Tracy Lovett is a professional photographer, artist, and illustrator located primarily in SW Iowa. She and her family love to travel in the western states, particularly in the mountains, and she spends many days photographing and brainstorming ideas for her art and illustrations as she hikes trails in Colorado, Wyoming, and Utah. Capturing not only the breathtaking scenery, but the animals that reside in these wild places is so humbling and gratifying for her. She believes art can help people see and feel wild places, and in turn, uncover humanity's deep connection to the nature that surrounds us every day. Tracy is married to Mike Lovett, and together they have 4 children, 4 cats, and a beloved Corgi, Sophia. She works in photography, traditional and digital art media, including watercolor, pastel, acrylic, colored pencil, and ink, among others. She has also written and illustrated 9 children's books, and has several more in process. She loves the outdoors, and all creatures great and small. 
HOMETOWN: Sidney, IA
I Venture Out Because… 
Tracy ventures out into the wild places to feel the connection of spirit with the greater natural world. To her, mountains, forests, meadows, and streams are the ultimate cathedral where she goes to shed the digitized busy-ness of humans. A hike away from people, away from man-made things feeds her soul, and allows her to truly feel her place among all the other life forms on the planet. 
WEBSITE & SOCIAL
Websites: