Rock Climbing for Every Skill Level
Image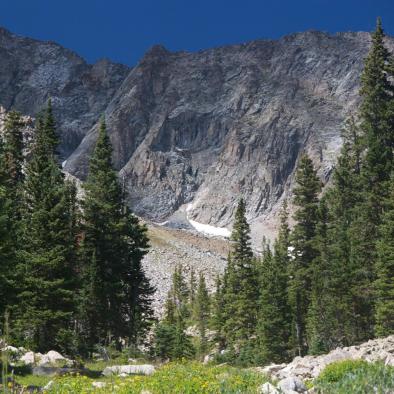 Have you already hiked and backpacked your favorite trails? Are you searching for another way to adventure outdoors? In Winter Park and Fraser, Colorado, rock climbing is an exhilarating alternative to exploring the Rocky mountains. For seasoned pros and beginners alike, check out these top spots for indoor, outdoor and guided climbing. 
Rock Climbing Crags
Hurd Creek
Hurd Creek is a popular rock climbing crag with multiple routes ranging in difficulty from class 5.6 to 5.12. Sport climbers will enjoy up to 60-foot climbs and can choose from about 30 single-pitch routes. Expect scenic views of the Fraser Valley and sunny climbs at this Colorado rock climbing destination. 
The Hurd Creek crag is just a half hour drive north of Winter Park and requires a half mile hike to the rock outcrop. Detailed information on how to get there can be found on Mountain Project and in the local guidebook, "Fraser Valley Climbs." 
Devils Thumb
Overlooking Devils Thumb Lake in the Indian Peaks Wilderness is the unmistakable and dramatic rock spire, Devils Thumb. There are numerous routes starting at class 5.4, and they range from moderate to difficult, requiring at least two pitches. Trad climbing is required to summit Devils Thumb, and there are many chockstones to wrap slings around. 
The Devils Thumb crag can be reached by hiking from Rollins Pass, Hessie Trailhead or Devils Thumb Trailhead. The Devils Thumb Trailhead is just over a half hour from Winter Park and requires a 7-mile round trip hike, similar to the Rollins Pass route. More detailed information can be found on SummitPost and in the guidebook, "Colorado's Indian Peaks: Classic Hikes and Climbs." 
Indoor / Outdoor Climbing Walls
Hideaway Park
An outdoor climbing wall is located at Hideaway Park in Winter Park. Located next to a playground, skate park and the Rendezvous Event Center, the climbing wall is a great option for kids and beginners to sharpen their bouldering and rock climbing skills. 
Grand Park Community Recreation Center
The Grand Park Community Recreation Center in Fraser features a 33-foot climbing wall ideal for climbing in cold weather or training to take your rock climbing skills outdoors. The recreation center offers various climbing programs including a skills assessment, climbing skills clinic and belay certification course. 
Climbers must be belay-certified, at least 14 years old and sign a release waiver. Bouldering is also allowed; however, climbers should not boulder above their own height. 
Snow Mountain Ranch
At Snow Mountain Ranch, 20 minutes northwest of Winter Park, climbers can choose from a three-story indoor or outdoor climbing wall. One hour sessions are available and skilled instructors teach participants how to safely rock climb. There are a variety of routes ranging from easy to difficult. 
The outdoor rock climbing wall opens in May, and all climbers must be 40-250 lbs to use the wall.
Guided Climbing Trips
Winter Park Adventure Quest
If you're still learning the ropes, don't have all the gear yet or prefer the added knowledge of an expert, consider signing up for a guided rock climbing tour. Winter Park Adventure Quest offers half-day trips for every skill level and kids as young as five years old. All equipment is provided and beginner climbers will learn basic techniques such as belaying and rappelling. 
With a plethora of choices from kids outdoor climbing walls to towering rock formations, get ready for a Colorado rock climbing trip to Winter Park. Check out our seasonal specials and start planning your trip today!