Roaring Fork Trailhead
Image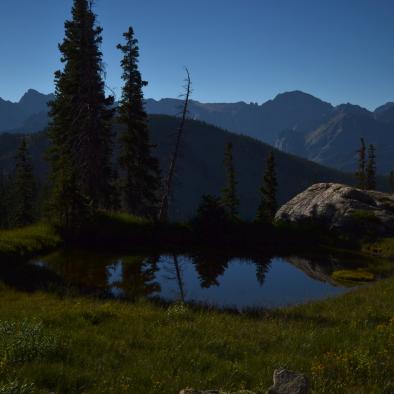 The Roaring Fork Trailhead is located on the East end of Lake Granby. To get there:
Take Highway 40 west to Highway 34 in Granby
Go 5 miles on Highway 34 and turn right onto County Road 6
Continue for 9.4 miles on dirt road, following south edge of Lake Granby
Turn Left at Big Rock Campground (County Road 627)
Travel .8 miles to trailhead parking lot on the right.
The hike up the Roaring Fork trail is strenuous at first, but levels off after the first mile. The hike gains 2000 feet of elevation over 5 miles with the option of going 1.5 miles further to Stone Lake. Views of Mount Irving Hale, the Indian Peaks, and two secluded lakes await. Keep an eye out for elk and deer.
Follow our local experts as they hike Roaring Fork Trailhead and highlight all the scenery and alpine lakes along the way. Watch video below.