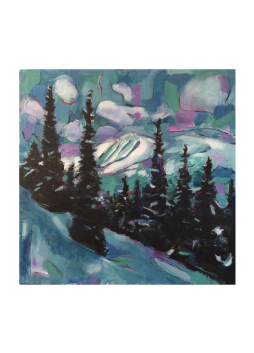 Back Country Visions
MEDIUM: Acrylic & pastel on canvas
BIO: Phyllis Anderson is an award-winning artist who divides her time between Colorado and New Jersey. Her work focuses on mountain landscapes, exploring expressionist, visionary and abstract interpretations using acrylics and mixed media. She earned a BFA in painting at the University of Texas, where she won a Ford Foundation competition for a month-long art history course in Europe. After college, Phyllis and her musician husband moved to New York, where she worked for a corporate art consultant who handled high quality, "blue chip" art. Phyllis concentrated on developing her own vision, and by the time her first child was born, she was making largescale paintings that emphasized surface effects. In 2018, Phyllis left her day-job as a budget analyst for a medical education company, enabling her to devote herself full-time to studio practice. In 2020, she joined RGallery in Boulder, CO, and participated in a mural festival in Fraser, CO, where her mural was purchased for the Cozens Ranch Museum. She shows regularly in juried exhibits throughout the country. Her work is in private collections in Philadelphia, San Francisco, Denver, and Seattle. Her work can be seen locally at the Framewerx Gallery in Winter Park.
HOMETOWN: Winter Park, CO
I Venture Out Because… 
it frees my soul and connects me to the wonders of the wilderness.
WEBSITE & SOCIAL