Never Stop Learning: AIARE 1
Image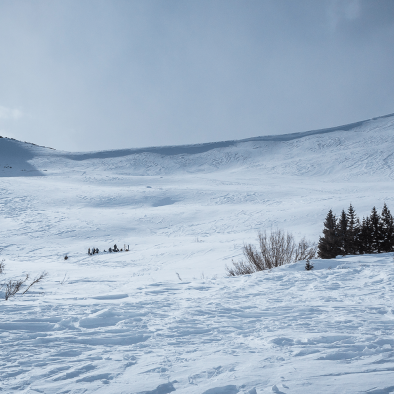 You've taken an avalanche awareness course with Friends of Berthoud Pass or CAIC, and you are looking for the next step in your backcountry educational journey. Enter the American Institute for Avalanche Research and Education or AIARE for short.
AIARE was formed to create a standard avalanche education curriculum that addressed the needs and experience levels of those who travel in avalanche terrain.
AIARE offers the following courses for recreationalists:
AIARE 1: Decision Making in Avalanche Terrain
AIARE 2: Analyzing Snow Stability and Avalanche Hazard
On your educational journey, the first AIARE class that you will take is AIARE 1: Decision Making in Avalanche Terrain.
AIARE 1 is typically taught over the course of three days. Some organizations offer AIARE classes on-site at mountain huts or over the course of 4 days (2 evening classes and 2 full days in the field). Regardless of what version of AIARE 1 you sign up for, you will receive 24 hours of education.
Over the course of the class, students learn about each of the three factors that make up the Avalanche Triangle (snowpack, terrain, and triggers), human factors that can influence decision making in the backcountry, the CAIC Avalanche Forecast, and the AIARE Risk Management Framework.
Avalanche Triangle
During the course, students are presented with the Avalanche Triangle and learn how each element of the triangle plays a part in avalanche danger.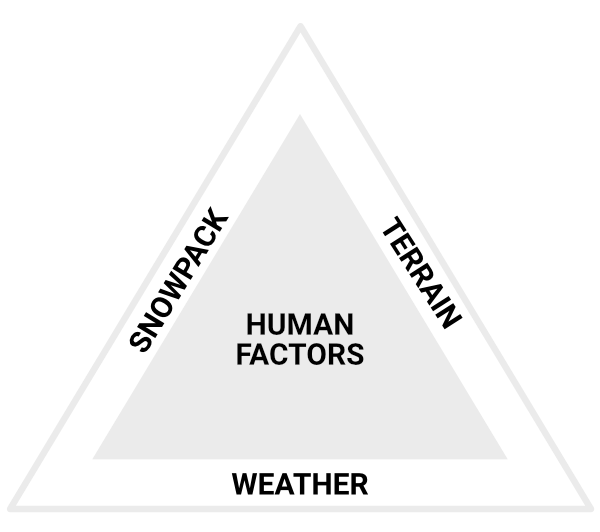 Snowpack
AIARE 1 gives students a high level overview of how snowpack can influence avalanche danger. Over the course of the winter, snow conditions change based on four things: wind, sun, precipitation, and temperature. One of the biggest concerns in Colorado is that our entire snowpack typically rests on a weak layer of early-season snow. When this weak layer is covered by a strong layer, it creates a slab of snow that when triggered, can cause an avalanche.
Terrain
When looking at the Avalanche Triangle, Terrain is the one side of the triangle that backcountry travelers can control. Research shows that the majority of avalanches happen on slopes that are between 30 and 45 degrees. In order to manage risk in the field, travelers can avoid avalanche terrain by choosing safer route options.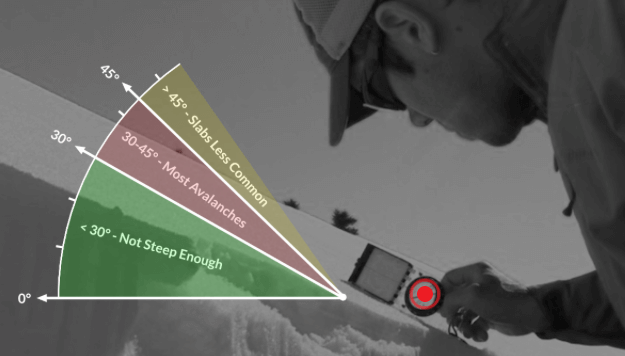 Source: National Avalanche Center
Triggers
Avalanches can be triggered naturally and by humans. Trigger points include convex tolls, trees and shallow rocks, and cornices & cliffs. During the AIARE 1 course, students are asked to identify potential triggers when they are in the field.
Human Factors
As you assemble your team for backcountry travel, be aware of the human factors that can arise. Whether it is social pressure, false confidence, close mindedness, a recommended shortcut, or impaired objectivity, be aware that human factors can influence sound judgement. Make sure you have a plan and you communicate that plan with your team so you are all on the same page.  
CAIC Avalanche Forecast
The CAIC Avalanche Forecast is a very valuable tool when planning your trip into the backcountry. AIARE 1 instructors dissect the complete forecast and explain each section in detail. After each section is defined, students walk away with a solid understanding of why the forecast is important, what they can expect in the field, and how it can help them plan for their trip.
AIARE Risk Management Framework
A large portion of AIARE 1 covers the Risk Management Framework--a step-by-step checklist that guides you through responsibly planning your trip into the backcountry. Students are taught how to plan their trip, how to ride safely when in the backcountry, and how to debrief at the end of the day. Teamwork is an overarching theme of the entire process. After students are taught about the Risk Management Framework, they are tasked with planning their own trip into the backcountry using the step-by-step Risk Management Framework guide.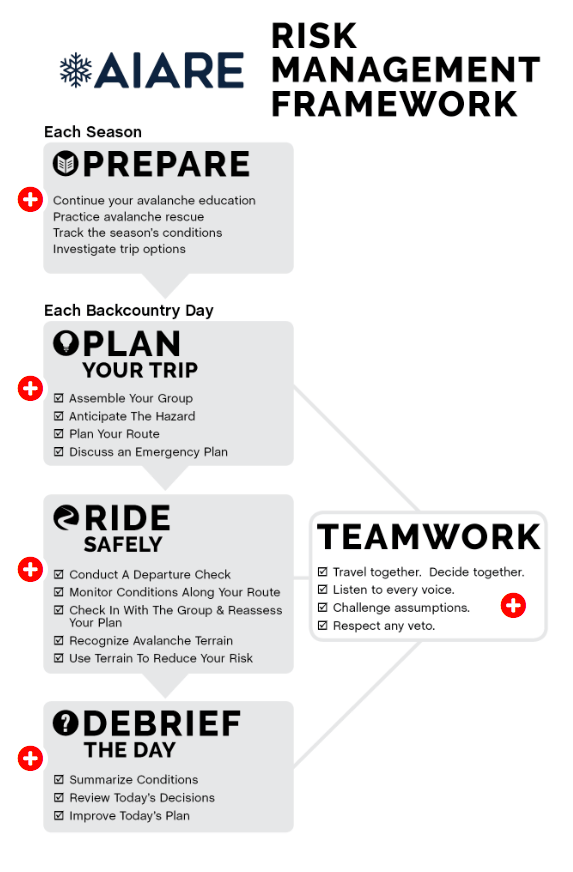 Source: AIARE
Once the trip is planned, the group is assigned an instructor and heads out for a backcountry tour. During the tour, the instructor shows students how to continually assess snowpack and how to identify the avalanche problems that were reported in the day's avalanche forecast. In addition, instructors and students discuss surrounding terrain, and its potential avalanche danger based on what they are seeing in real time.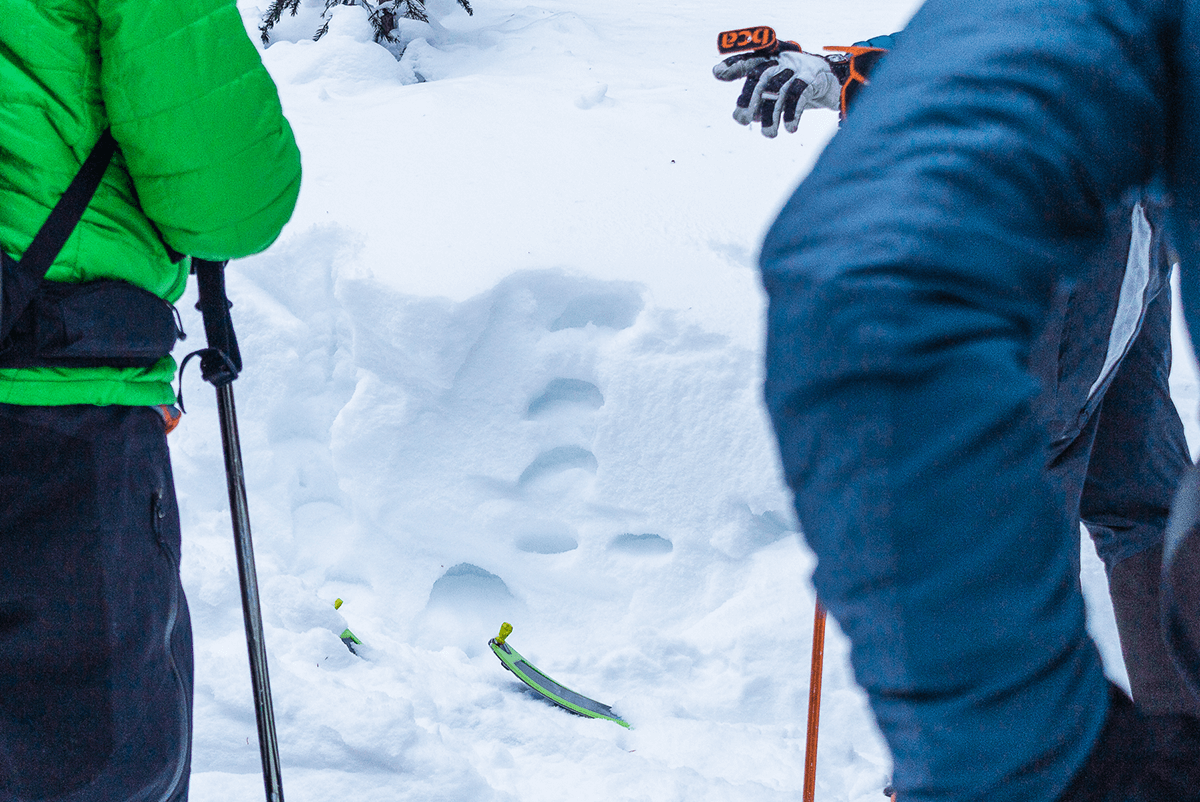 AIARE 1 is an excellent educational experience for those who are planning to explore the backcountry. The class provides students with the tools to effectively plan a trip while managing potential risk factors. For more information on AIARE and upcoming classes in your area, visit https://avtraining.org.