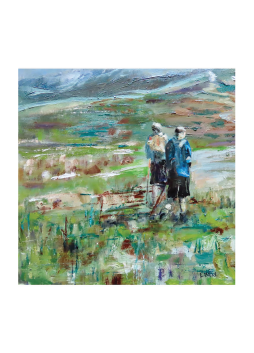 Along the Divide
MEDIUM: Oil on canvas
BIO: Lisa Baird is a representational oil painter residing in Winter Park, Colorado, who takes her inspiration for art – and life – from the outdoors. Seeing ordinary people in extraordinary places: hiking, cycling, skiing, or just enjoying mountain life, supplies the vital creative inspiration for her works. Also a lover of animals, Lisa does commission work of furry friends as well. "I love doing commission art for individuals and companies. It's special when someone seeks you out because your art speaks to them in some way." Her work may be found in both private and public collections.
HOMETOWN: Fraser, CO
I Venture Out Because… 
Hiking with my family is a great activity we enjoy together. We can focus on what is truly important and leave the static of everyday life behind.
Website & Social