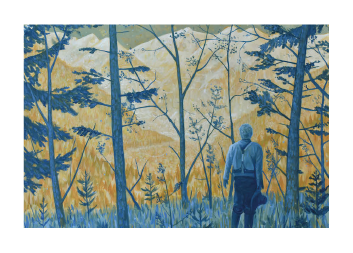 The Valley
BIO: Self taught artist currently showing at Nassima Landau in Tel Aviv, Israel. Combing images taken from photographs, cinema, literature and my imagination, I produce hallucinatory atmospheric landscapes using acrylic, oil, pastel and gouache pigments. These landscapes exist between representation and partial abstraction creating an otherworldly quality to the environment enhanced with the use of vivid colors and inverted tones, suggesting that a transformation is taking place. Within these shifting landscapes a narration is occurring that includes explorations into human relationships with authority, politics, nature, reality and cosmic forces.
HOMETOWN: Denver, CO
I Venture Out Because… 
I enjoy nature, exercising and getting out of the city.
WEBSITE & SOCIAL