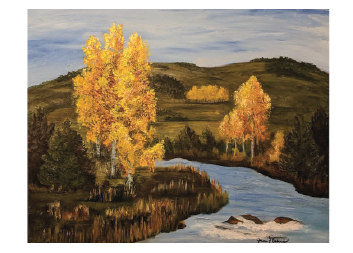 Fall Glory
MEDIUM: Acrylic
BIO: Art, music, and being creative have been very important part of my life. My career as a teacher allowed for these qualities to thrive, but it wasn't till I retired that I had the opportunity to explore the visual arts more in depth. I had always drawn, painted, and worked with paper, now I adventure into all mediums, such as pastels, acrylic, mixed media. I have enjoyed venturing out into different genres whether it is plein air painting; paint with wax, or learning new techniques. I have studied with Chuck Cerraso, Lorenzo Chavez, Jane Hunt, Carol Nelson, Albert Handell, Janet Nunn, and many others. Plein Air painting is my love, what a great way to be experiencing nature by painting it live and in the moment. My main subject is painting flowers and landscapes. When traveling, I carry a special travel paint kit, to use to capture special moments. These travel art journals, have become a favorite of my family. 
HOMETOWN: Louisville, CO
I Venture Out Because… 
Venturing out in nature awaken all my senses! As I paint plein air or in the studio, I reflect on the place; the sounds of the winds and birds; feeling the sun or chill in the air; the smell of the pines. I feel blessed and connected to this amazing world we live in. My hope is to relay these feelings into my art.
WEBSITE & SOCIAL