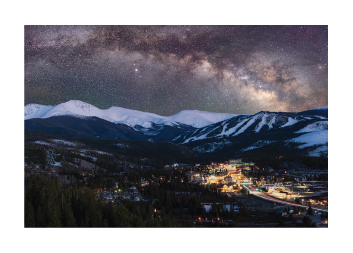 Night Lights
MEDIUM: Photography
BIO: My name is Ian MacDonald and I have been living in the Fraser Valley since 2014. I moved here to ski but in the summer I take full advantage of photography, fishing, hiking and biking. I love capturing moments in landscapes that many people don't get the chance to see. Weather that's a rushing river, a colorful sunset or my personal favorite the Milky Way. Usually due to bright city lights the night sky isn't visible, but as you travel away from cities and up to the mountains the night sky gets darker and looking to the south are able to see the Milky Way core. This is my favorite subject to shoot at night because you can always frame it with something in the foreground. This I believe is my favorite shot of Winter Park and I hope you enjoy it as much as I do.
HOMETOWN: Winter Park, CO
I Venture Out Because… 
You can create a chance to capture something incredible. As a landscape photographer I always get myself to go out by saying "this one could be the one". It could be a clear night sky or if the clouds are shaping up for a great sunset, you'll never know unless you try. More often than not it's a bust, but that one in ten is always a banger.
WEBSITE & SOCIAL