5 Amazing Ways to Enjoy Winter Park!
Image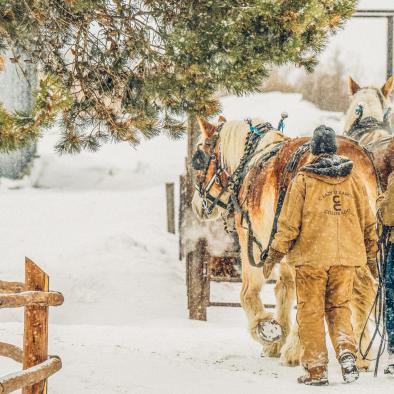 When you think of Winter Park, you probably think of great family-friendly downhill skiing and snowboarding. But those are far from the only ways to have fun in Colorado's favorite Playground during the snowy season. Here are five fun ways to enjoy winter in Winter Park without putting on a pair of skis or strapping on a snowboard.
Fat Biking & Ski Biking
The Winter Park area — dubbed Mountain Bike Capital USA™ for its 600-plus miles of mountain bike trails — is a four-season destination for bikers, thanks to fat biking and ski biking. With wide rims and extra-large tires, fat bikes enable riders to enjoy Winter Park's hundreds of miles of trails, even in the winter. Ski bikes, on the other hand, forgo tires altogether and are instead outfitted with skis below the frame. If you're looking for a new way to go down the slopes, definitely give ski biking a try.
Fat bike rentals are available at Beaver Sports Shop at the Best Western Hotel, Devil's Thumb Ranch Resort & Spa, YMCA of the Rockies-Snow Mountain Ranch, Epic Mountain Sports and Icebox Mountain Sports, and ski bike rentals are available at Winter Park Resort. For more on these fun ways to bike, click here.
Tubing/Sledding
Tubing and sledding is one winter activity that the whole family loves, and the Winter Park area boasts more tubing hills than any other Colorado destination. Choose from the Coca-Cola® Tubing Hill at Winter Park Resort, Colorado Adventure Park, the famed Fraser Tubing Hill, Grand Lake Nordic Center, YMCA of the Rockies-Snow Mountain Ranch, Devil's Thumb Ranch and the Town of Winter Park's sledding hills. Learn more. 
Sleigh Rides
For an old-fashioned family experience, book a horse-drawn sleigh ride. You can choose from a variety of tour lengths and packages, some of which include meals, with local sleigh ride outfitters. Dashing Thru The Snow offers great family fun at an affordable price. Cabin Creek Stables at Devil's Thumb Ranch offers a wide variety of sleigh rides, including one hour, half hour, dinner, morning and evening options. Sombrero Stables at YMCA of the Rockies-Snow Mountain Ranch boasts a variety of winter horse activities, including ahot cocoa sleigh rides and dinner sleigh rides, as well as private rides, two-person rides and winter horseback rides. Learn more.
Dog Sledding
Sled dogs love their job and can't wait until there's enough snow to pull their rigs through the forests near Winter Park! Simply sit back and enjoy, while an experienced musher expertly guides the dogs down the trail, pointing out wildlife/wildlife tracks, offering local history and answering guests' questions. Dog Sled Rides of Winter Park offers 45-minute rides pulled by eight Siberian and Alaskan huskies and YMCA of the Rockies-Snow Mountain Ranch offers dog sled rides at their expansive location about 15 minutes from downtown Winter Park. Reservations are required. Learn more.
Hot Air Ballooning
See the snowy scenery from above with a hot air balloon ride with Grand Adventure Balloon Tours. Low-level contour flying allows riders to spot wildlife and pick pine cones from treetops and higher altitude flying reveals majestic views of the Continental Divide, as well as mountains, lakes, rivers and forests within Rocky Mountain National Park. Then after the flight, celebrate with a traditional post-flight champagne toast! Call 970-887-1340 to make a reservation. Learn more.