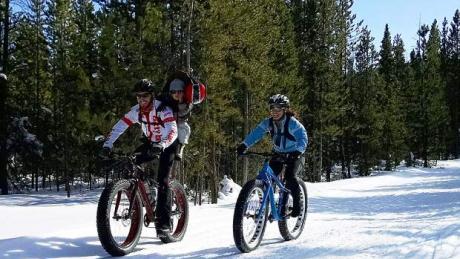 Fat Biking Trail Options in Winter Park
For those of you who cried when the summer mountain biking season ended it's time to dry those eyes. Fat biking is here, loud and proud in Winter Park and we're living up to our name, Mountain Bike Capital USA™ with year-round biking!
What is a fat bike? It's a sturdy mountain bike with fat tires that have tread made for pedaling on snow.
A local expert, Keith Sanders, discussed some of the different trails the Winter Park & Fraser have to offer with SkyHi News. 
Fat bikes are a blast. Maybe it's that it's new, like a new toy at Christmas, or is it the rush of a new fun activity? It could just be that riding a bike in the snow gives me the thrill much like the rides of summer but just a tad colder.
Winter Park is unique in the fat bike world. We have hundreds of miles of trails and roads to ride. Unlike many areas that are limited in variety of experiences, we seem to have an ever-growing number of options. Many of our favorite trails from summer are available to be ridden in the winter. In addition, cross-country ski areas such as Snow Mountain Ranch and Devils Thumb Ranch have embraced fat bikes as well. This winter experience adds credence to Winter Park's claim of Mountain Bike Capital USA™.
The type of trails tend to vary as much as summer if not at times a bit more. Snow conditions, trail widths and compaction from other users are just some of the factors that help create and mold your experiences.
I prefer packed snow a day or so after a storm versus new. Colder (i.e. freezing or below) offers better traction than warm. I tend to look at trails as following into three types. This is summarized but will give you an idea of options: Compacted roads, trails compacted by vehicles such as snowmobiles, and singletrack created by skiers and other fat bikers.
"Many of our favorite trails from summer are available to be ridden in the winter."
ROADS
The easiest of all trails tend to be forest and county roads that have been compacted by motor vehicles, snowmobile or other means of motorized transportation. These tend to be the most compacted, which offers the greatest traction while being the least technical. If you have never been fat tire biking before, then these types of trails may be the best place for you to begin. Examples of these type of trails would be St. Louis Creek Road, Elk Creek Road, Vasquez Road, Little Vasquez, Fraser River Trail and USFS 159 to name a few.
PACKED TRAILS
The next level of experience and difficulty are those compacted predominately by snowmobiles and skiers. These tend to ride like wide singletrack. Difficulty levels can increase depending on the compaction of the snow. When hard-packed the bike will roll pretty fast, sometimes faster than on the dirt. If the snow is a bit loose then you will be challenged a bit to keep traction. If you have experience on a mountain bike, then these will be a fun but good challenge for you. Examples these trails would be D4, Blue Sky and Sunken Bridges.
SINGLETRACK
True singletrack is typically created by skiers, fat bikers, and snowshoe users. This can be the highest difficulty level as the compacted area is often less than 18 inches wide and sometimes as narrow as just a few inches. Fat Bikers call it riding the beam. Even the best riders slip off into the deep snow or take a tumble. Examples of some singletrack would be Crosstrails, Winter Woods, Ditch Trail, Sun Dog and Sunset Pink as well as others.
If you haven't been out on a fat bike, you should give it a shot. Start easy and then work up to harder difficulty levels. The bikes can be a lot of fun but as with any sport, start within your ability and when you are ready to explore greater challenges.