Music Festivals Where You Can Cut a Rug Near Winter Park
Image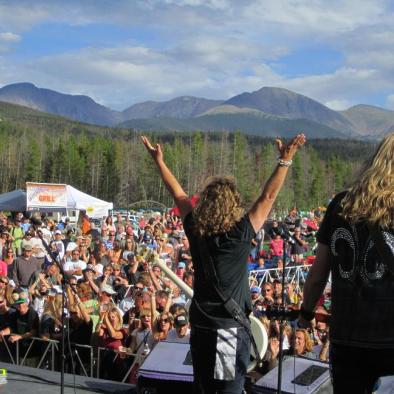 Reasons to Love Winter Park, Colorado
There are dozens of reasons to love Winter Park, Colorado—the snow sports, the bike trails and the epic views, to name a few. But did you know that live music is one of the reasons fans flock to the Fraser Valley every summer? 
Here are just a few of the music festivals and events you won't want to miss while in Winter Park from June to August.   
Blues from the Top 
What better way to spend a long summer weekend than listening to today's hottest blues musicians in a breathtaking Rocky Mountain venue? The Blues from the Top annual festival is one of the best reasons to visit Winter Park in June. This family-friendly event features blues musicians from around the world. 
What You Need to Know
Main Venue: Hideaway Park in downtown Winter Park.
Pre-festival party, jam sessions and performances at local venues enhance the festival experience.
More info and list of ticket locations at Grand County Blues Society
The Blues Society also hosts blues events throughout the year at intimate Winter Park venues. Check the website before you come so you don't miss great music while you're here!   
Local Summertime Musical Offerings
If you're in the Winter Park area this summer, plan to join locals in the park for an evening of fun and music. Here's one way—bring a picnic supper and enjoy free music at Fraser's Old Schoolhouse Park on Tuesday evenings late June to early August. But that's not the only free concert you'll enjoy this summer in Winter Park. High-Note Thursdays, part of the Odell Brewing Company Concert Series, brings an excellent line-up of free music on Thursday evenings from 6-8 pm. Bring the kids, bring the lawn chairs and get ready to relax in picturesque Hideaway Park. What a great way to unwind after a day of mountain biking or hiking!
Winter Park Jazz Festival Presented by Colorado Access
Held yearly in July experience jazz and smoky blues in the crisp mountain summer air. Blend a weekend in Grand County's majestic peaks with a two-day, nationally known jazz fest and you'll find your bliss. Winter Park's Hideaway Park is the place to join thousands of fans as jazz notes fill the air in this high-altitude venue. Click here for updates on Winter Park Jazz Festival tickets and performers. This festival is also part of the Odell Brewing Company Concert Series.   
Winter Park Beer Festival 
Held in August, get a chance to taste your favorite brews, hear exciting live music and sample a wide variety of food vendors—that's the best way to describe Winter Park's annual Beer Festival in Hideaway Park. From noon to 5 p.m., join beer fans in the park and taste away as you enjoy the concert (and it's all for a good cause!)  
Note that this is just a partial list of the music line-up offered. There's Winter Park Music Festival presented by The Fox 103.5 and Colorado Access, SolShine Music Festival, to name a few.   Come to Winter Park and Fraser for the scenery, the outdoor recreation and the ultimate Rocky Mountain vacation, but plan your trip around area music fests to add another layer of excitement to your trip. You won't believe what you hear while you're there! Special thanks to our guest blogger, Joe, for a great article! Joe Laing is the Director of Marketing for El Monte RV and has been in the travel industry for over 20 years.  He has been exploring the outdoors most of his life and enjoys spending time camping throughout the United States. Joe has also been involved with the RVIA's Go RV'ing committee, campground associations, and many travel industry associations.