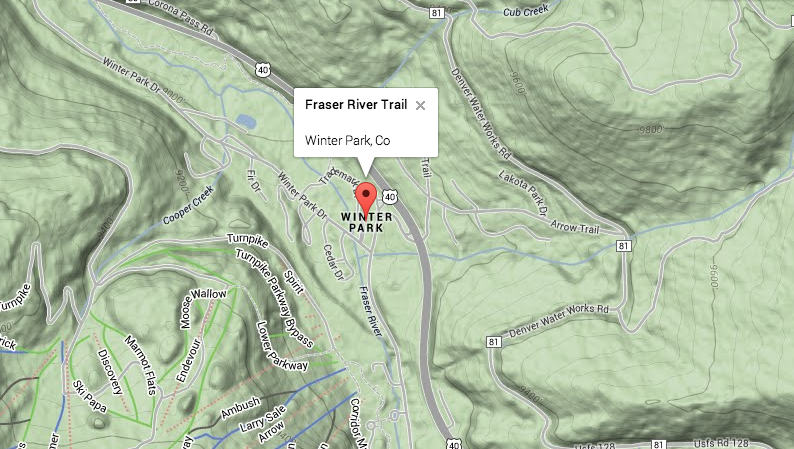 Fraser River Trail
Trail Map & Ride Description
Fraser River Trail
Shorter, Family-Friendly Trail
Easiest | 5 Miles | 772' Ascent
This paved trail is perfect for beginning mountain bike riders, families looking for a stroll, or those looking for an easy cross-country trek. Take it from Fraser to Winter Park in your sneakers on your rollerblades, your bike, or cross-country skis! It is definitely a year-round trail. 
One of the easiest rides or hikes in the area, this beautiful and scenic trail takes you south from Fraser beside the meadow, through the town of Winter Park then winds along the Fraser River, through the Idlewild campground, under the highway to Old Town's Trademark Drive and to the base of Winter Park Resort.
There are picnic tables, benches, and educational signs along the way and keep your eyes and ears open, it's not unusual to see incredible wildlife along the way from birds to beaver, deer, and moose!

MAPS & TRAILS TIP: For updates on trail status, use COTREX (a mobile and desktop application for a statewide comprehensive and interactive trail map) to always have your maps with you. Stop by the Information Center in downtown Winter Park for hard-copy maps and additional information or details on road closures and trail work. 
Pro tip: Sign up for a Winter Park Experience Pass and gain access to deals and discounts as well as the insider's guide to incredible local adventures and experiences. It is free and available on your mobile device. 

Starting Point: The beauty of the Fraser River Trail is that you can start at Winter Park Resort, in downtown Winter Park,  the Murdoch's Plaza in Fraser or anywhere in between. 
Quick Directions:
From Ski Broker in Fraser, pedal south on the paved trail/sidewalk for 
2.4 miles
, cross HWY40 at the Vasquez Road lights and continue south on the paved trail for 
1.8 miles
.  At the end of the river trail, keep right for ~450ft turning left on Old Town Drive.  Continue 
.5 miles
to the base of Winter Park Resort.
Detailed Directions with landmarks:
The paved trail starts near the Murdoch's Plaza, right in front of Ski Broker - a great place to rent bikes!
Hop on the paved trail and head south for approximately 1.8 miles, pass the Fraser Valley Rec Center followed by The Foundry Cinema and Bowl and arrive in downtown Winter Park. 
We recommend crossing safely at the first set of traffic lights - just past The Foundry and across from Hernando's Pizza & Pasta Pub (keep them in mind for dinner later).  From Hernando's head south on Main Street sidewalk. In .6 miles you will reach Hideaway Park and the Winter Park Information Center, a great place to pause if you need to use a restroom (across from McDonald's).  
From here stay south on the sidewalk going south, follow the sidewalk as it veers slightly left from Main Street onto a serene path that flows alongside the Fraser River. 
For the next 1.8 miles you'll weave through the Idlewild Campground, alongside the river, through a tunnel under Highway 40 and from there, you're less than a mile from the end of the ride. There are plenty of places to rest along the way if you get weary or want to drink in the scenery.  
You'll arrive at Trademark Drive in Old Town Winter Park, keep right for 450ft as you depart the Fraser River trail and take an immediate left onto Old Town Drive, you're just .5 miles from the base of Winter Park Resort.
Congratulations, you made it!
Tired and don't want to bike back? Hop on The Lift, our free local shuttle conveniently fitted with bike racks to get you back to downtown Winter Park or Fraser (schedules change with seasons so be sure to check out their latest schedule here).
Cruiser Bikes on the Fraser River Trail