Winter Park Wows With History
Image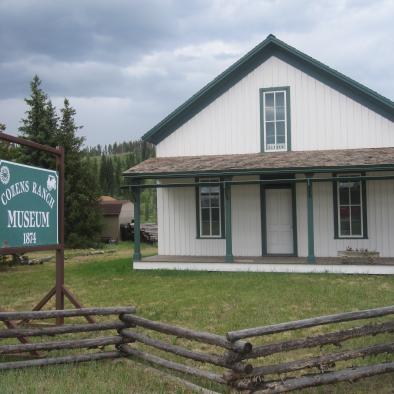 You probably know Winter Park as Colorado's favorite Playground with its 600-plus miles of bike and hike trails, ski resorts, fly-fishing honey holes, and more! But historically, the area was known for railroads, ranches and logging.  Here are three of our favorite places where history comes alive in Winter Park:
Cozens Ranch Museum
Address: 77849 US-40, Winter Park, CO 80446
Cozens Ranch is the site of the first ranch and stage stop in the Fraser Valley. The original 1876 house has been beautifully restored and is open to the public. Throughout the house you will find photographs of the Cozens family and early life in the Fraser Valley. Original wallpaper and carpet pieces in the main house are combined with family and antique items contemporary to the period. The museum is open Wednesday through Saturday from 10 a.m.-4 p.m. and is located at 77849 U.S. Highway 40 in Fraser. (970.726.5488)
Rollins Pass
Rollins Pass stretches to 11,660 feet and sits about five miles east of Winter Park. Today, the pass is popular for its spectacular views of Devil's Thumb and is best accessed by car or mountain bike in the summer/fall or snowmobile in the winter. Back in 1865, J.A. Rollins built a toll road for wagons to cross the Continental Divide. The Denver & Rio Grande Western Railroad eventually carved a 27-mile path up the pass, though the trek was arduous. Once the Moffat Tunnel was opened in 1928 (see below), rails were taken off the pass. But travel across Rollins Pass occurred long before white settlers showed up. In fact, about 10,000 years ago Native Americans camped and hunted high on Rollins Pass!
Moffat Tunnel
This tunnel, which stretches an impressive six miles and cost $18 million to construct in the 1900s, is one of the most famous railroad tunnels in America. It is the sixth-longest tunnel in the world and it took 800 people (working around the clock) three-and-a-half years to build. The tunnel was named after Colorado railroad pioneer David Moffat, and it provided Denver with a way through the Continental Divide, rather than passing over Rollins Pass. The water tunnel, which delivers a portion of Denver's water supply, and the railroad tunnel parallel one another. The West Portal of the tunnel is accessed near Winter Park Resort.  Did you know that during ski season the Winter Park Express arrives from and departs to Denver Union Station via the Moffat Tunnel?  Read more here.
Learn more about planning a modern-day trip to Winter Park for a glimpse of the days gone by!