Rendezvous Event Center Rentals
Image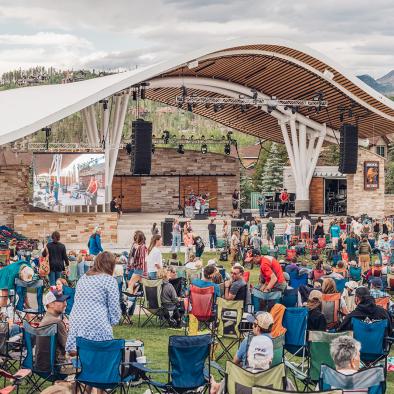 Green Room at the Rendezvous Event Center | Stage at the Rendezvous Event Center Wolf Park
Reservation Policy/Information
All venues are ADA-compliant.  
Rendezvous Green Room or Stage Request 
(check here to fill out a reservation request form) 
78821 U.S. Highway 40, Winter Park CO 80482
Limited tables and chairs to be provided (Green Room), however, no food or beverage are provided 
No furniture, including tables and chairs available for the stage. No food or beverages provided 
Parking is limited 
The stage is a separate space from Green Room and pricing is for either space. 
Weekdays: 8 am-5 pm
$300/hr, 2 hours minimum / 4 hours maximum 
$1,000 for half day (4hr) 
$25/hr (nonprofit rate)

Weekends 8 am - 9 pm and Evenings 5 pm-9 pm
$350/hr, 2 hours minimum / 4 hours maximum 
$1,200 for half day (4hr) 
$25/hr (nonprofit rate)
Note: Pricing does not include 7.5% tax. Pricing does not include $75/hr Service Fee. Pricing does not include $300 Cleaning fee
The event must remain within the rented venue(s) and occupancy is determined by the building and fire codes. 
Rendezvous Green Room - Max 120 ppl
Stage - Max 120 ppl 
Wolf Park - Max 50 ppl
If alcohol is being served by Renter, a paid security person must be provided by group.
Proof of liability insurance is required

The Town of Winter Park must be listed as additional insured on liability policy. 
CIRSA offers a Special Event program that is written as a pass-through coverage.
The limits on the policy must be $1,000,000 each occurrence with a $2,000,000 aggregate. 
The Town of Winter has further information if requested.
Upon signing the contract, User must provide a credit card and WPFC is authorized to charge this credit card for any overdue invoice balance(s), including rental fees and any incidental damages. User agrees that all final payments due shall be charged to this credit card if not paid by User before the due date. 
Need to fill out a request form? 
Click here 
Free to a group of 50 or less (reservation required).  More than 50 must fill out a special event permit 60 days prior to event for approval.
The Wolf Park picnic pavilion is available for reservation during the months of May - October.
View the Reservation Policy for additional information.
Reservations are available between 10 a.m. until 9 p.m. for up to 4 hours.
Wolf Park offers the following amenities:  3 barbecue grills, Covered picnic pavilion, Gazebo, Restrooms with potable water, Playground, Sandbox, Volleyball court, Tennis/Basketball court, Bike rack, Fitness trail, ADA Accessible, Large turf field
Groups are limited to four (4) parking spaces and no more than 50 persons
Recurring or consecutive reservation requests are prohibited
Area must remain open to the general public at all times Applicant is responsible for cleanup and trash removal
Once we have confirmed your selected date, a signed contract must be provided along with a credit card kept on file for any incidental damage to the property to secure your reservation. A $500 damage deposit must be provided along with 50% of payment upon signing the contract.  The remaining 50% venue rental fee must be paid in full 10 days prior to your reserved date. 
Venue rental periods will be dependent on the amount of set up required for the event. Early arrivals and drop-offs are not allowed before the start of the contracted rental period. Once the Event begins, furniture rearrangement is User's responsibility. Care must be taken not to damage the floor or walls when moving furniture. All guests must vacate the venue(s) by the end of the venue rental period. No refunds will be given for early departures.  Late fees will apply for late departure.
All decorations must be confined to the rental area(s). Decorations may not be attached in a manner that will penetrate or damage paint, floors, walls, wood or ceilings. Twine or rope may be used to hang decorations. Use of candles, other fire-related utensils or fixtures is not permitted. Rice, glitter, permanent marker and confetti are not permitted on property. Bubbles are permitted outdoors only.
User is responsible for leaving The Green Room, Stage, and/or Wolf Park in the condition in which it was found and is responsible for removal of all items brought in. No items can be left for later pick-ups. All trash must be removed to the respective dumpsters and recycling is required. The user will be charged for any extensive/additional cleaning that is required.
WPFC does not provide catering/bartending staff, table linens, utensils, dishes, cleaning supplies, etc for the Green Room, Stage, or Wolf Park.  A list of Chamber preferred caterers is here:  https://www.playwinterpark.com/restaurants.  Party hardgoods (utensils, glasses, linens, etc) can be provided by Party Time Rentals in Denver. https://partytimerental.com/ or any rental company of choice.
Alcohol may not be served to or in the possession of minors.
User (or User's representative named in the Venue Rental Contract as the person responsible for the event) must be a responsible adult age 25 years or older. Supervision of the event must also be provided by an adult age 25 years or older. Supervisor must ensure that no one under the age of 21 years is served or in possession of alcohol.
Lewd conduct, inadequate clean-up, significant spills, any situations involving property damage, may result in additional charges for incidental damages. User is responsible for the actions of all event attendees including abiding by liquor statutes.  A $500 damage deposit is due upon signing contract.
Please check here to fill out a reservation request form.