JVA, Inc.
47 Cooper Creek Way,
Suite 328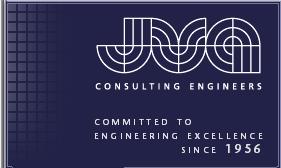 Engineering Consultants
An employee-owned company with 50 years of experience providing practicial, ''hands-on'' structural and civil engineering services to architects, owners and builders. JVA, Incorporated is a consulting Structural and Civil Engineering firm headquartered in Boulder, Colorado with a northern office in Fort Collins , Colorado, and a mountain office in Winter Park , Colorado. Since 1956, JVA has provided Structural Engineering services to architects and owners on building projects throughout the Rocky Mountain area and nationwide. Our Civil Engineering department, established in 1999, offers site design, stormwater, water, and wastewater services that complement our structural experience and allow us to fully meet your design and construction needs. Based on a hands-on approach with active involvement in all phases of design, JVA?s principals have over 80 years of combined experience with the firm. With professional registration in over 35 states, our staff has a working knowledge of a wide range of national and local building codes. JVA?s success in other regions is based on tailoring our systems evaluations and solutions to suit local conditions.
Structural and Civil Engineering Firm
Sight Design
Stromwater, Water and Wastewater Services
Employee Owned
50 Years of Experience