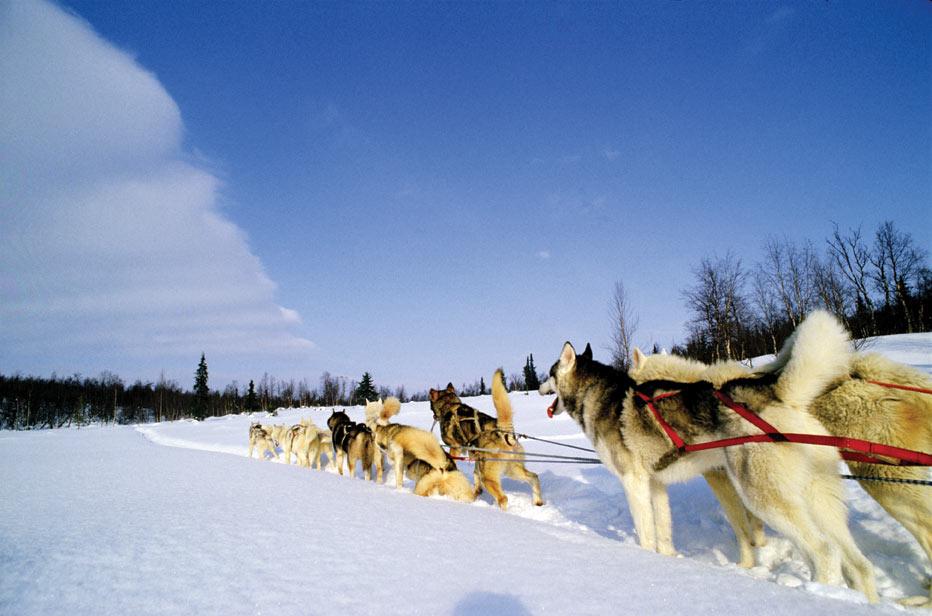 Dog Sled & Dog Cart Rides
Year-Round Rocky Mountain Adventure
Looking for a truly unique experience? A dog sled ride is exactly that. If you love dogs, you'll be in heaven on a guided, backcountry dog sled ride through a private trail system of winter beauty. Or if you're visiting in the summer, try a sled dog kennel tour and dog cart ride through the woods instead. Either way, you'll get your Fido fix. Read more below and be sure to check out the videos at the bottom of this article.
Where to Find Dog Sled & Cart Rides
Dog Sled Rides of Winter Park has 80 Siberian and Alaskan huskies. During the winter, the dogs pull sleds in the forests and during the summer, the dogs pull wheeled carts at sunrise and sunset. The dogs also enjoy visits from guests taking kennel tours.
Snow Mountain Ranch - YMCA of the Rockies also offers guided dog sled rides at their expansive location about 15 minutes from downtown Winter Park. While guests who are staying at Snow Mountain Ranch get first priority for the program, day visitors can make reservations seven days prior to the date they wish to ride.
Whenever you visit, you're sure to learn something new. While you relax on your dog sled or dog cart ride, your experienced musher and guide will point out wildlife, animal tracks and photo opportunities, as well as answer any questions you have about dog sledding and the area in general.
Winter Dog Sled Rides
During winter dog sled rides, you'll relax in the sled as an experienced musher expertly guides the dogs down a trail. Each ride is between 2 and 5 miles long, depending on the excursion booked. Regardless of which option you choose, you'll get to take in some amazing views along the way of 13,000-foot peaks, the Continental Divide and snowy fields and forests.
Each sled can accommodate one, two or three guests, but everyone has to adhere to height and weight limitations (contact each vendor for more information). Reservations are required, so call ahead!
Summer Dog Cart Rides
Not visiting during the winter but would still love to take a Colorado dog sled ride? Dog Sled Rides of Winter Park offers summer dog cart rides.
Trips cover about 3 1/2 miles and last 30 to 45 minutes. Start times are at sunrise, sunset and sometimes in between, depending on weather and trail conditions. The dogs get pretty hot pulling without snow on the ground, so they have to stop in the shade occasionally to cool off, prolonging your trip. Use this opportunity to snap some unforgettable photos! Ask your guide to take a few pictures from the front of the team with all the dogs in the foreground and you in the background. Reservations are required, so plan ahead.
Not sure what to expect? Check out the videos below courtesy of Snow Mountain Ranch and Dog Sled Rides of Winter Park.
Snow Mountain Ranch Dog Sled Rides
Dog Cart Rides with Dog Sled Rides of Winter Park
Snow Mountain Ranch Puppies
Dog Sled & Cart Rides Listings