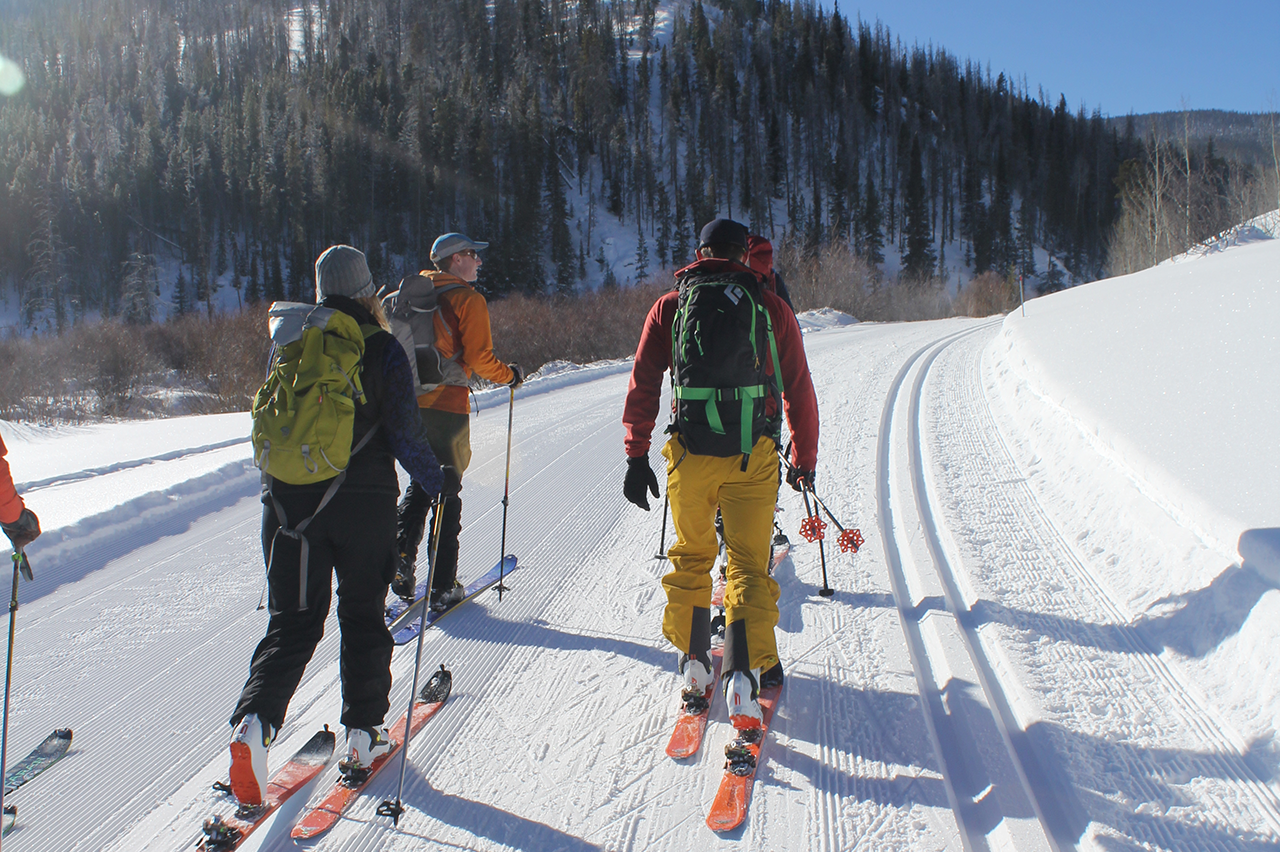 The In-Between Step: Intro to Backcountry at Snow Mountain Ranch
The In-Between Step: Intro to Backcountry at Snow Mountain Ranch
You've seen people at the top of Berthoud Pass climbing up the mountain...on skis. You think that these people might be crazy or in search of a really good workout, but nevertheless it gets you thinking. You do a little research and find out that this activity is called alpine touring or backcountry touring or skinning. You do a bit more digging and find out that the term "skinning" comes from the fur-like fabric pieces that you stick to the bottoms of your skis so you can gain traction while traveling uphill. (These fur-like fabric pieces really were animal skins back in the day.) You learn that alpine touring is a way to break free from crowded lift lines, as long as you're willing to put in the work. You've decided that it's time to give this activity a try!
But where can you go to test it out?
You've heard of the avalanche training courses that cost between $500 and $600, but that's not really what you're looking for. You want someone to show you the ins and outs of alpine touring. You want to learn about the gear and how it all works. You have no desire to ski steep backcountry chutes anytime soon, you just want to see if this might be an activity you would enjoy.
Well, if you're a strong intermediate skier, you're in luck.
Snow Mountain Ranch offers a class called Intro to Backcountry. It's a full-day class that is run by Elliott Leslie. The class contains two parts: a morning, classroom session and an afternoon, on-snow session.
In the morning, participants meet for a classroom session to learn about how to travel in the backcountry safely. When you travel into the backcountry, you are on your own. There is no ski patrol that will be there to help you if you get hurt. You need to know how to mitigate risk when planning your route. Learning how to interpret weather conditions, snow pack, and avalanche terrain is imperative to having safe and fun backcountry adventures,. All of these things might sound very intimidating, but by learning how to manage these elements and arming yourself with the right information, you will feel comfortable planning backcountry tours and be able to enjoy everything that Grand County has to offer.
After lunch, participants are provided with a full alpine touring setup (boots, AT bindings, skis, poles, and skins) as well as a beacon, probe, and shovel. As most participants have never used alpine touring gear before, Elliott goes over how each piece of gear works and its function in the backcountry. You will learn how to apply your skins to your skis, switch your bindings between "tour" and "ski" mode, and the purpose of adjustable poles. Participants also learn why it is imperative to always carry a beacon, shovel, and probe when heading into the backcountry. One of the most valuable sections of the class is a brief beacon demonstration. Students learn about the two functions of a beacon–transmit and search–and are taught how to put their beacons into search mode and find a beacon that has been hidden.
After the gear demonstration is complete, the group heads out on a backcountry tour. Participants are given pointers on touring form and how to efficiently slide their skis on the snow. During the tour, the group assesses surrounding terrain using what they learned earlier in the day to analyze their route. Before they know it, participants are earning their turns safely in the backcountry.
Intro to Backcountry at Snow Mountain Ranch is the perfect way to discover whether or not you might enjoy alpine touring and backcountry travel. Traveling in the backcountry appeals to people who are looking to skip the lift lines, avoid the crowds, and connect with nature. If these sound like things you've been searching for, you should give it a try! But before you invest in thousands of dollars worth of gear, sign up for an Intro to Backcountry class at Snow Mountain Ranch. You won't regret it.