Snowmobile Capital of Colorado
Image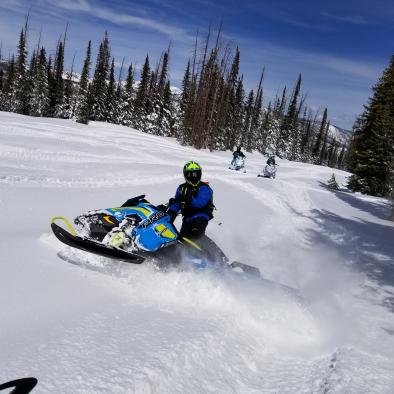 The secret's out… Grand Lake is the "Snowmobiling Capital of Colorado."
Grand Lake, Colorado has received well-deserved, national recognition for its outstanding snowmobiling:
Ranked as one of the "Top 15 Destination Trails in the Nation" by Snowest Magazine
Ranked as one of the "Top 10 Snowmobiling Areas in the United States" byAmerica's Best Online
Awarded "Honorable Mention as one of the Most Scenic Snowmobiling Areas" by Snowgoer Magazine.
From December through April, snowmobiling enthusiasts from across Colorado and around the world come to Grand Lake, Colorado to enjoy more than 300 miles of snowmobiling trails, including 150 miles of groomed trails.

Known as the Western gateway to Rocky Mountain National Park, Grand Lake, Colorado enjoys an annual snowfall of 185 inches. Town streets are intentionally left snow-packed so that snowmobilers can use their snowmobiles as transportation to and from lodging, dining and shopping.

At an elevation of 8,437 feet, Grand Lake, Colorado offers snowmobiling opportunities for riders of all abilities, with varied terrain to match any interest.  Backcountry enthusiasts can chase thrills with their own sleds through Snowmo-skiing and sledding to backcountry terrain.  Snowmobilers can wind in and out of forests, rev up and down hills, play in meadows of powder, carve across ridge tops and ride full throttle on cruiser trails.

The snowmobiling trails are clearly marked in and around Grand Lake, and throughout the surrounding Rocky Mountain National Park, Arapaho Forest and Roosevelt Forest. Click here to view Grand Lake Trailgroomers trail conditions website.

Spectacular views of snowcapped Rockies and the frozen waters of Grand Lake, Shadow Mountain Lake and Lake Granby can be seen from almost any vantage point.

Less than an hour from Winter Park, Colorado, Grand Lake is perfect for a snowmobile adventure after resort terrain has been explored!