Eat Your Heart Out in Winter Park
Image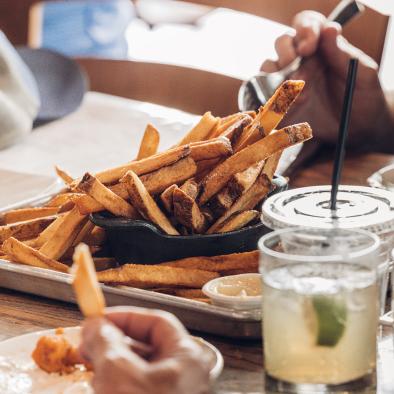 There's no doubt that Colorado's favorite Playground has a ton of great outdoor activities to keep you entertained for days on end. All of that playing means you'll need to refuel for more fun. Winter Park has a number of delicious restaurants ranging from grab-and-go to sit-and-slow. Here's a taste of what's on the menu in Winter Park. 
Carver's Bakery (78336 US Hwy. 40) Using the freshest, locally grown products available, Carvers specializes in creating an unforgettable breakfast and lunch experience .
Deno's Mountain Bistro (78911 US Hwy. 40) A Winter Park tradition for over 20 years, Deno's offers fine-aged steaks, pasta, fresh seafood, hand-tossed pizza and the best burger in town. Deno's even has live music. Fontenot's Seafood & Grill (78336 US Hwy. 40) Featuring seafood, steaks and pasta, this family-owned restaurant has been serving locals and visitors alike for 20 years.  
Heck's Tavern at Devil's Thumb Ranch (3530 County Road 83, Tabernash) The beauty of this place is rivaled only by its delicious food. Reservations are recommended. 
Hernando's Pizza & Pasta Pub (78199 US Hwy. 40) This is a Winter Park staple that features pizza, pasta and desserts in a warm, cozy atmosphere. 
Hideaway Park Brewery (78927 US Hwy. 40) This nano-brewery is located conveniently in downtown Winter Park next to Fraser Hot Dog. 
Moffat Station Restaurant & Brewery (81699 US Hwy. 40) Eat, drink and be merry at Moffat Station! Adorned with Old West artifacts and memorabilia, the ambiance is as inviting and inspiring as the food and beer. 
The Back Bowl Soup Co. (110 Parry Park Way) This is the perfect spot to begin or end your day at Winter Park Resort. Back Bowl features a variety of delicious homemade soups, including vegetarian selections. 
The Foundry Cinema & Bowl (22 Second St. Fraser) This is the place to come for good pizza, cold beer and a movie or bowling. 
Volario's (78786 US Hwy 40) This restaurant mixes Spanish influences with northern Italian mountain cuisine to create fresh, creative dishes. There are also a number of establishments that have happy hour specials throughout the week. Check in at the Winter Park Visitors Center (78841 U.S. Hwy. 40) to get more dining recommendations.   
Eat Your Heart Out in Winter Park