Parmesan Wheel Pasta Experience
Adventures Decanted
37 Cooper Creek Way
Suite 315
Winter Park
,
CO
80482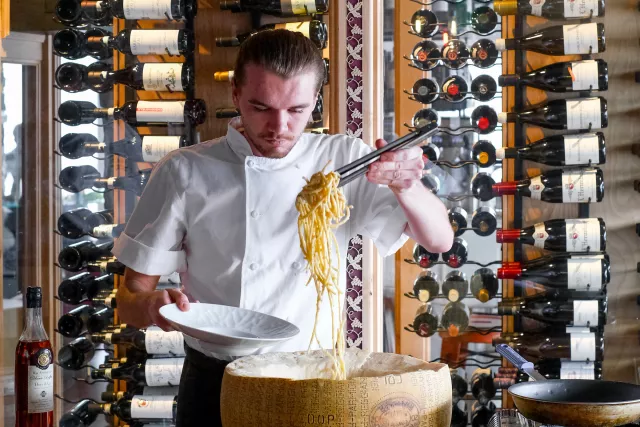 VIVA LA PASTA! Join us for a delicious, exciting, and interactive dinner experience as our chef tosses hand made pasta in a giant Parmesan Wheel for your dinner with sauteed shrimp available to add-on. Our sommelier will have wine pairings available plus our full menu will be available, including seasonal specialties such as our grass-fed steaks, Colorado short rib, and more. Pasta Experience is $28 per person plus service charge (20%) and tax. 
Reservations are strongly recommended. To make a reservation, click here. 
https://www.exploretock.com/adventures-decanted-winter-park/
. 
Day
Date
Time
Saturday

Dec 16, 2023

December 16, 2023

5-8pm
Saturday

Dec 23, 2023

December 23, 2023

5-8pm
Saturday

Dec 30, 2023

December 30, 2023

5-8pm
Saturday

Jan 6, 2024

January 6, 2024

5-8pm
Saturday

Jan 13, 2024

January 13, 2024

5-8pm
Saturday

Jan 20, 2024

January 20, 2024

5-8pm
Saturday

Jan 27, 2024

January 27, 2024

5-8pm
Saturday

Feb 3, 2024

February 3, 2024

5-8pm
Saturday

Feb 10, 2024

February 10, 2024

5-8pm
Saturday

Feb 17, 2024

February 17, 2024

5-8pm
Saturday

Feb 24, 2024

February 24, 2024

5-8pm
Saturday

Mar 2, 2024

March 2, 2024

5-8pm
Saturday

Mar 9, 2024

March 9, 2024

5-8pm
Saturday

Mar 16, 2024

March 16, 2024

5-8pm
Saturday

Mar 23, 2024

March 23, 2024

5-8pm
Saturday

Mar 30, 2024

March 30, 2024

5-8pm
Saturday

Apr 6, 2024

April 6, 2024

5-8pm
Saturday

Apr 13, 2024

April 13, 2024

5-8pm
Saturday

Apr 20, 2024

April 20, 2024

5-8pm