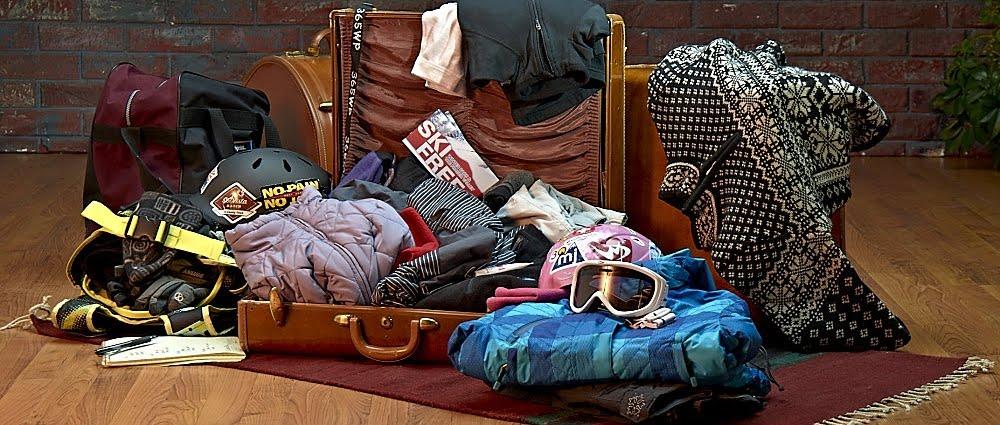 What to Bring this Winter
Plan the Perfect Trip
Winter Packing List
It is nearly impossible to pack light for a ski vacation. However, packing right has just gotten easier, thanks to our "cheat sheet" below. In addition to the obvious ski pants, coats, gloves and gear (unless you want to rent from one of the many rental shops in town), here are a dozen tips on what to take that will have even novice snow bunnies packing like pros.
Winter Park-Fraser Valley's Packing Tips
1. Layers, layers, layers: Winter weather in the Rockies can change on a dime and, while it might be cold on the lift, skiers tend to heat up on the slopes. Be prepared for anything by layering your look so you can add or subtract as needed to stay comfortable. Also, remember that quick-dry and wicking fabrics (particularly for your long underwear) are more effective than cotton to stay warm and dry.
2. Thin socks: It seems natural that thicker = better for cold feet. However, thinner socks made of a dry-fit material are actually the wiser choice for skiing. (Not to mention, thin socks are much more comfortable inside those tight-fitting ski boots!)
3. Sunscreen, lip balm, sunglasses: These items are not just reserved for summer vacations. The high altitude, sunny days and snow glare all can contribute to sunburns, even in cold weather. Apply liberally, and reapply often.
4. Moisturizer: Colorado's climate is extremely dry, and skin can easily get irritated from the forced heat inside and the cold air outside. Bring along a good moisturizer (one that is thicker than what you typically use at home).
5. Water bottle or water backpack: It is hard enough to get the recommended amount of water on your home turf. On a vacation at altitude, one should consume even more water than usual to stave off dehydration and headaches often associated with higher elevations. Stick in a water bottle or water backpack and keep the H2O flowing continuously throughout your trip.
6. Good walking shoes: Nothing feels quite as good as taking off ski boots. Be sure to pack appropriate shoes for traversing snowing conditions; sturdy, waterproof shoes will also come in handy for walking to restaurants, shopping and getting to the hotel. (A note to fashionistas: leave the high heels at home – they simply don't work on snow and ice. And, nothing screams "tourist" like inappropriate footwear in the mountains!)
7. Après ski clothes: Hat hair and snow-soaked clothes are a badge of honor after a day of skiing. But wet clothes are cold clothes. Bring along several options for warm, comfortable shirts or sweaters, pants, jackets, hats and gloves to change into once you get off the hill. Mountain casual means jeans are perfectly acceptable at most restaurants.
8. Snacks: Pack your favorite portable snack, such as dried fruit, nuts or granola/energy bars to have in the pocket of your ski jacket. Eating small, frequent meals throughout the day will keep your energy high and will help ward off altitude sickness.
9. Swimsuit: A dip in the hot tub after a day on the slopes is a quintessential element to a ski vacation. Also, many hotels have indoor pools that are always popular with a variety of guests.
10. Pain reliever: No matter how fit one is, skiing simply uses different muscles that might have been in hibernation before your trip. Pack your favorite pain reliever to ensure you don't get sidelined by soreness.
11. Tissues or handkerchief: There are typically tissue dispensers in lift lines or, of course, inside at the resort. But that won't help when you're mid-slope and have a runny nose from the cold! Be prepared by packing a packet of tissues or a handkerchief in your coat.
12. Music: If you like to work out with earphones, you will probably enjoy them on the slopes as well. Portable music devices can also help pass time in the car/bus on the way to the hill and on lift rides.