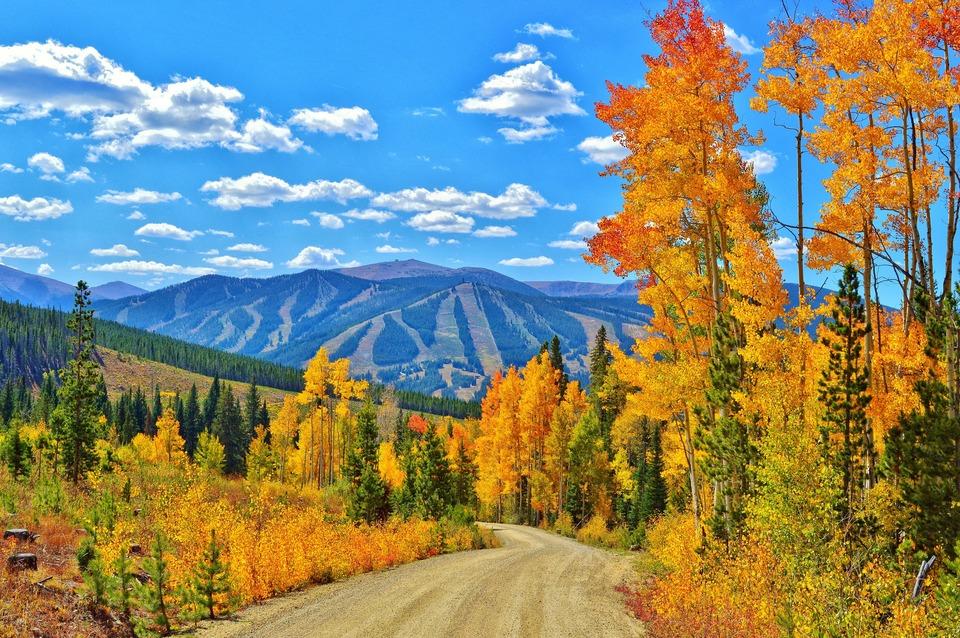 Top 6 Scenic Drives for Fall
Fall Color in Colorado's Favorite Playground
Top Scenic Drives for Fall
Where to See Vibrant Fall Colors
Whether it is a long-weekend escape to enjoy the mild weather before winter sets in or a long-awaited vacation during the peace and quiet of fall, autumn is a reliably gorgeous time to visit Winter Park and Fraser. Here are the top six fall drives:
1. Trail Ridge Road, Rocky Mountain National Park
If you head north out of Grand Lake and enter Rocky Mountain National Park, you end up on Trail Ridge Road and immediately enter the scenic Kawuneeche Valley. Here, golden willows and occasional splashes of aspen decorate the winding headwaters of the Colorado River. Bugling elk, biting trout and the occasional moose make this an ideal spot for wildlife viewing as well.
Please note that come October weather above treeline can cause temporary road closures so be sure to call the Trail Ridge Road Status Line at (970) 586-1222.
2. Colorado River Headwaters Scenic and Historic Byway
Recognized as one of Colorado's 25 Scenic & Historic Byways, the Colorado River Headwaters Scenic and Historic route follows the mighty river from State Bridge to its source in Rocky Mountain National Park. In Grand County, the section from Kremmling to Granby offers an array of fall color amongst the large cottonwoods that line the stream, as well as in the aspen groves that dot the distant hillsides, particularly around Windy Gap Reservoir.
3. Muddy & Rabbit Ears Passes
The drive to Muddy and Rabbit Ears Passes in western Grand County is sure to be a vacation highlight. After a stop for lunch and a little shopping in the charming town of Kremmling, head northwest on U.S. 40, which passes through beautiful ranchland before climbing to the Continental Divide twice. Along the way, you'll see expansive stands of aspen presenting the whole spectrum of color — from lime green to rich gold. Have an evening picnic at Dumont Lake atop the pass, and keep your eyes peeled for moose.
4. Willow Creek Pass
If you like to take the road less traveled, consider Colorado Highway 125 from Windy Gap Reservoir over Willow Creek Pass to Walden. Perfect for a lazy Sunday cruise any time of year, the route is particularly scenic in fall due to an abundance of aspens along its initial stretch. Be advised: this area sustained damaged in the East Troublesome Fire of 2020.
5. Cottonwood Pass / County Road 55
A short pass linking Granby to Hot Sulphur Springs, Cottonwood Pass is a must-drive during leaf-peeping season! Covered in aspen groves, this quick drive will leave you wanting to turn around and check it out again! County Road 55, approximately 10 miles North of Winter Park, is a designated Colorado Scenic Byway (and for good reason). You will drive past some of the most historic ranches in the county; just beware of free range cattle in the area! You'll pop out in Hot Sulphur Springs, where skiing began in Grand County, and back onto Highway 40 which is also the Colorado River Headwaters National Scenic Byway!
6. Corona Pass
Leading up to the Continental Divide, Corona Pass is a 15-mile, unpaved road northeast of Winter Park. Featuring brilliantly colored aspens in fall, views of Winter Park Resort, and magnificent mountain views, Corona Pass is a must-see in fall. A four-wheel-drive vehicle is recommended to access the final third portion of the road. Once you reach the top, extend your fall adventure by exploring the variety of hiking options available from the Rollins Pass Trailhead. 
Explore more of our spectacular scenic drives  and fall activities in Winter Park.  To find special offers on restaurants and lodging during your Fall getaway, check out our seasonal deals!