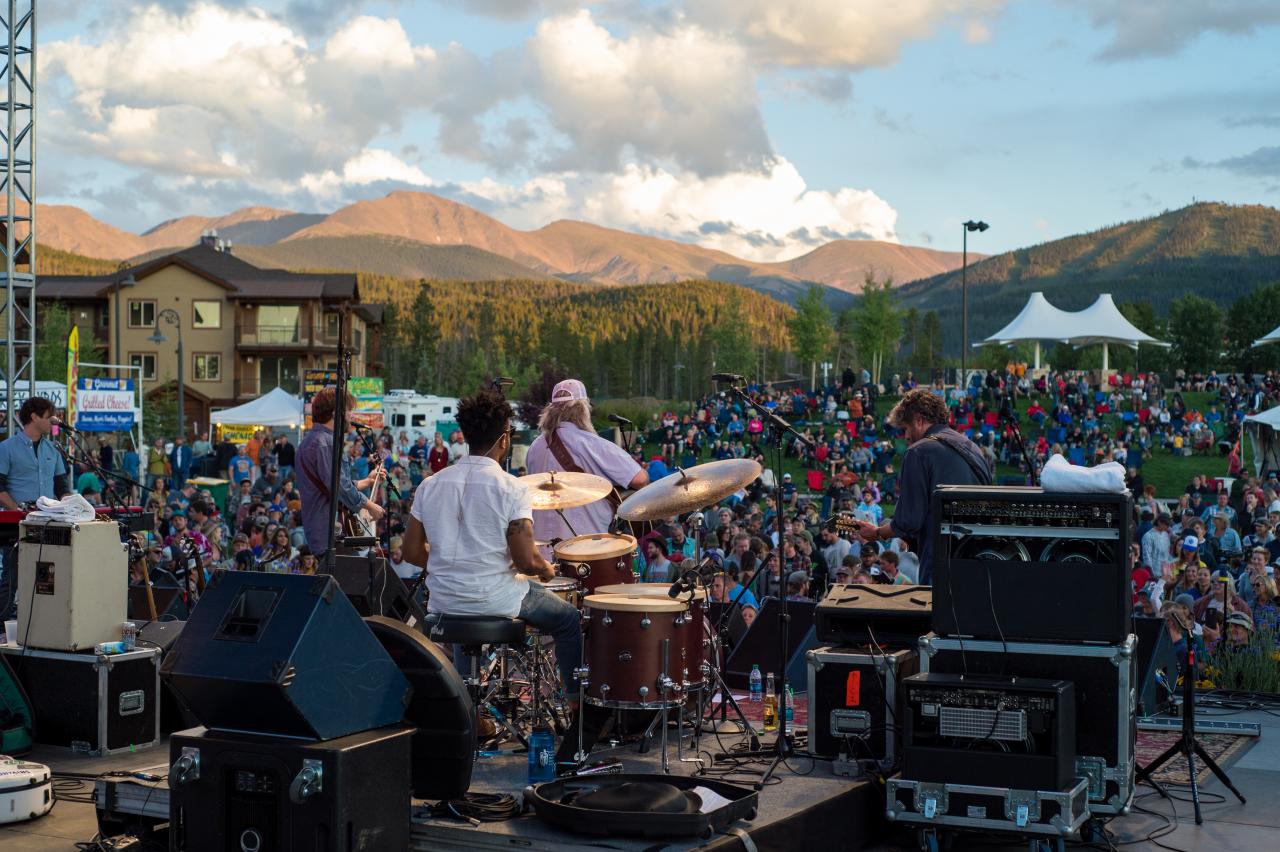 Tips to a Perfect Summer Music Fest
Summer Music Fest Tips
Winter Park & Fraser Chamber Offers Tips for Getting the Most Out of Summer Music Celebrations: Colorado's favorite Playground features a music festival nearly every week throughout the summer –   Winter Park-Fraser Valley, Colo. – For many people summertime and music festivals go hand-in-hand. So how can festival-goers get the most out of a summer music celebration? Winter Park-Fraser Chamber has a jamming' summer music festival line-up – in fact 'Colorado's Favorite Playground' hosts a concert every week during the summertime! Winter Park offers some tried-and-true tips and tricks for finding perfect harmony at a summer concert.  
Scope out deals: Check with the local chamber of commerce about deals and coupons that might not be available elsewhere. It's often possible to save money by booking tickets and lodging together. For instance, Winter Park's Summer Fest Packages save time and money by bundling festival packages and lodging.
Book early: Concerts often sell out and lodging accommodations in the host city can fill up fast. Keep up with the festival webpage to get tickets as soon as possible. Book lodging or reserve campsites in advance. Keep in mind neighboring communities for additional options and potential savings.
Be weather wise: Some of the best summer music festivals are held outdoors, where weather conditions can enhance or damper the experience. Check the weather forecast and come prepared for anything Mother Nature has in store. 
Be altitude aware: Mountain festivals-goers will want to take altitude into consideration. For Colorado events, people can acclimate gradually by flying into Denver – which sits at 5,280 feet above sea level – to spend a day or two adjusting to the altitude before heading to the mountains where the elevation shoots up. Avoid altitude sickness by drinking double the water typically consumed and being careful with alcoholic beverages, which can dehydrate. Finally, the sun's rays are more powerful at higher elevations so sunscreen, lip balm and a hat are good ideas.
Know the rules: Some festivals allow fans to bring in coolers, chairs, etc., while others do not. Or, there may be a restriction on the size of bag or cooler that can be brought into the event. There's nothing worse than showing up with an expectation – and a full cooler – that has to be left in the car. Check out the festival webpage ahead of time and pack accordingly.
Dress appropriately: Festival grounds are often sprawling, so wear comfortable shoes for walking. If attending a concert in the mountains, know that weather conditions can change quickly so it's a good idea to pack layers to stay comfortable throughout the day.
Pack a survival kit: If you have room in the bag, consider throwing in a roll of toilet paper (port-a-potties run out even in the best of circumstances), aspirin, bandages, baby wipes and any medications you might need during the event. Better to be safe than sorry!
Pack your patience: Festivals and crowds go hand-in-hand, so there will likely be long lines at the entry gate, restrooms and concession stands. Make the experience enjoyable by remaining calm, patient and respectful to fellow festival-goers.
Still looking for the perfect summer music festival? Consider one of the many Winter Park concerts and music events. For a complete festival line-up visit http://playwinterpark.com/experience-events.
Fridays, June 21-Aug. 30: Cooper Creek Square Music on the Mall
June 27-30: Blues from the Top, presented by the Grand County Blues Society
July 6 & 13: Winter Park SolShine
July 20-21: Winter Park Jazz Festival
Aug. 3: Winter Park Music Festival