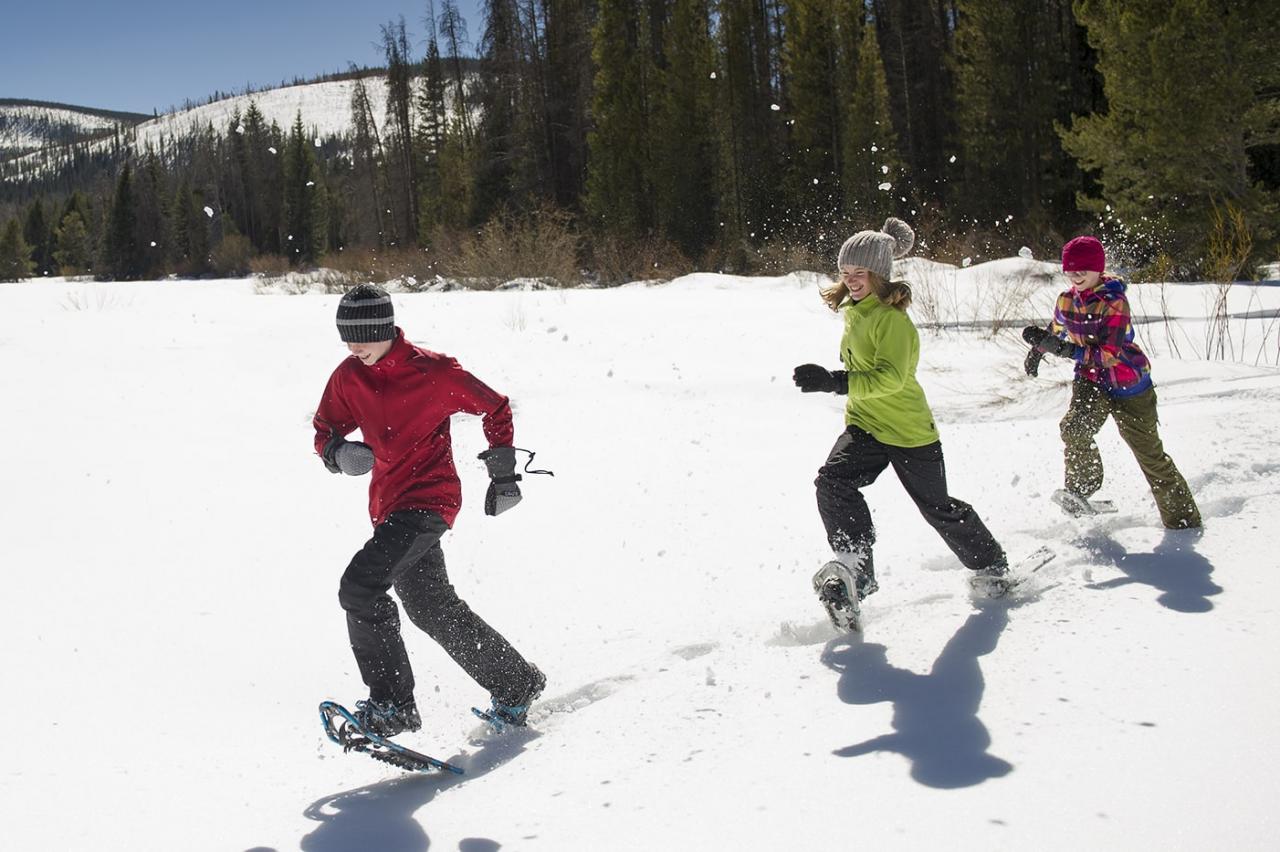 2-Day Winter Itinerary
Rocky Mountain National Park
Spend a Winter Weekend in Rocky Mountain National Park
Explore the Park
If you're vacationing in the Rocky Mountains, chances are you won't want to miss Rocky Mountain National Park. And what great news! The park offers plenty of recreation all year long. Since Winter Park is only 37 miles from the Park, we have a few of our own favorite ways to experience the best of winter in Rocky Mountain National Park.
Day 1: Get Your Bearings
7:00 a.m. One of our absolute favorite, once-in-a-lifetime ways to view Rocky Mountain National Park is from above. Get the best aerial perspective on a hot air balloon tour that takes off from Fraser, Colorado. Take in views of Grand County's towns and the nearby Rocky Mountain National Park. While the balloon doesn't soar directly over the park, it's a great way to see how the park is oriented along the Continental Divide as far as the eye can see.
The tour is at sunrise, so exact times will vary. Make your reservation with Grand Adventure Balloon Tours for the details that will be unique to your ride.
10:00 a.m. After your hot air balloon ride, head back into Winter Park or Fraser for a relaxing brunch and possibly a coffee shop pick-me-up to help you recover from your early morning.
11:00 a.m. Pick up a sled or tube in town, and head into Rocky Mountain National Park for the afternoon! Sledding in the park is only allowed at Hidden Valley, and there are no tows provided, so expect to do a little hiking up the gentle hill. Call the park's information office at 970-586-1206 for the most up-to-date information.
3:30 p.m. Head back into Winter Park in the late afternoon. Chances are the sun will go down behind the peaks before 4:00 p.m., and you don't want to get stuck in the park after dark! This will vary depending on the time of year you visit, so make sure to pay attention to sunset times before planning your afternoon. This is a great time to check into your Winter Park accommodations.
5:00 p.m. Find a local restaurant to grab some dinner. In Winter Park, you have your choice between American, Asian, Italian, Mexican and more! You're sure to find something to please the whole group.
7:00 p.m. Return to your accommodations for a game night or spend some time in the hot tub (if you have one). You'll want to rest up for a full day of activity tomorrow!
Day 2: Explore the Park
8:00 a.m. Start your morning off right at one of our local breakfast stops. Whatever you choose, make sure you have enough energy for your day of snowshoeing and/or cross-country skiing.
9:00 a.m. If you didn't bring your own gear, stop by a snowshoe or cross-country ski shop to rent shoes, poles, and anything else you think you may need. Stop by a deli in town or pack your own lunch — and don't forget to bring plenty of water!
10:00 a.m. Head into the Park for a full day of adventure.
If you choose to spend your day snowshoeing, make sure you have waterproof boots and snowshoes. Poles are also helpful for maintaining your balance while exploring the trails.
If you choose to spend your day cross-country skiing, be sure you have skis and poles with large baskets. The terrain and deeper snow on our side of Rocky Mountain National Park makes for the best cross-country skiing in the Park, and skis are allowed everywhere.
Want to explore on your own? Plan your day with this trail information or stop by a visitor center for more information.
Want a guide? Reserve free, ranger-led programs in the park. On our side, beginning or intermediate snowshoe walks are often available in addition to ski tours.
No matter what you choose, you are likely to encounter some incredible wildlife throughout the park including elk, mule deer, moose, and other large mammals. Keep a look out!
Prefer warmer weather travel? Check out our summertime Rocky Mountain National Park itinerary, too!