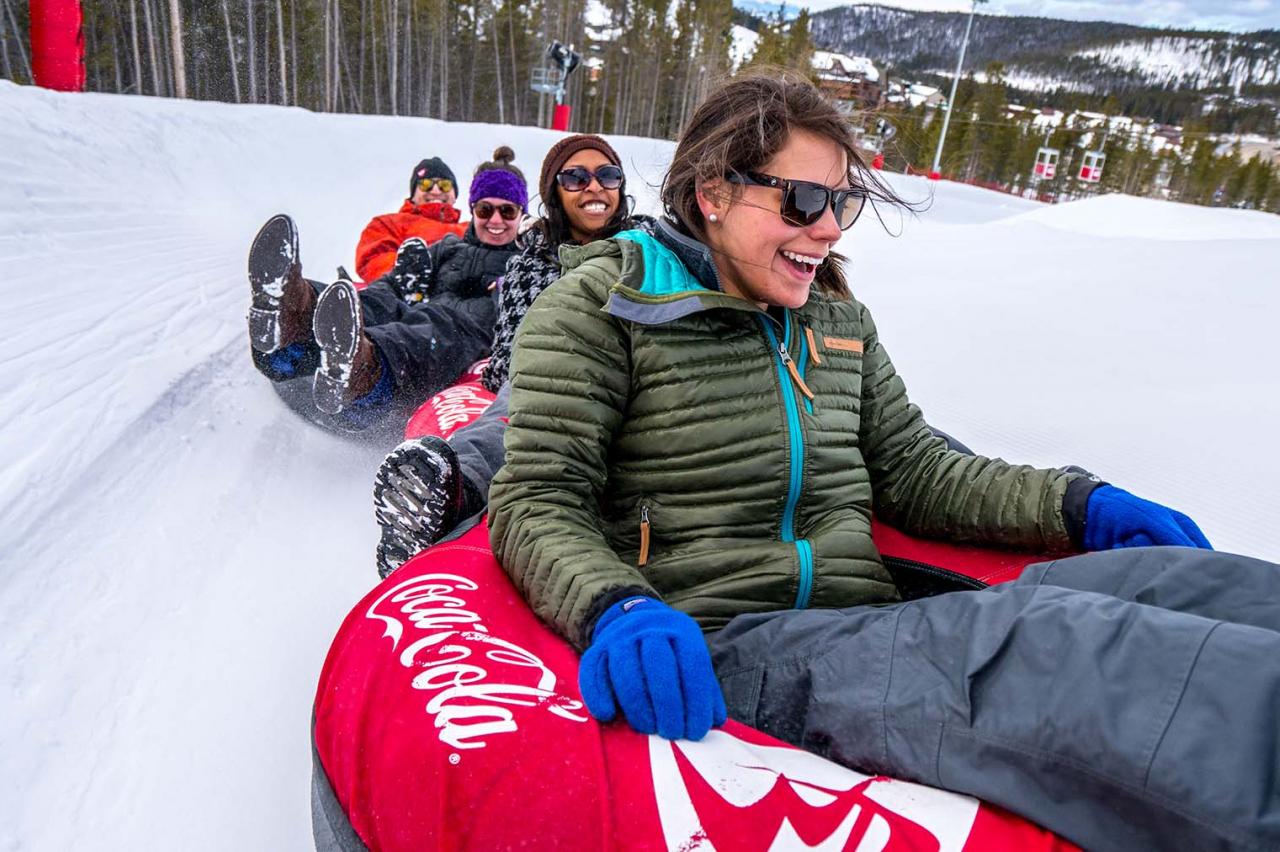 Sledding, Tubing and Snow Scoots
Fun for Everyone in Winter Park, Colorado
Sledding, Tubing and Snowscoots
First, let's talk Snowscoots! Check out either Grand Adventures or the Colorado Adventure Park to experience these perfectly-sized, mini snowmobiles for kids to learn how to steer, accelerate and brake, while spinning laps on a groomed course. Your kids will love the snow scoot experience.
Now let's talk sledding and tubing in Winter Park, two winter activities that the whole family will enjoy. From mini-hills that tots will love to racing lanes that will thrill teens, everyone will have a blast gliding down our snow-covered slopes. And with so many local hills to choose from, there are days of fun to be had for families and friends alike. Here are your sledding and tubing options in and around Winter Park:
1. The Colorado Adventure Park
Address: 566 County Road 721, Fraser, CO 80442
The Colorado Adventure Park, located just 3 miles from downtown Winter Park, offers activities for all ages and adventure levels. For children under 3, there are complementary sleds and even a special mini-hill. Rentals of snowscoots (a kind of cross between a kid's scooter and a snowboard) are also available for children 6 and up. Indoor bathrooms, a warming hut, concessions counter and magic carpet lift make for a great outdoor experience.
2. The Historic Fraser Tubing Hill
Address: 455 Co Rd 72, Fraser, CO 80442
The Historic Fraser Tubing Hill is groomed and lighted, making for great evening tubing. In addition, the hill is equipped with a lift to take you up to the top after each run. Adrenaline junkies may descend individually, in tandem, or for the fastest and longest ride, in group clusters. After your chilly thrill, cozy up in the warming house with a hot drink and a snack.
3. Snow Mountain Ranch Tubing Hill
Address: 1101 Co Rd 53, Granby, CO 80446
YMCA of the Rockies – Snow Mountain Ranch has a great tubing hill, and tubes are available on-site. When you pay the day pass fee to enjoy all that Snow Mountain Ranch has to offer, tubes are included. Plan a day around this tubing trip: Your day pass also includes access to the swimming pool, climbing wall, roller skating rink, cross-country skiing, ice skating and much more.
4. Grand Lake Nordic Center Tubing and Sledding Hill
Address: 1415 Co Rd 48, Grand Lake, CO 80447
The Grand Lake Nordic Center, located 45 minutes from downtown Winter Park, offers free tubing and sledding. The Nordic Center is open to the public and is a perfect choice for families with little ones!
5. Coca-Cola® Tube Park at Winter Park Resort
Address: 85 Parsenn Rd, Winter Park, CO 80482
Coca-Cola® Tube Park at Winter Park Resort offers four lanes for racing your friends, a conveyor belt for an uphill ride and a state-of-the-art warming structure to keep you playing all day long. One thing's for sure: Coca-Cola Tube Park is a great addition to our tubing scene that you don't want to miss. (Keep in mind that all riders must be at least 36" tall at this hill.)
6. Hideaway Park Sledding Hill
Address: 78821 US-40, Winter Park, CO 80482
The town of Winter Park sponsors a free sledding hill open to the public located at Hideaway Park in the middle of downtown Winter Park. Sleds are available at the hill and are checked out using the honor system. Parental supervision is recommended. Come play!
7. Devil's Thumb Ranch Sledding Hill
Address: 3530 County Rd 83, Tabernash, CO 80478
If you're visiting Devil's Thumb Ranch and would like to enjoy the brisk outdoors without venturing too far, you can take the kids to their sledding hill (and ice skating rink). Staffed on the weekends only. During the week guests are asked to visit the Nordic Center for access.
For more ideas for Winter Fun check out all of our Winter Activities!
Wondering what's going on around town during your visit? Head to our Event Calendar!