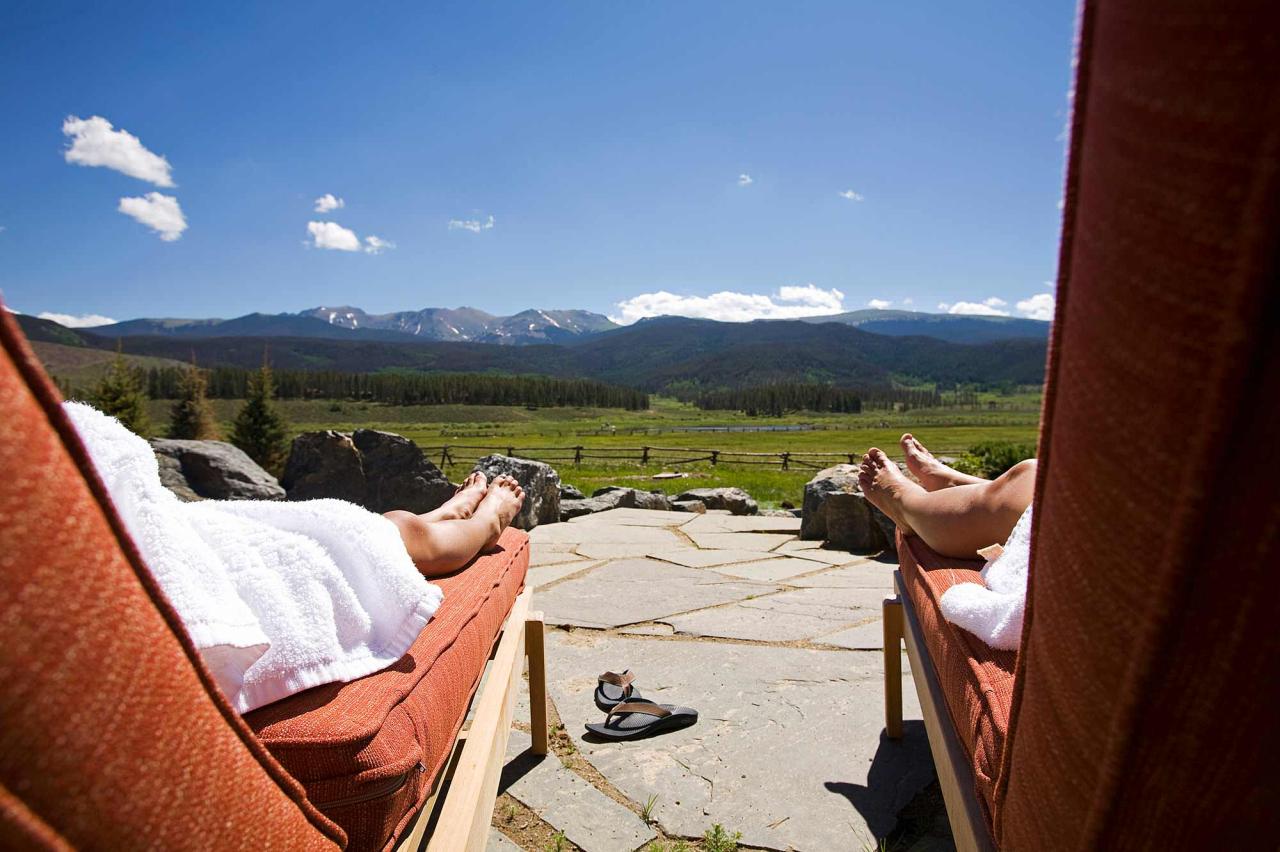 Relaxing Three-Day Itinerary
Relaxing Three-Day Itinerary
Discover Colorado Hot Springs, Spas, and More!
Not only a destination for all things adventure, Winter Park, Colorado is a place to rejuvenate and refresh. A plethora of health and wellness options from Colorado natural hot springs and spas to alpine yoga and Pilates will leave visitors feeling renewed and reinvigorated. Follow our relaxing three-day itinerary for the ultimate Colorado weekend getaway.
Day 1
Morning: Begin day one of your mountain retreat with breakfast or lunch at Wake n' Bacon. Order a fresh cappuccino and enjoy the best hash browns this side of the Mississippi. You'll thank us later.
Afternoon: Then, make your way over to Ranch Creek Spa at Devil's Thumb Ranch for the ultimate pampering experience. Plush robes, rustic décor and views of the Continental Divide will instantly bring a sense of calm to your day. Book an appointment and choose from a variety of services including massages, facials, soaks and scrubs. Ranch Creek Spa offers options for couples and even children.
Consider taking the daily yoga class after your treatment to extend your Zen and enjoy the alpine views. Or, if you're feeling hungry grab a bite to eat at Heck's Tavern, conveniently located at Devil's Thumb Ranch.
Evening: End the day at The Foundry Cinema & Bowl for a luxury movie experience. Enjoy a selection of causal foods from pizza to pretzel bites along with access to a full bar while viewing the month's latest films.
Day 2
Morning: Start day two of your Colorado weekend getaway with local fare and homemade breads and pastries from Carvers Bakery Café. Serving breakfast and lunch, dishes are created using locally-grown Colorado produce and meats. This Winter Park staple has been around since 1982!
Afternoon: From Carvers, take a short drive to a tranquil Colorado hot spring. Located just 30 miles from Winter Park, Hot Sulphur Springs Resort & Spa features seven natural hot springs with mineral-rich water ranging from 95°F to 112°F. Choose from 21 mineral pools and baths to heal and unwind in. Private pools are also available at an additional rate.
Evening: After a relaxing day soaking in Colorado's natural hot springs, head back to Winter Park for a lively night out. Cooper Creek Square is an outdoor plaza featuring an assortment of local shops and diverse dining options. Depending on what time you arrive, browse boutiques for unique jewelry, mountain décor, outdoor goods and more before going to dinner. Cooper Creek Square has Mexican, Asian and Nepalese dining options and they offer plenty of early and late night happy hour specials.
Day 3
Morning: On the last day of your Winter Park vacation, sign up for an energizing Pilates class at Elevate Pilates and Physical Therapy or a community yoga class at the Headwaters Center. Winter Park has numerous fitness studios to choose from. If you're visiting during the summer, another option is to participate in Fitness in the Park for a free yoga or Pilates class with alpine views.
After a mindful start to the morning, stop by Rollin' Street Bakery for a sweet treat and coffee. This European-style bakery is known for their sweet and savory Chimney Cakes and Cones.
Afternoon: Take a stroll along the Fraser River Trail, accessible from downtown to relax in nature.
Evening: For the final meal of your wellness weekend getaway, head to Deno's Mountain Bistro for happy hour and dinner. A large menu features anything from Spanish Mussels and Clams to a Greek Table Platter. Everyone will find something to savor before returning to reality.
In search of more inspiration for your next Colorado weekend getaway? Check out our week-long summer itinerary or week-long winter itinerary for your next trip to Winter Park.