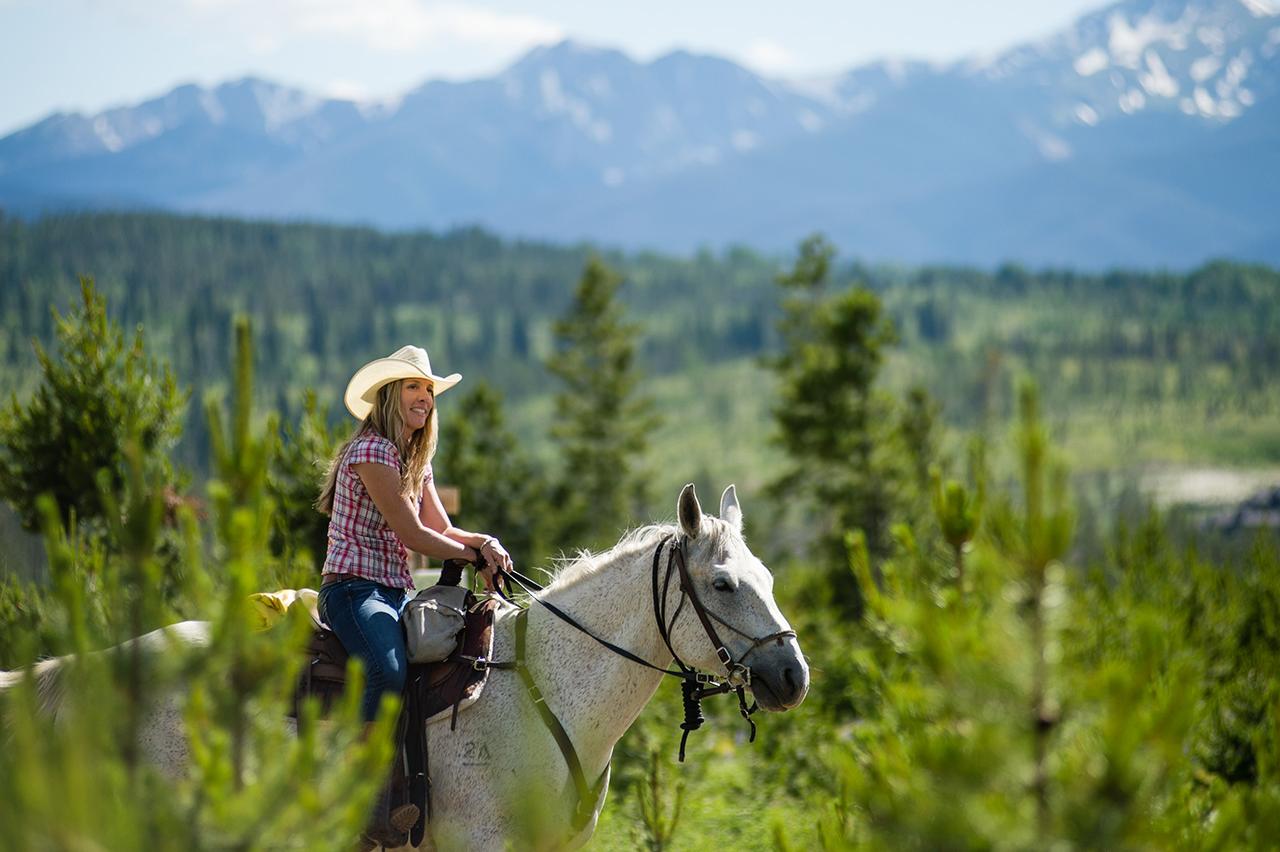 A Guide to Horseback Riding
Rides, Lessons, Trails and More
A Guide to Horseback Riding in Winter Park
Saddle up for a quintessential western experience in Winter Park, Colorado. Whether you're a skilled equestrian wanting to explore beautiful nature trails or it's your first time on horseback, Winter Park offers an assortment of nearby horseback riding opportunities to riders of every age and ability.
Guided Horseback Rides & Lessons
Cabin Creek Stables
The Cabin Creek Stables at Devil's Thumb Ranch are perfect for riders of every age. From 30-minute pony rides for kids to family horseback rides, these guided experiences will take your equestrian skills to the next level. Add a unique class to your horseback riding experience such as the horsemanship lesson where you can develop skills and techniques for the arena or the trails. The stables are only open during the summer season - May through October.
Address: 3530 County Rd 83, Tabernash, CO 80478

Sombrero Stables
Located at Snow Mountain Ranch, Sombrero Stables offers guided horseback rides year round. During the summer, horseback rides up to four hours or as short as one hour are available. Trails follow varying terrain and present beautiful views of the Continental Divide. Kids as young as two are able to ride double with a parent. Opt in for a dinner or breakfast ride for a fresh cooked meal to complete the experience.
Address: 1101 Co Rd 53, Granby, CO 80446
Winter Park Trail Rides
For a one- or two-hour horseback ride, visit Winter Park Trail Rides. Located in Fraser, these guided rides are suitable for all skill levels and are offered during the summer season.
Address: 85 County Road 5101 Fraser, Colorado 80442
Horse Boarding & Camping
Strawberry Creek Ranch 9N
Just north of Winter Park, Strawberry Creek 9N is home to an Equestrian Center featuring horse boarding facilities, and indoor and outdoor arenas. An onsite trainer offers lessons in horsemanship including groundwork, roping and more. Whether you are searching for a place to board your horse overnight or exercise for the day, this 300-acre ranch offers wide-open space and numerous amenities for the avid equestrian.
Address: 2690 Co Rd 60, Granby, CO 80446
South Fork Campground
An alternative to horse boarding facilities is the South Fork Campground in the Williams Fork Valley. A couple hours' drive from Winter Park, this campground is the only site in the area offering horse camping. The grounds feature a small corral suitable for one to two horses. A water pump is available; however, there are no watering troughs. The horse camping site offers convenient access to nature trails for horseback riding. Some campsites are available on a first come, first serve basis, and additional sites can be reserved here.
Address: Co Hwy 30, Parshall, CO 80468
Horseback Riding Trails
Doe Creek Trail
Located in the Arapaho National Recreation Area, the Doe Creek Trail is an easy 3.5-mile loop with little elevation gain. This lightly-trafficked trail is ideal for a short horseback ride through open meadows and aspens. Ride this nature trail during the fall to experience the changing foliage.
High Lonesome Trail
For a longer horseback ride through the Indian Peaks Wilderness, the High Lonesome Trail is a great option. The trail is part of the Continental Divide National Scenic Trail and features breathtaking panoramic views. This lightly-trafficked trail is 12 miles starting at Junco Lake Trailhead. During the summer, an abundance of wildflowers make this horseback ride even more enjoyable.
Bottle Pass to Byers Peak Trail
The Byers Peak Wilderness area near Fraser features numerous trails open to horseback riding. The Bottle Pass to Byers Peak Trail is a 9.6-mile, lightly-trafficked trail leading up to panoramic views from Byers Peak. This challenging trail features beautiful wildflower viewing opportunities during the warmer months.
For more western family fun in Winter Park, check out our other ranches and horseback riding options here.